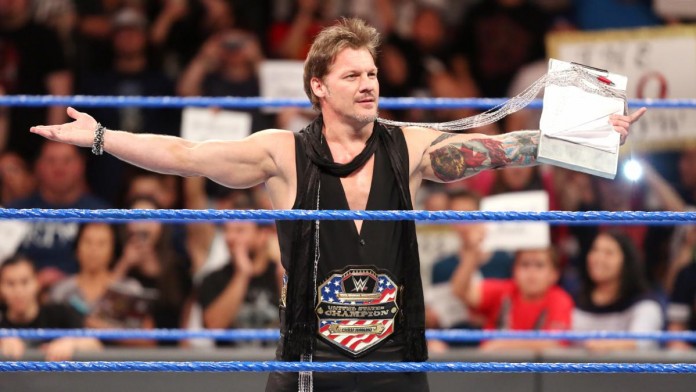 Chris Jericho picked up a surprising victory Sunday night at WWE Payback when he defeated Kevin Owens to win the United States Championship. Most people assumed that Owens would retain since Chris Jericho is heading out on the road with Fozzy and their tour starts on Friday.
However, WWE swerved us all by having Jericho win, and then he defended the title on SmackDown this week. Kevin Owens won the title back in the main event, but the action didn't stop after the bell rang.
Kevin Owens continued to attack Chris Jericho, and before the beatdown was over, he wrapped a chair around Jericho's head, then slammed his head into the ring post. It looks like Jericho has been written off TV for a while, but he's left us all with a little gift.
Earlier today Chris Jericho took to Facebook to announce that he's selling a new GOAT shirt, and it's pretty awesome. Proceeds go to the Juvenile Diabetes Research, and you can order the shirt by clicking here.
You can also check out a picture of the shirt, along with Chris Jericho's message to the fans below.
"I'll see you all again soon, but in honor of the amazing run I had over the past 16 months in WWE, I've designed this official #GOAT shirt as a thanks to you, the Friends Of Jericho! As always, proceeds will go towards the support of Juvenile Diabetes Research, JDRF! Available for two weeks only! So, get yours NOW at represent.com/goat!"