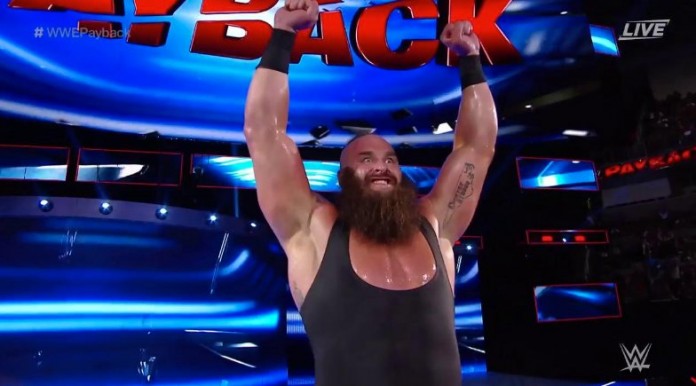 It's Payback. We've got a pretty stacked card and the superstars are ready to go. There's a House Of Horrors match, whatever the heck that's going to be. But Braun Strowman vs Roman Reigns is sure to be entertaining.
Related: Bruce Prichard Says WWE Announcers Pee Themselves When They Need To
There are two matches that might steal the show and they are both championship encounters. The Hardy Boyz vs Sheamus and Cesaro and Owens vs Jericho both have incredible possibilities. Let's get it started. If you'd like to see what we thought might happen you can click here.
Big Cass and Enzo vs The Club (Kickoff Show Match)
Before the match Enzo called The Club "The Mr Clean Dream Team"… that was clever. Then Big Cass started listing a bunch of oriental food dishes. "How you doing?" They need to either break them up or hurry and give them a title already. They're so over it's insane.
Enzo got some early offense and this crowd broke out in a few huge "How you doing?" chants. But Enzo eventually assumed his role as rag doll and he took a few big moves from Gallows and Anderson. The hit him with some great tag team maneuvers and sent him out of the ring to collect himself.
Enzo continued to take abuse when he got back inside. The Club cut the ring in half and didn't let him get to Big Cass. Suddenly Enzo pulled off a tornado DDT and he was able to get over to the corner for the tag. But Anderson jumped in at the last second and stopped him. Well, it looked like a tag, but the ref waved it off. That spot might wind up on Botchamania.
Enzo kept getting murdered in the ring. Vince likes to watch his body bounce off of his ring. Amore finally got the tag and Big Cass started cleaning house. Gallows dodged a corner move but it was all for not. Cass hit him with a slam, Empire Elbow, and two splashes in the corner. Anderson moved Gallows and Cass missed the third one.
The announcers were really putting Big Cass over and saying stuff about how he has a big future. No mention of Enzo there.
Enzo did get the tag and he ended up in a Magic Killer. Big Cass ran in and saved him. Then Enzo rolled Gallows up for the three count.
Looks like Enzo and Big Cass are still kicking.
Finn Balor on MIZ TV
Finn Balor is on Miz TV. Let's hope he doesn't get hurt.
Miz proved why he's one of the greatest talkers of all time by starting with fury on the microphone. Miz TV is a great way to use The Miz after the superstar shake-up. But have you noticed how Dean Ambrose is on Raw now with the IC Title, but he's not on the show. Instead, they're defending SmackDown's US Title. Wrestling is confusing sometimes, but imagine how confusing it must be in the writer's room sometimes.
Miz made a comment about how Finn's entrance is 5-minutes. It really is the new Undertaker-esque entrance. It's long, drawn out, epic, and dark.
Miz asked him what his fans were all about. Finn said the crowd was The Balor Club. Then Miz asked if he could be in the Balor Club. Finn said it's not his decision, it's the decision of The Balor Club. Soooo, The Balor Club isn't goning to be a faction. It's just what he calls his fans. Nice save.
Miz put Finn Balor over for some reason, but then turned it around to say Finn fought with his heart and not his brain. Miz then started to put himself over. He was very entertaining. He always is.
Balor said he's going to get his title back. Finn said he knew who the Universal Champion is. He said he's been facing bigger men his whole life and he liked those odds.
Finn said there are two clubs you can be in. The Balor Club and the Finn Balor Just Kicked My Arse Club. He squared off against Miz, but Mike shielded himself behind his wife.
Finn said Miz wasn't worth it and he didn't want this episode of Miz TV to end like all the other ones. Then Finn turned to leave. Miz started spouting off to him and Balor hit him with a slingblade and that stiff corner dropkick.
Kevin Owens vs Chris Jericho (US Title Match)
They started off Payback with a good one. Kevin Owen's new graphic has his face all over it and it says "Face Of America" … It is beautiful.
As soon as the bell rang, KO started running. Chris ran out to get him and Kevin caught him coming back in. Kevin's new ring attire is red, white, and blue. It's hilarious. He's going all out with this Face Of America gimmick.
Jericho hit a nice looking top rope back elbow and followed it later with a running bulldog. He tried for a Lionsault, but Owens rolled outside. KO used the ring post and threw Jericho into the barricade.
KO hit Jericho with a cannonball against the barricade and Chris was out. The ref counted to 9, but Chris rolled in at the last second to avoid a count out. 1-2-kickout.
Owens took Jericho to the mat with a headlock and slowed things down a bit. Owens hit a neckbreaker and got a 2 count. Then he resumed another headlock.
"Stupid idiot" chants rose out of the crowd as Jericho mounted his comeback. KO clotheslined him back down before he could get much started. Kevin kept picking at Y2J and planted him with a DDT. 1-2-kickout.
Kevin Owens slapped another side headlock in and took the match to the mat. "That's why I'm the champ!" KO yelled. Jericho went for a splash in the corner and KO dodged. Jericho took another ring post bump and went flying outside. Jericho made it back in the ring on his own but took some stiff chops from Owens.
Jericho returned the favor and hit him with some chops of his own. KO sent Jericho outside, but he jumped up to the top rope and hit him with a double axe-handle from the top. Jericho tried to slap in the Walls Of Jericho but didn't get it on until KO launched him with his legs.
Jericho started unloading on KO in the corner with chops, but Kevin reversed a whip in the opposite corner with a superkick. Owens tried to hit a pop-up powerbomb, but Jericho didn't bounce back. The two hit some reversals off each other and Kevin ended up hitting a cannonball in the corner. Two count.
KO looked frustrated at this point. He grabbed his former best friend and sent him into the rope for a pop-up powerbomb. Jericho reversed it with a hurricanrana and then he locked in the Walls Of Jericho.
KO was in trouble. He was hurting. But he got one finger wrapped around the bottom rope. Jericho started stomping that finger. Jericho wedged Owens' hand against the ring steps and stomped the steps all because of that finger. True story.
When they got back in KO poked him in the eye with his finger and rolled Jericho up for a two count. KO couldn't make a pop-up powerbomb happen because his hand hurt.
Chris Jericho slapped on the Walls Of Jericho and after some torture, KEVIN OWENS TAPPED OUT!
So, KO is still on Raw, Jericho is going to SmackDown Live. Say what?! Jericho is going on a Fozzy tour. KO was already in that feud with AJ Styles who is the #1 contender for the US Title. What is AJ supposed to do while Chris is on the Fozzy tour? We're so confused and this is just the first match.
Neville vs Austin Aries (Cruiserweight Championship)
It's time for A Double to try and take that awesome purple belt from Neville. But, unless they want two title changes in a row it might not happen. Let's go!
Okay, it started slowly. They soaked up the crowd and let them get in a couple "Austin Aries" chants. Aries and Neville felt each other out for a bit and Aries won an opening exchange with a nice arm drag.
Neville pushed Aries in the corner and hit him with a headbutt to the chest. Aries returned with a fury of moves to Neville and the ref had to back him off at one point. Aries lounged on the top rope to wait for Neville to get back up.
Aries hit him with an elbow and multiple aerial moves. Then he climbed on top, but Neville dropkicked his feet out from under him to send Austin crumbling to the mat.
Neville sent Aries into the corner with such force it sent A Double slamming into the mat very hard. It didn't look like a fun time.
Neville got him in a headlock to keep the Greatest Man That Ever Lived grounded. Aries got back to his feet, but Neville slammed his face back into the mat. Neville climbed to the top rope and hit him with a beautiful dropkick from the top. 1-2-kickout!
Neville started taunting the fans and they booed the evil elf. Austin tossed him over the top rope via dropkick to get him back for all the things he's done. Neville and Aries continued to battle, but Aries hit him with a pendulum elbow and another elbow off the top rope.
Aries caught him with a reverse neckbreaker through the ropes, and a suicide dive afterward. But he only got a two-count pin.
Austin tried to get in the Last Chancery, but it was blocked. Austin tried to get a Discus Five Arm, but it didn't work. Austin did catch him with a forearm and a sick powerbomb from the top rope.
The next thing Neville knew he was in the Last Chancery. Neville was about to tap, but instead, he grabbed the referee and tossed him across the ring.
The referee called for the bell and Austin Aries won via DQ. Yay, Aries won. But he didn't win the Cruiserweight Championship. Well played, Neville.
The Hardy Boyz vs Sheamus and Cesaro (WWE Tag Team Championship)
It's time to delete Sheamus and Cesaro! Wait, they aren't doing that yet. Well, they probably will be doing it very soon. The Hardy Boyz got a great "screaming female" pop as well as a "smart mark" pop. It was a good mixture.
Jeff is looking good and Matt is showing signs of being a bit broken. Sheamus and Cesaro are just two big and talented dudes. This match was set to be a good one full of plenty of brass ring grabbing action.
Matt and Cesaro started it out. They traded some holds. Cesaro rolled Matt up and he kicked out at one. They were feeling each other out with some old-school wrestling. "Obsolete" chants started ringing out as Jeff Hardy got the tag.
He took it to Cesaro and softened him up to tag his brother back in. Matt and Jeff hit some Poetry In Motion using Matt as a human springboard. Matt went for a backdrop but Cesaro nailed him with an uppercut to tag off to Sheamus.
"You look stupid" chants rang out against Sheamus and Cesaro took control of the match. Cesaro and Sheamus showed some nice tagging in and out here.
Matt got the tag off to Jeff. Sheamus took some quick damage including the inverted senton, which is just a double legdrop to the nuts. Sheamus threw Jeff Hardy outside the ring and it looked incredibly sick.
Cesaro hit Jeff with a gut wrench suplex then tagged Sheamus back in. Jeff tried to fight them both for a second but it was unsuccessful. Sheamus got the upper hand until Jeff hit him with a jawbreaker to split up a headlock. Sheamus kicked Jeff right square in the face. Like really hard. Straight in the face… seriously. 2 count. Corey Graves kept saying Jeff lost a tooth. We wouldn't be surprised.
Jeff kept taking abuse from Cesaro and Sheamus. These guys made everything look great. "Let's go Hardy" chants broke out, but it didn't slow Cesaro and Sheamus down. Jeff his a desperation Whisper In The Wind on both opponents and started to crawl toward his brother.
Matt finally got the tag and he hit Ceraso's head off of the turnbuckle a lot. Matt yelled "delete" over and over as he ran a clinic on Cesaro. Sheamus broke up the pin attempt. Jeff took Sheamus out on the outside. Cesaro moved out of the way of a top rope move from Hardy.
Cesaro hit a springboard corkscrew elbow that was insane. Then Matt Hardy went on a Cesaro Swing for a long time. Then Matt got locked in the sharpshooter. Jeff looked like he missed a spot where he was supposed to push the rope toward Matt but he got to the rope anyway.
Sheamus took Jeff out. The two legal men got on the top rope and Sheamus hit Matt with White Noise from the 2nd rope. 1-2-Jeff broke up the pin. Jeff ends up throwing Cesaro over the barricade. Sheamus goes for a Brogue Kick but Matt ducked.
Sheamus hit a DDT for a two count. Jeff got the tag and Jeff hit a Swanton Bomb on him while he thought he was covering Matt. So Matt kinda took a Swanton Bomb there too. Anyway, 1-2-3… HARDYS WIN.
After the match, everyone shook hands. Then while The Hardy Boyz were celebrating Shesaro turned heel and jumped The Hardys. They threw Matt in the ring after nearly taking Jeff out by Brogue Kicking his back into the ring post. Both men hovered around Matt. Cesaro held Matt and Sheamus Brogue Kicked the hell out of him. Matt's head looked like it was busted open hard way there too.
Bayley vs Alexa Bliss (Raw Women's Championship)
Guess what? Bayley got a huge reaction in her hometown. JoJo gave the match the best big fight feel she could with the introductions. Bayley's name didn't even get mentioned before the crowd blew up in a cheer. Apparently people like hearing their city's name.
Bayley and Alexa didn't have to do much for this crowd to be invested. They were very hot for this match.
Bliss took some heel techniques early on but Bayley caught her for a big slam and a knee drop. Bliss powered out of the ring but Bayley ran out to catch her. She hit Bliss with a baseball slide through the ropes. It looked inspired by Sami Zayn.
Bliss got back in the ring and continued to take some damage. Alexa suddenly hit Bayley with a forearm and she fell hard on the mat. Bliss maintained control for next few moments of the match.
Bayley took some knees to the back but kicked out at two. Alexa stood on her hair and stretched Bayley's arms. The referee counted to 5, but that was more than enough time for the Five Feet Of Fury to do some damage.
Alexa slowed the match down and got her in a headlock. Bayley rolled around and sent Alexa flying, but Bliss was quick to get back up and maintain control. She stood on Bayley and kicked her out of the ring. Bayley looked like she was in trouble.
Bayley caught Alexa while trying to come back in. She hit Alexa with a top rope smash and a running clothesline. Then she hit her with a suplex and a sliding clothesline. Bayley caught her with another side suplex and got a two-count.
Bayley tightened up her hairbow and climbed to the top. She hit a standing corkscrew elbow. But just before she could hit another move, Bliss tossed her head into the corner. Bliss climbed to the top and Bayley came back to life.
Bayley and Bliss were on the top and Bayley tried to hold her, Bliss knocked her off and hit a sunset flip powerbomb that was beautiful. 1-2-kickout. Alexa hit her flipping double knees, but missed the second set of knees. Bayley hit her with a running knee of her own.
Bayley climbed to the top rope and nailed her with a Macho Man Elbow Drop. 1-2-kickout. Bliss slapped Bayley and the two started brawling.
Bayley kicked Bliss down in the corner. Bliss threw her back and they tried for another sunset flip. Bayley got out of a roll up from Bliss and was sent launching face first into the post. Bayley looked like she took that right in the face.
Bayley ended up trying to pin Bliss with a roll up but it didn't work. Bayley was selling that head bump bad. Bliss hit her with a Blissful DDT. 1-2-3 and Bayley lost the title in her hometown. Niiiiiice.
Alexa Bliss is now the first ever SmackDown and Raw Women's champion. She looks great holding that red belt behind her head too.
Bray Wyatt vs Randy Orton (House Of Horrors Match)
Let's get this one started. We expected WWE to go over the top with the concept and try to get all American Horror Story on us. Yeah.
People were really confused before the match got started. They threw it to the announce booth to break down the match before they cut to the previously taped segment.
Randy Orton showed up in a limo and he looked ready for battle. A shirtless Orton strolled up to Wyatt's house and there was a massive blue light on him. You could see the cameraman's shadow too. That was a nice touch.
Randy looked in the window and saw Bray inside. Randy ended up breaking in and then it cut to a bunch of close up shots of different stuff in the house. Serously, if you insert the right sound and zoom on anything it can be creepy. Toothbrush! Creepy. PS4 controller! Creepy.
Bray jumped Randy from behind and threw him into something glass. It looked like WWE just rented a house and didn't tell the tenants what they'd be doing there. Randy might have cut his arm, who knows?
Bray ran off and Orton followed him. They zoomed in on more stuff to make it seem creepy.
A hand came out of nowhere and choked Randy. Then he walked in another room and it had a bunch of babydolls hanging from the ceiling. This wasn't creepy at all. It's creepy to me if I go into a house and they don't have a room like that.
Bray jumped Randy from behind once again and hit him. Orton slammed Bray against a wall, but that seemed to only piss Bray off. Wyatt hit him with something wooden and ran off once again.
Randy followed Bray as he held his arm. Wyatt is sure doing Jinder Mahal a huge favor here.
Finally, they end up in a room with a satanic looking shrine in it. That's pleasant! Randy walks through a kitchen and there are tons of dirty dishes in the sink. Creepy.
Bray comes in from behind again to jump Randy, but Orton turned it around on Bray that time. Randy started hitting Bray with some stiff looking working firsts and the two struggled to get on their feet.
There is also a dirty old fridge in the kitchen with "Follow The Buzzards" written on it. It was all very creepy.
Bray just laughed at Randy. Orton grabbed a frying pan to hit Bray with it like Wyatt messed up his eggs in the morning. But Wyatt kicked him in the crotch. Then Wyatt smashed Randy Orton with a refrigerator. Yup. Crushed the hell out of him.
Through some heavy panting, Bray limped through the house and yelled. He opened the door and went outside into the bright blue light. "Follow the buzzards," Bray yelled and he started laughing maniacally.
Bray got in Randy's limo and told his driver to take him to the arena. The limo pulled off as Bray sang "He's got the whole world in his hands." Yup. That's how it ended.
Randy Orton just got wrecked by a fridge. That happened.
Samoa Joe vs Seth Rollins
Samoa Joe is a very stiff man, and the shots he delivered to Rollins' face didn't look like he pulled much. Rollins bounced around to avoid another shot and got him with a dropkick. Joe went to the outside and Seth hit him with a splash.
Seth hit Joe with a closed fist of his own, but Joe sent Rollins over the barricade. Seth jumped over it and hit Joe with a flying clothesline. Seth hit two suicide dives in a row on Samoa Joe and The Destroyer looked tired.
Joe caught a dragon screw on Seth's right knee through the ropes and Rollins jumped to the outside. Joe hit him with a suicide dive of his own and Rollins went flying. Joe rolled in after he threw Rollins between the ropes. Samoa Joe then started a game of strikes against Seth.
Rollins tried to return a few punches, but Joe's advantage continued. Joe kept hitting moves on Seth's knee including a senton. Joe used his size and speed to keep the pressure on Rollins.
Rollins countered into sending Joe's face to the middle turnbuckle. Seth used some speed to kick Joe in the face and turn out some running forearms. But you could tell his knee was bothering him. It would bother us too. He took a senton on his kneecap.
Rollins got caught by Joe and he kept destroying that knee. Then Joe locked on a leg submission on Rollins. Joe is insane. Graves called him The Samoan Submission Machine.
Joe loomed over Seth and kept beating him down after Rollins broke up the leglock. He grabbed Seth's legs and pulled him up. Seth landed on his feet, but not well. Joe power bombed him into a pin and held him down. 1-2, Samoa Joe rolled him over seamlessly into a crab submission. Joe was in control and looked great.
Seth laid in the corner as Joe kept taking it to him. Seth caught Joe with a forearm off the ropes and then caught a sling blade on Joe.
Now both guys were on the mat for a minute. Seth amped himself up for a bit and started taking it to Joe once they were both on their feet.
Rollins hit a Blockbuster on Joe from the top rope and got a two-count. But Joe kept trying to get at Seth's knee. Rollins bounced off the rope and kicked Joe right under the chin with a stiff shot then he went climbing.
Joe hit Seth in the face and climbed up to join him. Rollins slipped under Joe and tried to powerbomb him but his knee couldn't do it. Joe turned it around but Seth reversed into a falcon arrow. After that, Rollins hit a frog splash off the top rope for another two count.
Samoa Joe got back to his feet and Seth came up from behind him. Joe reversed whatever Seth was trying and the two hit each other with a few stiff shots. Seth then kicked Joe right on his ear. Seth came off the ropes and Joe got him with a Coquina Clutch. Seth turned that into a near pin by dropping.
Soon it was a trade of move after move to make it look easy. Seth Rollins rolled Samoa Joe up out of a submission from a fireman's carry on Joe and he held it for a three count.
Seth Rollins won and Joe looked shocked. But Seth didn't win definitively. This could leave the door open for more from these two. Seth looked impressed and surprised himself a little bit when he won. That was a fantastic match and hopefully, we can expect a lot more between these two guys.
House Of Horrors Match Continues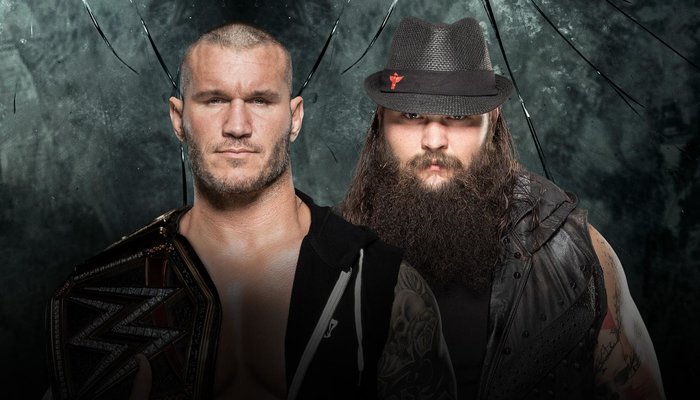 The limo pulled up and Bray got out and made his way to the ring. He walked down the hallway and up a staircase on the far end up to the Gorilla Position. The screen got all Wyatt-like and the fireflies came out to meet The Eater Of Worlds. Bray came out with his lantern in hand and looked like he knew he was a god.
When the lights came back on after his entrance Randy Orton was standing right behind him. Bray took a chair shot and bounced out of the ring. Randy and Bray brawled at ringside for a bit.
At one point Bray took a bump over the announce table. Bray just smiled at Randy before he DDT's him on the floor from the announce table. "We want tables" the crowd chanted.
Randy retrieved a chair and bent it over Bray's back. Then Randy tossed Bray back in the ring. Bray got all RKO-ready and then The Singh Brothers jumped in and took Randy out. Well, for a second. Randy batted them down, but Bray locked in a Sister Abigail and prepared to pull the trigger. Randy got out and hit an RKO.
Then Jinder Mahal jumped in and beat Randy senseless with his own title. Bray Wyatt hit a Sister Abigail. 1-2-3 and Bray looked all like "you're not my new family, are you?"
Bray yelled, "follow the buzzards!" Fade to black on the House Of Horrors match. Yup.
Roman Reigns vs Braun Strowman
The main event of Payback isn't a title match. It's just a match based solely on Payback. These guys also started their match with over thirty minutes til the top of the next hour. They have more than enough time to fight.
They didn't waste much time. There weren't any backstage segments with Kurt Angle or some other product placement. It was just all video promos and matches. It's been a straight up night of pro wrestling.
Braun Strowman's beard is so epic it should have its own t-shirt. Roman Reigns heel response was pretty heavy, but it was outweighed by people cheering too. Roman came out heavily taped up. He was walking pretty gingerly. Roman was selling that ambulance-flipping angle.
Roman started hitting Braun before the bell even rang. Braun went to the outside to separate the two and Roman hit him with a running clothesline off the ring steps. Roman went to jump for a driveby, but Braun snatched him up out of midair and launched him into the barricade.
Braun choke slammed Roman on the German announce table. It didn't break. But it still hurt.
Braun tossed Roman back in the ring and began picking him apart. The crowd started some heavy chants for and against Roman while Braun kicked Reigns in the chest. Roman remained on the ground for a bit.
Braun threw Roman through the turnbuckle to the ring post. Roman fell outside and looked very dazed. Braun followed him outside and smashed him against the ring steps twice.
Braun rolled Roman back inside the ring and started kneeing him in the face. Through all of that punishment, Roman didn't let the referee count to three.
Braun locked in a very interesting bearhug while Roman was on the mat. It looked strange, but it also hurt. Braun was simply using his natural superhuman strength in his advantage.
Roman moved out of the way and Braun missed him on two consecutive turnbuckle smashes. Then Roman started to shop Braun down.
Roman powered Braun on his back and hit him with a Samoan Drop. 1-2-kickout. Braun threw Roman so hard he landed right back on his feet. Then the two took it outside again.
Roman finally hit a Drive By on Braun and then stood back to measure the situation. He ran to hit Braun again but Strowman picked him up. Braun went to throw Roman into the ring post but Roman sent him into the ringpost…twice.
Strowman barely beat the 10-count from the ref. Roman hit a spear but Strowman kicked out of the pin! Roman got to his feet and yelled once again. He went for a spear, but Braun knocked him with a fist. He tried to get Roman in a move, but Reigns slithered out. Roman hit Braun with two superman punches and went for a third. Braun didn't let a third one happen. Braun snatched him into a chokehold and then a slam. But Roman kicked out.
Neither man knew what to try next. Braun hoisted Roman up and hit him with another running powerslam and 1-2-3… he beat Roman Reigns clean.
Braun Strowman beat Roman Reigns clean. THAT WILL WORK!
Roman was left in the ring while Braun walked outside. Braun picked up the ring steps and threw them in the ring. Strowman jumped in after the steps and picked Roman up. As the crowd chanted "thank you Strowman" Braun launched Roman into the ring steps.
Braun stood in the ring and held the steps as Roman writhed in pain on the canvas. Braun lifted the steps and brought them down into the ribs of Roman Reigns. The bloodthirsty crowd chanted "one more time" as WWE officials rushed to the ring.
Roman is seen "coughing up blood" as Braun Strowman stood at the top of the entrance with his arms up in victory. As officials rushed in the ring, the crowd chanted "thank you Strowman" once more.
Roman limped his way up the ramp flanked by WWE officials. He made his way in front of the announce table and EMTs finally showed up at ringside. This seemed very odd. Roman said he wasn't getting strapped to another stretcher and he limped out of the arena.
On Raw Talk after the Payback PPV was actually over, Roman is shown walking backstage. He fell to his knee and started coughing up more blood. Officials begged him to follow them so he could get looked at while the announcers hyped his "internal injuries."
Roman is led to another ambulance by Fit Finlay and Braun Strowman came charging at Reigns yelling "I'm not finished with you!" Roman dodged and Braun took out an ambulance door. Roman smashed Braun's head with the ambulance door a few times and Braun went running.
Okay, that was Payback. I guess. Maybe it's still going on we just don't realize it.