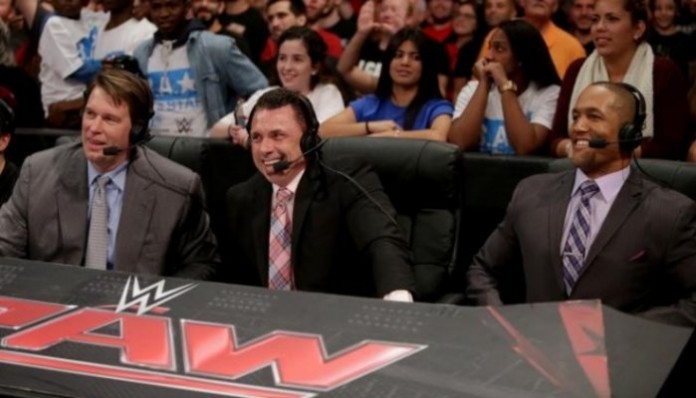 This one might ruin some childhood memories. If you've ever imagined Jim Ross or Michael Cole sitting at ringside calling a WWE match having a luxurious experience, then you might be mistaken. In a recent episode of "Something To Wrestle With" they had a special AMA show and Bruce opened up about a little-known practice.
During the episode, Bruce Prichard was asked what WWE announcers do if they have to relieve themselves during a show. Bruce had a rather surprising response.
Conrad read a fan question asking where announcers go to the bathroom and if there are any funny stories about it. "Yeah in their pants" Bruce Prichard said simply. "[In Jim Ross impression] 'godd— boy, I gotta pee. That's why I wear black!' Sometimes you just pee. You gotta go."
Co-host Conrad Thompson asked Bruce if he was joking and Bruce said 100% serious. "Jim Ross has peed his pants, yes. You're out there for four f—— hours and you gotta p—. It's not like you can take a break and go back and p—. You gotta pee, you gotta pee. That's why you wear black."
Bruce was asked by Conrad if on Monday Night Raw right now Michael Cole, Corey Graves, and Booker T are peeing themselves if they have to go to the bathroom. Prichard said "Booker wouldn't p—. Booker's got class for f—-sake."
Bruce said Howard Finkle would pee his pants if he needed to "because he's a pro."
"You think it's a coincidence they f—— wear black?" Bruce asked. When Conrad told Bruce he was blowing his mind he followed it up by asking what they would do if they had a #2 coming. "It's black. You just go poo-poo," Bruce replied. He sounded serious.
Bruce sounded like he was just revealing some kind of succinct fact about a common circumstance.
"Vince would hold it," Bruce said when he was asked what McMahon would do in the same situation. "Or he'd have someone come down to ringside and hold it for him. How do you not know that? Everybody knows that in godd— television. That's what announcers do. Play-by-play guys, if you gotta pee you go on the air."
We're not sure if this is still standard practice today, it might be one of the reasons why the Raw announce desk is by the entrance now. Adult diapers might be in play. But it sure gives a brand new meaning to the phrase, "business just picked up."
If you use any portion of the quotes in this article, please credit "Something To Wrestle With" with a H/T to Still Real To Us for the transcription.