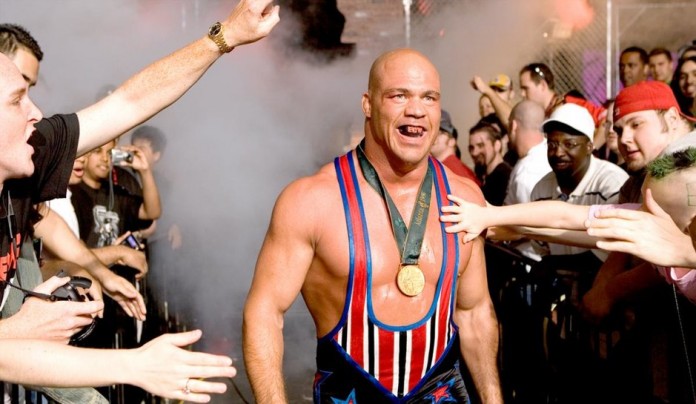 The 2017 Royal Rumble is quickly approaching and so far big names such as Goldberg, Brock Lesnar, The Undertaker, Chris Jericho and more have all been confirmed for the event. This year's Royal Rumble already has a star studded lineup, but if there's one thing fans look forward to while watching the Royal Rumble match every year, it's the surprise entrants.
Surprise entrants have become a huge attraction for the Royal Rumble match over the years, and everyone's trying to figure out who we might see this year.
There are a lot of rumors out there regarding surprise entrants for the 2017 Royal Rumble match, but today we're going to look at surprise entrants who would not only make sense within the context of the match, but entrants who we also know could physically compete in the Royal Rumble if called upon. Without further ado, let's take a look at 5 surprise entrants who must enter the 2017 Royal Rumble match.
#5 – Triple H
Triple H returned to television back in August of 2016, and he screwed Seth Rollins out of winning the Universal Championship when he turned on Rollins and aligned himself with Kevin Owens. Since then Seth Rollins has been calling Triple H out, but he has yet to appear to confront Rollins and explain his actions.
Seth Rollins vs. Triple H is said to be one of the match that's "locked in" for the WrestleMania 33 card, and if that is the case then business is going to have to pick up for this feud sooner rather than later.
Over the past few months Seth Rollins has made it clear that he wants to win the Universal Championship as a way to get back at Triple H for screwing him over. Winning the Royal Rumble would certainly help Seth achieve his goal, but wouldn't it be great if Triple H entered the Royal Rumble only to screw Seth Rollins over once again?
Picture this: the countdown clock strikes zero, Triple H's music hits, he makes his way down to the ring, eliminates Seth Rollins, and then willingly eliminates himself before returning to the backstage area. Sounds like a total dick move, which is something Triple H has perfected over the years.
#4 – Tye Dillinger
Rumors of NXT stars appearing in the Royal Rumble match are all the rage right now, and Tye Dillinger's name is one that has come up quite frequently in recent weeks. Fans are hoping to see Dillinger make his debut at the Royal Rumble, and the rumor is that WWE officials are hoping his "10" gimmick could be the next big crowd chant that gets over the with live audiences.
Tye Dillinger has spent a good amount of time in WWE development, but most fans would agree that he's ready for the big time. It doesn't look like there are any plans in place for Tye Dillinger to take one of the top spots in NXT, and WWE could always use more fresh talent on the main roster. So, as far as surprise entrants go, it seems that the time is right for Tye Dillinger to make his way up to the big leagues.
#3 – Shinsuke Nakamura
Shinsuke Nakamura is the current NXT Champion as of this writing, and he's also the face of the NXT brand at the moment. Although it was recently reported that Shinsuke Nakamura is being groomed for a main roster spot, with his current status as NXT's top star, it's hard to see how it would make sense for him to be called up ahead of WrestleMania. However, it's not hard to see how he could fit into this year's Royal Rumble match.
A surprise Royal Rumble spot wouldn't necessarily have to mean a full time main roster call up for Shinsuke Namakura right away. In the past NXT stars such as Rusev and Sami Zayn have appeared in the Royal Rumble, only to make their way back to NXT. WWE could do something similar with Nakamura this year.
Despite his status as NXT's top star, it's clear that Shinsuke Nakamura was ready for the main roster long before he ever put the pen to paper on his NXT contract. Fans have been waiting patiently for Shinsuke Nakamura to debut on the main roster, and making him one of the surprise entrants in the Royal Rumble match could be a nice way for WWE to reward their patience. Even if Shinsuke doesn't end up on the main roster full time ahead of WrestleMania.
#2 – Kurt Angle
WWE recently announced that Kurt Angle is set to headline the 2017 Hall of Fame class, but Kurt has said publicly that as of right now the two sides have not discussed any plans regarding a WWE in-ring return for Angle.
Anyone who followed his TNA career closely, or anyone who watched his indie matches from 2016, knows that Kurt Angle can still go in the ring. It certainly doesn't make sense to leave one of the most talented wrestlers in the world out of the Royal Rumble, especially since WWE and Angle seem to be on good terms right now.
Kurt Angle only has one more independent date booked with WCPW on February 12th, which leaves him wide open to be one of the surprise entrants in the Royal Rumble spot January 29th.
With Kurt Angle set to be inducted into the Hall of Fame this year, and Kurt publicly stating several times that there are no plans in place for him to wrestle in a WWE ring right now, the question must be asked, could Kurt Angle and WWE be swerving us to set up a huge Royal Rumble return? Let's hope the answer is yes.
#1 – Samoa Joe
It's been rumored that WWE has big plans for Samoa Joe heading into WrestleMania, and recent reports suggest that Joe could be in line for a big push if WWE officials decide to pull the trigger. If Samoa Joe's main roster debut truly is imminent, then there's no better place for him to make an impact than the Royal Rumble.
Samoa Joe has done some great work in NXT since his debut, and he has the honor of being the first ever two time NXT Champion, and he's also the man with the shortest reign in the history of the title.
Joe's NXT career seems to be winding down, as he's been on the losing side of his title feud with Shinsuke Nakamura, and it looks like Bobby Roode is now transitioning into the top heel spot.
Samoa Joe has done all there is to do in NXT and it doesn't make sense to keep him there any longer. You know what does make sense? Samoa Joe destroying people in the Royal Rumble match. I think most of us can agree that that's something we would like to see on January 29th.