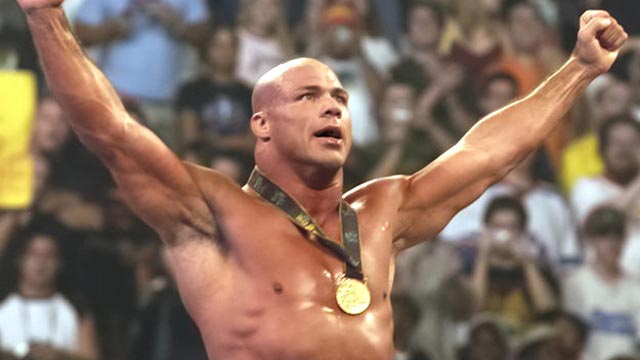 Fans have been waiting a long time for Kurt Angle to return to WWE and today it was announced that Kurt is set to be inducted into the Hall of Fame as part of the 2017 class. ESPN broke the news about Kurt's induction and Angle told them that he was shocked when he got the call.
Related: Kurt Angle Announced For The 2017 WWE Hall Of Fame Class
"I was shocked. I've been out of WWE for a long time and out of touch with them so I didn't really expect this," Angle told ESPN.com. "It's a huge honor. This is the only Hall of Fame that I'm not in and probably [the one] I want to be in the most. This is the one that means the most for me. I had a lot of fun entertaining the fans for seven years with WWE, and I'm glad that my hard work paid off."
Now that Kurt Angle is returning to WWE, everyone wants to know if he's going to be wrestling inside a WWE ring again. According to Kurt Angle, it was Triple H who called him on Monday to inform him that he's set to be inducted, however Kurt noted that they haven't discussed plans in regards to him wrestling.
"We have not talked about any wrestling," Angle said. "Whether we do or not, that remains to be seen… There are no guarantees. I think right now the most important thing is the Hall of Fame — and I think both sides feel that way."
Although plans apparently have been discussed, Kurt Angle can still go inside the ring and he would make and his name certainly holds a lot of value in the world of professional wrestling. With WrestleMania 33 right around the corner it certainly wouldn't be shocking to see WWE add Kurt to the card.
In regards to who he might like to wrestle if he does end up back in a WWE ring, Kurt named AJ Styles and Seth Rollins as opponents he would like to face.
"There are guys [I enjoy watching] like Rusev and Cesaro, Kevin Owens and Roman Reigns," Angle said. "But the ones that stick out to me are AJ Styles and Seth Rollins. I really like those talents. They seem to be carrying the torch right now… If I had my last match with whomever, it would be AJ Styles or Seth Rollins."
The 2017 WWE Hall of Fame ceremony is set to air live on the WWE Network on Friday, March 31st.