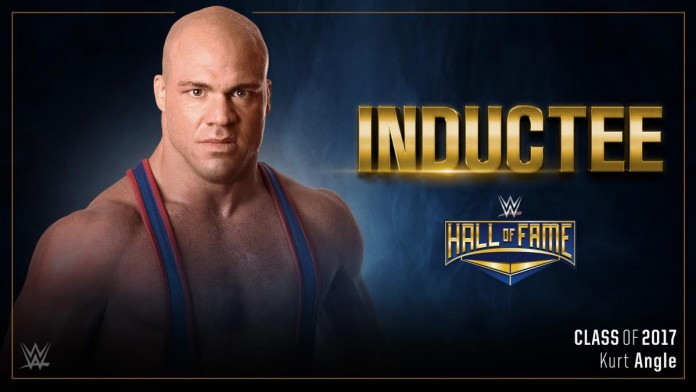 There have been a lot of rumors going around in regards to who will be inducted into the WWE Hall of Fame this year, and now the company has officially announced the first inductee. WWE has confirmed that Kurt Angle will be going into the Hall of Fame this year.
"Kurt Angle's accomplishments both in the Olympics and WWE were extraordinary," said WWE's Executive Vice President of Talent, Live Events and Creative Paul Levesque. "He was one of the most gifted athletes to ever enter the ring, and we are honored to welcome him into the WWE Hall of Fame."
Kurt Angle parted ways with TNA in early 2016 and since then rumors of his WWE return have been making the rounds on the internet and it was recently reported that Kurt Angle has been telling indie promoters that he is WWE bound.
Kurt Angle made his WWE debut at Survivor Series in 1999 and he went on to have an incredible run with the company. During his run with the company Kurt Angle won the WWE World Championship, Intercontinental Championship, Tag Team Championship, European Championship and Hardcore Championship. He also won the WCW World Championship and WCW United States Championship during the invasion angle.
Angle parted ways with WWE in 2006 and he later joined TNA and he won multiple titles during his run with the company.
Fans have been patiently waiting for Kurt to come home to WWE and now the wait has finally paid off. Congratulations Kurt Angle.
I'm coming home! #itsdamntrue

— Kurt Angle (@RealKurtAngle) January 16, 2017