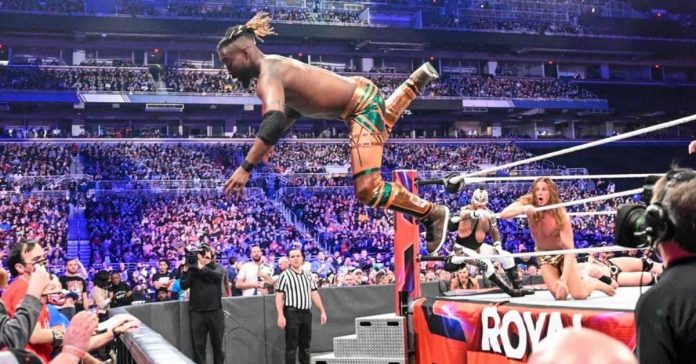 When it comes to Royal Rumble matches Kofi Kingston has become a human highlight reel throughout the course of his career, and he's given fans plenty to talk about. The former WWE Champion went for another memorable spot in the men's Royal Rumble this year, but unfortunately it didn't work out for him.
Kingston was pushed from the top rope, but he tried to stop himself from hitting the floor by grabbing the barricade. Kofi hung on hoping for the best, but shortly after he landed a replay confirmed that both feet had touched the floor and he had been eliminated.
According to Bryan Alvarez of the Wrestling Observer the spot was mistimed and Kofi Kingston was legitimately eliminated earlier than he was supposed to be. It was also noted that spots were planned for later in the Royal Rumble involving Big E and Kofi Kingston.
Kofi's big spot was mistimed and he was legitimately eliminated when he wasn't supposed to be, there were spots planned later with Big E out there

— Bryan Alvarez (@bryanalvarez) January 30, 2022
As noted Kofi Kingston commented on the botch when he posted the following on Twitter:
Welp! 😂

"It is Better to Try and Fail Than Never to Try at All."

-someone said this

— 🎅🏿 Sir Kofi Krampus 🎅🏿 (@TrueKofi) January 30, 2022
Stay tuned for more updates as they become available.