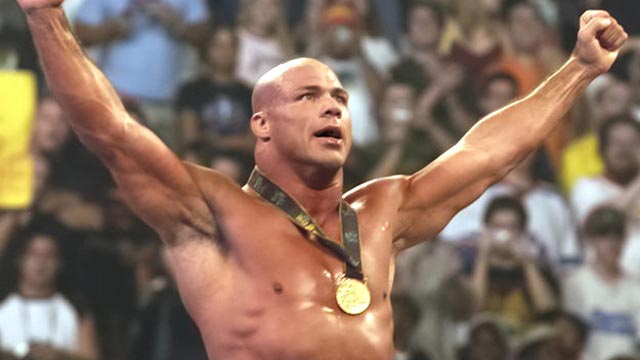 Kurt Angle is a legendary wrestler and he's set to become a WWE Hall of Famer on March 31st. Angle has had an incredible career inside the squared circle, both with WWE and TNA Impact Wrestling.
When Kurt Angle made his WWE debut you could tell there was something special about him, and apparently Vince McMahon felt the same way because he pushed him to the moon. But in 2006 Angle parted ways with the WWE and joined Impact Wrestling.
Over the years Kurt Angle has said that he felt like a liability to WWE and Vince McMahon because he was having problems with addiction, which is a big reason why he left. But all of that is water under the bridge now because Kurt is clean and he's back in WWE's good graces.
After Raw this week a new episode of Bring it to the Table aired on the WWE Network and the episode featured a special interview between Kurt Angle and Corey Graves. During the interview Kurt talked about meeting with Vince McMahon for the first time in 11 years.
Angle admitted that he wasn't sure what to expect, but Vince welcomed him back with open arms. During the interview WWE aired a short clip of Angle's meeting with Vince which can be viewed below.
What was it like for @RealKurtAngle to meet with @VinceMcMahon once again for the first time in 11 years? #BringItToTheTable @WWEGraves pic.twitter.com/UU97Afbc6S

— WWE (@WWE) March 14, 2017
It was also revealed this week that a WWE 24 special on Kurt Angle is currently in the works which means there's a possibility that we might see more of Angle's meeting with Vince.
As of right now the exact release date is unknown, but given that Angle is set to become a WWE Hall of Fame in a few weeks it will likely be sooner than later.