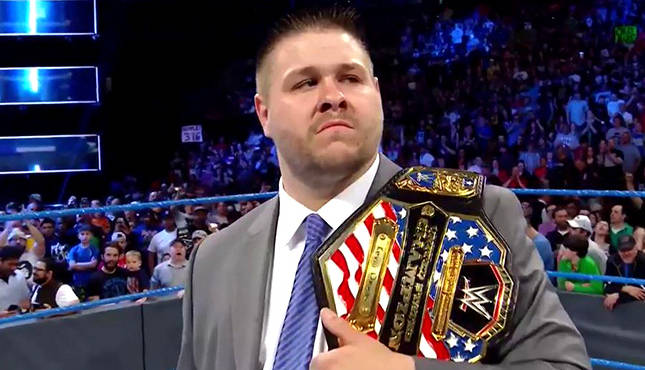 Kevin Owens has been on the WWE main roster for two years now, and he's accomplished a lot since making the jump from NXT. Owens is a former Universal Champion, former Intercontinental Champion and he's the current WWE United States Champion.
Related: Kevin Owens Goes Full Heel On Fan Asking For An Autograph, NJPW Debuts New US Title
Kevin Owens has also been part of WrestleMania for the past two years, and although he didn't have much success at WrestleMania 32, he did manage to win gold after he defeated Chris Jericho at WrestleMania 33. If all goes well Kevin Owens will be wrestling at WrestleMania for many years to come, and he has a few dream opponents in mind for the big event.
During a recent interview with NOLA, the current WWE United States Champion named WWE Hall of Famer Shawn Michaels as his WrestleMania dream opponent.
"If you say past, it's Shawn Michaels hands down. If you say present, Sami Zayn and I have had such a rich history, I feel like a one-on-one match at WrestleMania would be so perfect. But there's also Finn Balor. He's my best friend. He's probably the one guy if I could sit across from in the ring at WrestleMania, that would make my career. Finn and I got to WWE at the same time, and we dived into an unknown territory. We gravitated toward each other very quickly. He's like a brother to me now."
Owens also praised The Undertaker's match with Shawn Michaels from WrestleMania 25 and he called it the greatest wrestling match of all time.
"Undertaker-Shawn Michaels from WrestleMania 25 is untouchable. I think it's the greatest wrestling match of all-time. I haven't seen anything better since, and I watch a lot of wrestling. It's absolutely perfect. I was in awe, it was so good."
If you could see Kevin Owens face any wrestler at WrestleMania who would it be? Sound off in the comments below.
On this week's episode of Still Real Radio, we're talking to former WWE World Heavyweight Champion Jack Swagger about what's next for his wrestling career, possibly going to Impact Wrestling, winning the World Title and more. You can subscribe to Still Real Radio on iTunes and you can check out the latest episode below.