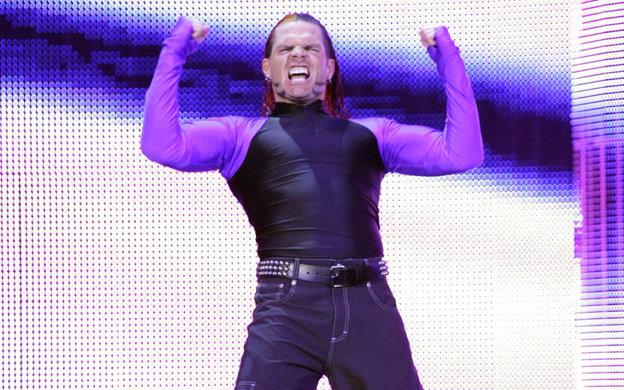 Jeff Hardy's recent arrest might have landed him in some hot water. Jeff was a popular success story after overcoming the perils of addiction but since he wrecked his car on Saturday night and blew a 0.25 blood alcohol level it didn't look good for his sobriety.
Now as Jeff Hardy looks toward the future he sees that a portion of it has already been filmed. Pro Wrestling Sheet reports Jeff did have a cameo in the Ultimate Deletion match which is set to air next week, but Dave Meltzer noted on Wrestling Observer Radio that could easily be edited out.
The important part right now is Jeff's safety and well being, even if that means prolonging his return to WWE.
"Obviously with Jeff, it's a pretty bad deal because of his track record," Dave Meltzer. He went on to say how Jey Uso's recent DUI arrest didn't result in losing any kind of push but that might not be the case for Jeff Hardy. Then again Uso's incident was a first-time offense and there wasn't a crash involved. "It's Jeff Hardy and he blew a 0.25 on his breathalyzer which is pretty bad. It's an interesting thing sometimes there are a lot of double standards if you like a guy and you don't like a guy. Jeff Hardy's one of these guys that pretty much everybody likes."
"He's been around for a long time, he started as a kid and he beats to a different drum and all that but he doesn't seem like he's a harmful guy. I think that's the reputation that he kinda has. But the problem is you know, he's had issues on and off for years and years and years and I mean, I think that in this case, I mean that .25 thing…and the crash and the fact that he is a guy who has a felony record on drug charges, several years ago but still he has it. He has two strikes on his WWE [Wellness Policy violations] I think that WWE pretty much — and I don't know how they're gonna handle it. But I think they pretty much have to send him to rehab."
"I don't think there's any question about this." Meltzer continued, "I think that's the only thing they could do if they wanna use him. I mean they can do whatever they want obviously. But I think for the good of him and everyone in the company and everything first thing's first they gotta get him healthy. I mean, him coming back and wrestling right now going back on the road if he didn't drive that's one thing — but he did. He did crash and I just think just to — if there was no track record and it was his first time that's one thing. But he had a long, long track record."
If you use the quotes in this article credit Wrestling Observer Radio and Still Real To Us for the transcription