New York Comic Con is one of the biggest pop culture events of the year. The Jacob Javtis Convention Center somehow manages to pack more and more fans into the space, as people come together to celebrate their favorite superheroes–or in this case: professional wrestlers. Still Real To Us had the opportunity to catch up with Headlocked creator Michael Kingston at his booth at NYCC again this year. Kingston discusses the growth of his wildly popular comic book series, and his unique friendship with Jerry "The King" Lawler.
"This is the tiredest I've ever been," laughs Michael Kingston. "I did Ring Of Honor last weekend, and sold my books at their shows. I was home for two days before I had to come here. I haven't slept a whole lot. It's something. I try to do what I can, and sleep when I find the time."
There isn't any rest for a creative individual who wants to collaborate with some of the biggest names in the wrestling industry. Between writing the comics, the constant travel, and attending the shows, Kingston makes it look easy when that's the furthest thing from the truth. He runs full speed ahead, never looking back. It's no surprise that the Headlocked creator got the opportunity to work with guys like WWE Champion AJ Styles, and WWE Hall of Famers Ric Flair and Mick Foley over the years.
"Everything works out. It's a hell of a way to live," Kingston exclusively tells Still Real To Us.
This year, Kingston put together a supergroup of talent at his booth. Trish Stratus, Lita, Christian, Sting, and Jerry "The King" Lawler made appearances, delighting wrestling fans who traveled all over the world to attend New York Comic Con. The convention has come a long way with their relationship with pro wrestling.
"One of the things that I have been trying to do, since I started Headlocked, is to make wrestling fans feel excited. When I started doing shows, there was no wrestling stuff. If you were lucky, maybe there was Virgil, Greg Valentine, and Honky Tonk Man," recalls Kingston.
Kingston explains that it isn't a knock on the wrestlers he named. He elaborates that the performers aren't big comic book fans, and the conventions that did the booking would place the nostalgic acts in weird corners–making it hard for fans to find them.
"There was no real place for wrestling fans," says Kingston. "I always wanted to have a space at New York Comic Con where wrestling fans could feel welcome, and mark out. We try to put together the best experience we can."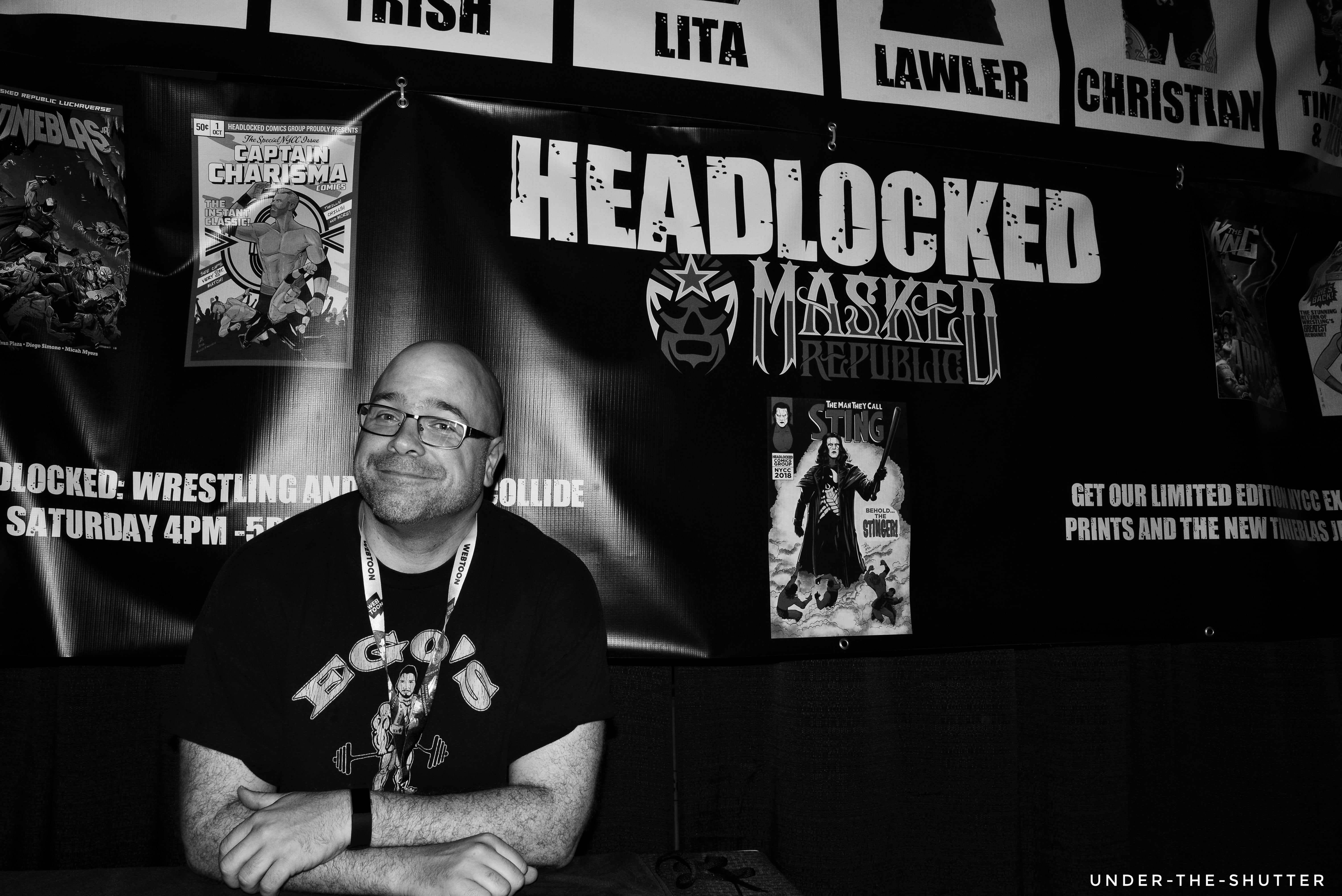 The creator of Headlocked knows a lot of important people from making the rounds over the years, and developing a level of trust. The talent that he works with knows that he isn't trying to get rich off of their names, and is sincere with his mission. One thing that separates Kingston from many of the promoters out there is that he doesn't take any money from the guests that are at his booth. Kingston's warm demeanor caught the eye of Judah Friedlander, who played fan favorite Frank Rossitano on NBC's sitcom, 30 Rock.
"It was nuts," exclaims Kingston. "He walked by my table, and goes, 'Dude. Headlocked. I 'effing love your book.' I was like, "Holy cow.' We got to talking, and I got his number. He's a sweetheart. [Judah] is super supportive. Comics get the struggle that we go through, too. It's the same grind that wrestlers go through."
It was that level of mutual respect that led to Friedlander eventually writing a foreword to Kingston's Headlocked. The hustle could not be denied. In fact, it was that very same hustle that landed Kingston a gig to do work for WWE's comic book series. It's an impressive accomplishment for a man that created his own opportunity. Names like Bullet Club's Cody Rhodes, Impact Wrestling's Pentagón Jr., Kenny Omega, and Tugboat are currently working with Kingston for his next big project. Yes, that Tugboat.
"Tugboat turned in a piece of art for it, which is awesome," Kingston tells Still Real To Us. "That's the best thing about doing this. Wrestlers come up to me and say, 'I've got some skills.'"
It's that kind of conversation that formed a strong bond between Kingston and Jerry Lawler. The Headlocked creator jokes that he's been to more art museums with "The King" than anyone else on the planet. It's his unique connection to the wrestlers that gives him a perspective that many fans don't get to witness on Raw or Smackdown.
"We are both the biggest art nerds, and we get super into it. Everyone thinks you know someone based on how they act on television," nods Kingston. "Everyone has different facets to them. Tugboat has pen and ink skills. Booker T has art skills. That's always been my whole theme: wrestling as an art form."
Continuing to pave the way as a trailblazer, while fighting stigmas, Kingston is providing the wrestling community a platform at conventions that once shunned sports entertainment. No longer giving a cold shoulder to Kingston and his crew, comic book conventions now see a majority of their attendees dressed in their best wrestling cosplay. It's not surprising that Kingston makes people think of wrestling in a different light.
"I love both of these things, and I've loved them my whole life. I love bringing them together. I love to honor the history of wrestling, and do it in a comic book way," concludes Kingston.
You can learn more about Headlocked by clicking HERE and following the official Facebook and Twitter accounts.
All photographs were provided by Kevin Jackson Jr. You can find more of Kevin's work by clicking HERE and following his Instagram account.