Adam Page put on a standout performance at Ring of Honor's Final Battle last week. After successfully defending the ROH World Six-Man Tag Team Championship against Flip Gordon, Dragon Lee, and Titan, The Hung Bucks of Bullet Club are making serious noise in the world of professional wrestling.
In an exclusive interview with Still Real To Us before his big match at the PPV in New York City, 'Hangman' sat down to discuss the faction's growing popularity and what to expect from him in 2018.
"I saw three people at the airport today, in Charlotte, wearing Young Bucks shirts, or Bullet Club shirts, or whatever. It is absolutely insane. They were just random people. It's like, what?"
'Hangman' Adam Page wasn't kidding. Bullet Club merchandise is flying off of the shelves. Hot Topic can't seem to keep anything associated with the Bullet Club logo in-stock. The rebellious group continues to dominate the entire wrestling landscape with no signs of slowing down anytime soon. The rest of the wrestlers in Ring of Honor have been put on notice.
"It's become a bit of pop culture. You know what I mean? It's insane to me, although I can understand how that can happen," said Page.
The high-flying athlete has a good idea as to why the popular group has taken off with the general public. He speculated, "Obviously, that Bullet Club shirt design was a great design. Whoever they had do that, knew what they were doing."
"That was key," Page smiled.
The current champion gave credit to the men before him for establishing the dominance of BC. Page pointed out Finn Balor, AJ Styles, Kenny Omega, and others, for paving the way. "The people involved with that shirt–The people in Bullet Club from the beginning; through now. They are the ones who really made it popular."
The method behind the madness? Fans are drawn to unruly behavior. The 26-year-old competitor from Virginia told Still Real To Us, "They've been able to do something in wrestling that people haven't been able to do a lot. The 'wink wink' kind of stuff. Being a little bit meta and ironic. Ring of Honor fans, New Japan Pro-Wrestling fans, and people who are fans of wrestling outside of the machine, they love and appreciate that."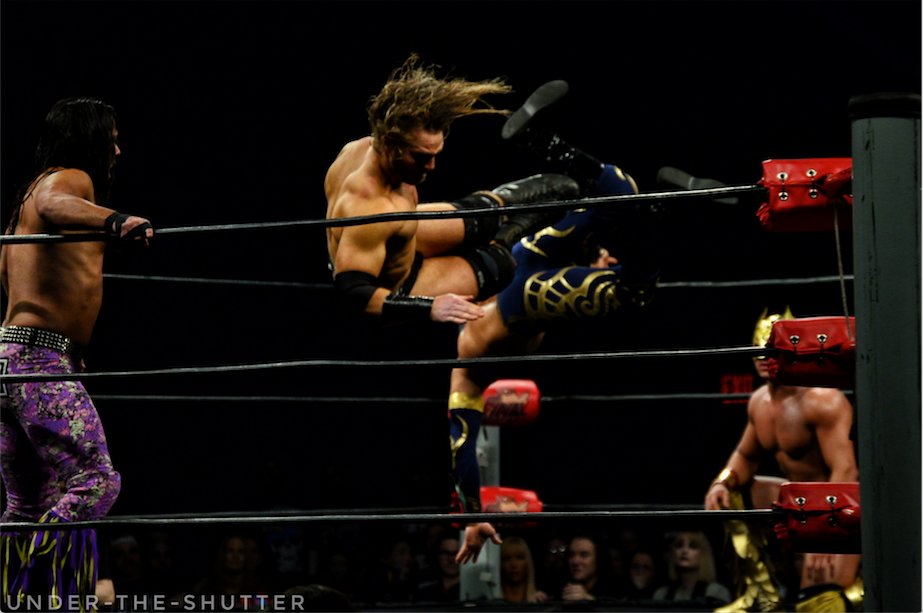 Since debuting for Ring of Honor in 2011, the young and impressive Page picked up a lot of attention for his daredevil offense and breathtaking moveset. When asked what he has learned since lacing up his boots for the company, Page stated, "I couldn't point out anything in particular. I don't think that's from a lack of learning or a lack of picking things up. I think it's because I picked so much up."
"I've learned so much and I have done so much in this past year that I couldn't begin to pick out one single thing. You know what I mean? Working with The Young Bucks, Marty, and Cody…those guys are on a different level, and they have been there for a long time," he elaborated.
Teaming with Matt and Nick Jackson to capture his first title in ROH is a dream come true for the breakout superstar. "Getting to be a part of that has been career-changing for me, in every way. Not just one or two little ways, but in every way," nodded Page.
After defeating Dalton Castle and The Boys last summer, 'Hangman' has made it his personal mission to bring a new level of prestige to the newly introduced championship. Page explained to Still Real To Us, "I want to hold on to these Six-Man Titles for a long time. They are fairly new titles. Only three teams, maybe, have held them. I feel like it's in our hands to make these titles special."
Approaching a chaotic six-man tag team match takes some getting used to. 'Hangman' detailed how he welcomes the challenge. "A lot of times, you get the same amount of time that a singles match might have, but you've got four more people involved. It's going to be faster. It's going to be nonstop. It's going to be a spectacle, a lot of the times. You go into it knowing that and it's a lot different from a singles match."
The confident grappler stated, "The title doesn't make the team, the team makes the title. I want to make these titles mean more than they have before."
As far as having a singles goal, Page has his eye on a particular prize. "The ROH Television Championship is something I have never held before, so I guess that's the next thing for me as far as being a singles competitor goes," he hinted.
Before adding more championships to his name, the wrestler wants to settle the score with a mysterious competitor in the upcoming year. "There is someone out there who I have been developing a bit of a rivalry with. He is someone who I won't mention by name. To create a chance to bring him down a peg, and expose him for being the pretender that he is, would be key for me in 2018."
When asked if the showdown would take place in Ring of Honor, Page grinned, "Maybe. Who knows where it might happen."
You can follow Ring of Honor on Facebook and Twitter. Pictures were provided by Kevin Jackson Jr. More of Kevin's work can be found by clicking HERE. To read more exclusive Still Real To Us interviews featuring your favorite Superstars, click HERE.