Brittany Blake is about to turn heads in Atlantic City tomorrow. The standout 27-year-old competitor is set to square off against Leyla Hirsh, Keira Hogan, and Su Young at Stand Alone Wrestling's Breakout.
A far cry from her early beginnings as a cosplayer, Blake is prepared to use the tough training she received from WWE cruiserweight competitor Drew Gulak to bring it. The event is part of the company's Boardwalk Beatdown spectacular that runs throughout the day. Hosting legendary names like Sting, Goldberg, and Bullet Club, the convention is a dream come true for professional wrestling fans. Still Real To Us caught up with Brittany Blake in an exclusive interview, where she says that Impact Wrestling's Tessa Blanchard is on her radar.
"I started training back in 2013. I graduated from the CZW Academy when Drew Gulak was the head trainer," Blake recalls. "He trained me. I got my real start at Dojo Wars. I jumped right into professional wrestling from there."
The mission of the academy is to present fans the future stars of the wrestling landscape. Trainees receive valuable experience, that they can take with them on the road as they progress as professionals. After seeing some of the biggest risk-takers deliver nonstop thrills on WWE's Monday Night Raw, Blake knew she wanted to be involved in the business. It was just a matter of timing.
"I've been watching WWE since I was a kid. Me and my brother started watching [wrestling] during the height of the Attitude Era and the Monday Night Wars. My favorites were always The Hardys and Lita. I was a big fan of Eddie Guerrero, too. I actually didn't get into indy wrestling until I started training," Blake says.
Besides wrestling, Blake would sit down in front of the TV and be captivated by anime titles including Sailor Moon, Pokemon, and Dragon Ball Z. She would watch the whole morning lineup before heading off to school. It was during her middle school years that she found a group of nerdy, anime friends. They formed a bond, and researched the anime that wasn't on television in the United States. Their hobby eventually led them to dress up as the characters they loved. Blake didn't know her after-school activity was called cosplay until a couple of years later. AnimeNEXT in North Jersey opened new doors for Blake. Already doing modeling, she was comfortable in front of a camera. Blake did a couple of cosplay photoshoots, and that's where her following began.
"That's how it all started. There's no crazy secret," Blake says. "I dressed up, posted pictures, and here I am."
Blake was working a comic book convention in 2012. She heard there was an independent wrestling show in town. She decided to check it out and see what the hype was about. After her eye-opening experience at her first indy show, she immediately looked into schools and started training. She tells Still Real To Us that it wasn't an easy transition.
"I was sore 24/7. At CZW, before Dojo Wars started, they would have training four days a week. I would go in at 6 PM and wouldn't finish until midnight sometimes; it depended on the night," Blake says. "I would stay from beginning to end. I was usually one of the last ones to leave. I would go consistently. Then, Dojo Wars started."
Blake had a wrestling match at least once a week. The most shocking part about the beginning of her career is that she wrestled with a broken leg. That didn't stop her from lacing up her boots, and stepping inside of the ring.
"It was no joke. I actually broke my leg a few months into training. Technically, during my first match–my leg was still broken," Blake recalls. "I didn't tell anyone because I really wanted to wrestle. It's crazy what your body will do when you want something bad enough."
Blake really wanted it, and persisted through the pain.
"It wasn't the smartest decision, but I don't regret it," Blake laughs.
The cosplayer-turned-wrestler credits Drew Gulak for molding her into the athlete that she is today. During her time at Dojo Wars, Blake learned that you had to go with the flow, and power through situations that might be uncomfortable.
"Aside from all the technical stuff, [Gulak] taught me a lot about not panicking in the ring. He also taught me how to do things on the fly," remembers Blake. "At Dojo Wars, we didn't know who our opponents would be until 15 minutes before the doors opened."
Blake tells Still Real To Us that trainees would pick a number out of a hat before the start of a show, and that's when they would find out who their opponent would be. Competitors wouldn't be told who it was until they were in the ring.
"During my first couple of matches, I went, 'Oh my God. I can't do this. This is crazy.' I was just panicking," she says. "It helped me so much, mentally. You don't realize how important it is to me to be mentally ready, as well as physically."
Tomorrow night, Blake has the opportunity to impress WWE Hall of Famers who will be in attendance for Stand Alone Wrestling's Boardwalk Beatdown. The legendary wrestlers will be signing autographs and taking pictures with fans. There is one wrestler in particular that Blake wants a few minutes with.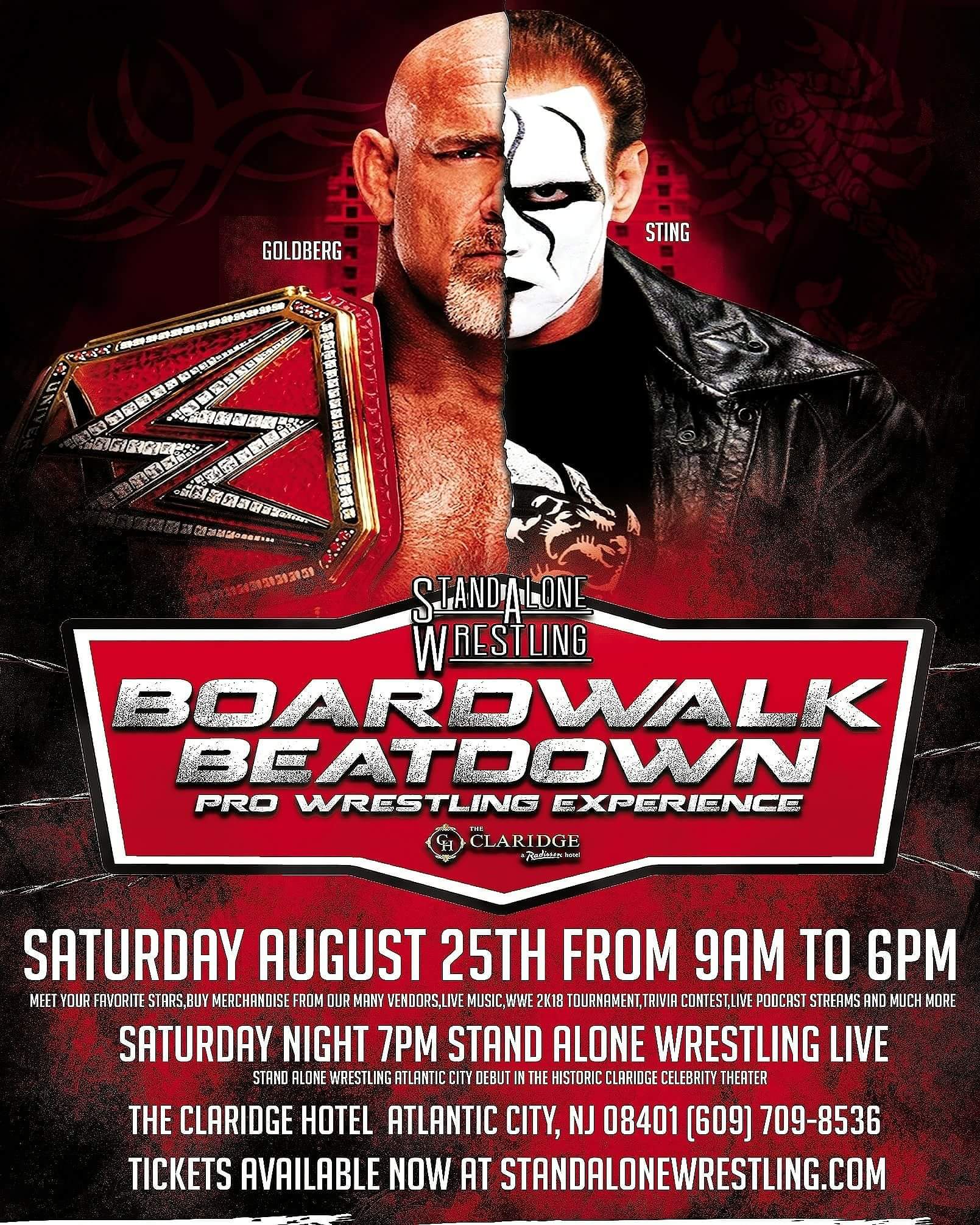 "Sting is probably the biggest one for me. I never met Sting, and I would love to pick his brain," she reveals to Still Real To Us.
Besides the wrestlers who will be on hand, Brittany is very excited to have her father in the crowd. Atlantic City holds a dear spot her heart because both of her parents worked in the area their whole lives. Blake's father still works in Atlantic City, and the last Stand Alone Wrestling show is the first show her dad ever saw her wrestle.
"[My father is] the one that got me into wrestling. He didn't want to see me do it, but part of him was proud of me," Blake glows. "It was a 'I won't admit it' type of thing. After finally seeing me wrestle at the last Stand Alone show, he was really into it. It's pretty cool."
After her big match tomorrow night, Blake wants to travel more, and wrestle in as many states and countries as she possibly can. Japan, Europe, and Australia is on her radar. As for future opponents? Blake says she wants to clash with Paige's mom, Saraya Knight, and current Impact Wrestling Knockouts Champion, Tessa Blanchard.
"I would love to get the opportunity to wrestle Saraya Knight at some point. I know that's a death wish," Blake tells Still Real To Us. "I've been very fortunate to wrestle very talented men and women. Getting to wrestle for SHIMMER this past year has been really cool. I would love to wrestle Tessa Blanchard. I got to wrestle her in a tag match at SHIMMER, but we never had a one-on-one. She's so good. I feel we had good chemistry, and I would love to see what we can do in a singles match."
With Blake being motivated by dreams within her grasp, her opponents are in for a tough time tomorrow.
You can purchase tickets to see Brittany Blake, Sting, Goldberg, and more for Stand Alone Wrestling's Boardwalk Beatdown HERE. You can follow Brittany Blake on Instagram and Twitter.