It pays to be a villain when your name is Marty Scurll.
The master of the "Bird of Prey" has been shaking up the foundation of Ring of Honor since his arrival in the company back in November of last year. The impressive grappler quickly picked up championship gold by winning the ROH World Television Championship from Will Ospreay in just his third match with the company. Scurll would later go on to successfully defend the title against men such as Adam Cole, Sonjay Dutt, Lio Rush, and many others.
After building a reputation of being one of the finest wrestlers in the game today, the man armed with his trademark umbrella shocked the wrestling landscape by joining Bullet Club during the ROH and NJPW co-produced "War of the Worlds" tour. Currently alongside Adam Page, The Young Bucks, Kenny Omega, and Cody, Bullet Club is the hottest act that Ring of Honor has to offer.
In an exclusive interview with Still Real To Us, Scurll sat down to talk about how Bullet Club is changing the outside perception of professional wrestling. He would go on to compete in a match of the year candidate with Jay Lethal at Final Battle later in the evening.
"What I find exciting and interesting about this Bullet Club is that never before, has there been a group with this many main event acts. You had the Four Horsemen, which was really about Ric Flair. You had D-Generation X. That was mainly about Shawn Michaels, and later about Triple H," Scurll stated.
The 29-year-old Bullet Club member continued, "With the nWo, it was the same thing. It was Hogan. Nash, maybe. This Bullet Club has so many main event acts. I can main event shows, and I do just that all over the world. There is no denying Kenny Omega, who main events everywhere he goes. The Young Bucks are a main event act. Cody is a main event act."
Scurll paused to take a brief sip of his beverage. "It's almost like there is something for everyone," nodded the Ring of Honor star.
"The Villain" didn't stop singing the praises of Bullet Club there. He elaborated, "We are a collection of top guys. We are a collection of guys who know how to draw money. We know how to create buzz. We know how to engage an audience." He's not the only person who feels that way. ROH's head commentator Ian Riccaboni told Still Real To Us back in October that he believes Scurll has the ability to be "an international megastar."
The merchandise sales don't lie. Bullet Club related t-shirts are proudly sported on people all across the world. "I think that's something that's lost. People can say what they want about us, but I don't think anyone can deny our passion. I don't think anyone can deny our fans and how widespread Bullet Club is," said Scurll. He explained, "On Black Friday, the top-selling shirts on Pro Wrestling Tees were The Young Bucks. Number 2 was 'The Villain' Marty Scurll, and Number 3 was 'Stone Cold' Steve Austin. You know what I mean?"
Scurll grinned, "You can go to any show. It doesn't matter if it's a Ring of Honor show, or a New Japan show. Go to any company's show, and the audience will be filled with our t-shirts. Walk down the streets. Even if there is not a wrestling show going on, you are going to see our t-shirts. Bullet Club has gotten to the point where it transcends us, and almost the business itself."
The U.K.-born athlete gained his massive fan following since winning PWG's renowned "Battle of Los Angeles" tournament in 2016. His profound victories would eventually catch the eye of the stable that the wrestling world can't seem to get enough of. "It's pop culture. Being a part of it–it's great. Being a part of Bullet Club, it's not necessarily being a part of the name which brings me joy. It's about being around those guys. Being around the Young Bucks, Cody, and Kenny. Being around guys that I can compete with, within the group," Scurll told Still Real To Us when describing the feeling he gets when hanging around his notorious teammates.
The confident Bullet Club member continued, "When people say things like, 'Well, I prefer the original Bullet Club, blah blah blah.' It's like, okay…Well, no one saw that Bullet Club. This is the Bullet Club that is transcending all of that. It's a combination of all our efforts, and our passion, to make a product that the fans can enjoy, and be proud of, and not be embarrassed by. That's our main thing."
"What I've learned, especially this year, is that I don't think people realize how big of a demand there is for an alternative product. That's what we are trying to provide," Scurll intently stared.
There's a particular reason why Scurll and his friends are on a mission. They want to be the change that wrestling fans are begging for. Scurll said, "People watch Monday Night Raw and go, 'Oh, this is boring. Oh, it's too long. Oh, my favorite wrestler didn't win the match, blah, blah, blah.' There's always going to be those fans. To me, it suggests that they are crying out for an alternative product."
"We're like, 'Okay, cool. We know we have the tools to do that. Come support us, and we will give you something different.' If you like it or not–who knows. We are trying."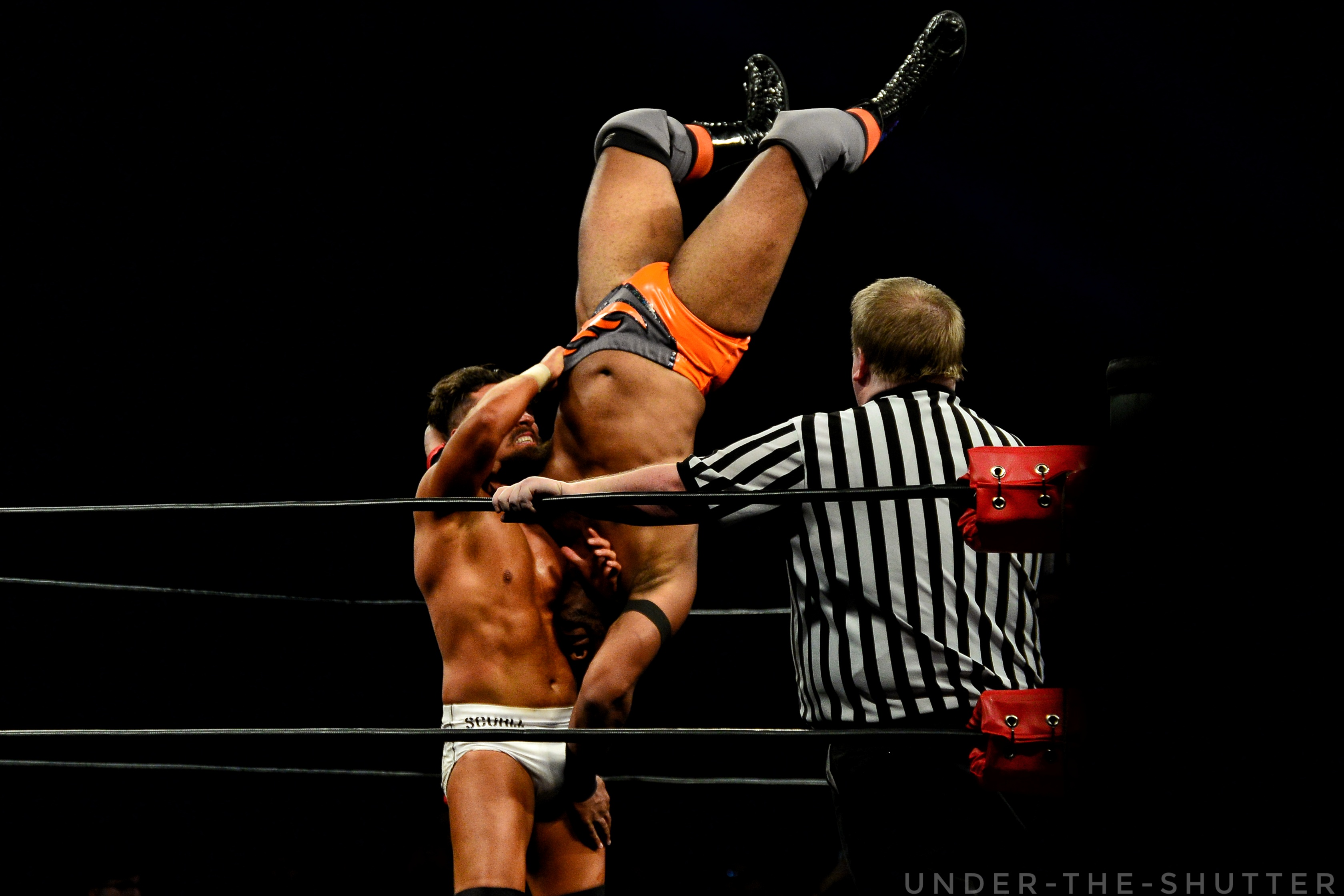 Scurll and the rest of Bullet Club effortlessly succeed when it comes to giving the fans what they want. And about that 10,000 seat-venue show that the group wants to host? Well, Scurll told Still Real To Us that it's going to happen. "I think it's completely doable. Like I said earlier, just look at how hot all these combined acts are at the moment. The fans want it. When the WWF purchased all of the territories back in the 80s, it lead to a rubbish time in wrestling."
"The same thing happened when they bought WCW and ECW. We're here, now, trying to provide something for those fans," stated Scurll.
"It takes people, with balls, like Bullet Club, to say, 'Hey. We're not scared. We are going to fill a 10,000 seat venue. To be honest, I just want to create something that people talk about. I want to create buzz. I want to do things that people haven't seen before. That's my aim."
Scurll took another swig of his drink. "There's no point for me to turn up here and have a good match. I don't care about having good matches. If I have a good match, that's a bonus. I want to do something that captivates people. I want to do something that exhilarates people."
"The Villain" shifted gears and took a moment to look back at the infamous night he joined Bullet Club by attacking one-time member and current NXT star, Adam Cole. "I always have a great time in New York. Especially, the place where I joined Bullet Club in the first place. I think what was really exciting about that, is the way we did it, and the buildup to it. How it was predictable, but we somehow managed to still shock the wrestling world. We got that buzz," Scurll reflected.
The monumental occasion was followed by a big win. Scurll would send Cole packing from Ring of Honor a few days later in the wrestling hotbed of Philadelphia, Pennsylvania. He defeated Cole in a "Philadelphia Street Fight" with his signature chicken wing submission. Scurll believes there needs to be more special moments in wrestling. If he has his way, 2018 is going to be filled with them. "In my opinion, I think every pay-per-view and show that Ring of Honor does, needs to be an advert for that. You can't just be an exhibition of good matches. It needs to have that buzz coming out of it. With other promotions that put on PPVs, fans often yell, 'Nothing happens!' We need to be doing crazy stuff that gets people talking," Scurll said to Still Real To Us.
He continued, "In my mind, when you have a pay-per-view that doesn't have people talking, it's a loss. I want to be a part of something big. I want to, hopefully, contribute to the show, where it does get people talking. If we're not here trying to be the best, then what are we here for?"
In order to truly be elite, a wrestler must capture the biggest prize that Ring of Honor has to offer. Scurll believes that his time to hold the major title is rapidly approaching. "I want to be World Champion. I think that's an inevitable thing for me in this company. Cody, or whoever, talks about doing a 10,000 seat venue. That's all very well, but I want to be doing 10,000 seat venues every single week. Why the hell not?" Besides championship glory, Scurll wants more eyes on him.
"I've seen how these fans respond to what we are doing. I just think, if those fans can get behind it in the way that they do, then why can't other fans do it? It just needs exposure. It just needs more people to see it."
The Bullet Club member reiterated that he is in Ring of Honor to make history. His vision goes beyond picking up championship gold. "My goals in wrestling goes much further than just winning titles, and main eventing shows. Obviously, that stuff is nice. But, hell man, I want to do it all," he exclaimed.
"The Villain" quickly began to list his aspirations. With Scurll's talent and focus to detail, there's no reason to doubt that he can make his dreams come true. "I want to sell-out Wembley Arena. I want to have a show on the moon. I want to be the first wrestler to ever be knighted by the Queen. Those are my goals, right? If the sky is the limit, why not? A lot of people thought I would never make it this far. On my end, I'm just getting started."
"I want to think outside the box and give people things they have never, ever seen before," Scurll concluded.
You can follow Ring of Honor on Facebook and Twitter. You can also follow Marty Scurll on Twitter. Pictures were provided by Kevin Jackson Jr. More of Kevin's work can be found by clicking HERE. To read more exclusive Still Real To Us interviews featuring your favorite Superstars, click HERE.