Sasha Banks made history Sunday night by defeating Alexa Bliss for the Raw Women's Championship at the sold-out Barclays Center in Brooklyn, New York. Fans were on their feet, cheering Banks on as she overcame "Little Miss Bliss" to reclaim the top prize in the women's division.
Before winning the title, "The Boss" spoke to Still Real To Us in an exclusive interview about a variety of different subjects including one that strongly resonates with her on a personal level. On Tuesday, Banks served as a coach alongside WWE Ambassador Dana Warrior and former Raw Tag Team Champions, Sheamus and Cesaro for the "Play Unified" basketball event at P.S. 64 in New York City. The partnership between WWE and the Special Olympics aims to create change in the community through sports, friendship and understanding.
"To me, it was so exciting. Oh my gosh, to go out there and hear the kids cheer so loud. Just knowing that I am part of the Special Olympics means the world to me," Banks told Still Real To Us. She elaborated, "For me, it has a very special place in my heart because I have a brother who has autism. Being around kids with disabilities–I grew up with that my whole life. I know what they are going through."
Banks briefly paused as she reflected on her intimate past. She continued, "Growing up, my brother got made fun of all the time. Going out there and showing the kids that they can be real athletes is great." Banks made sure to give all of the players on the court their due. "They killed the game! Oh my God–If I played against them, I would have lost," "The Boss" exclaimed. She then stated, "I couldn't believe how competitive the game was.  I was just on the court jumping up and down, sweating up a storm. I wasn't even playing!"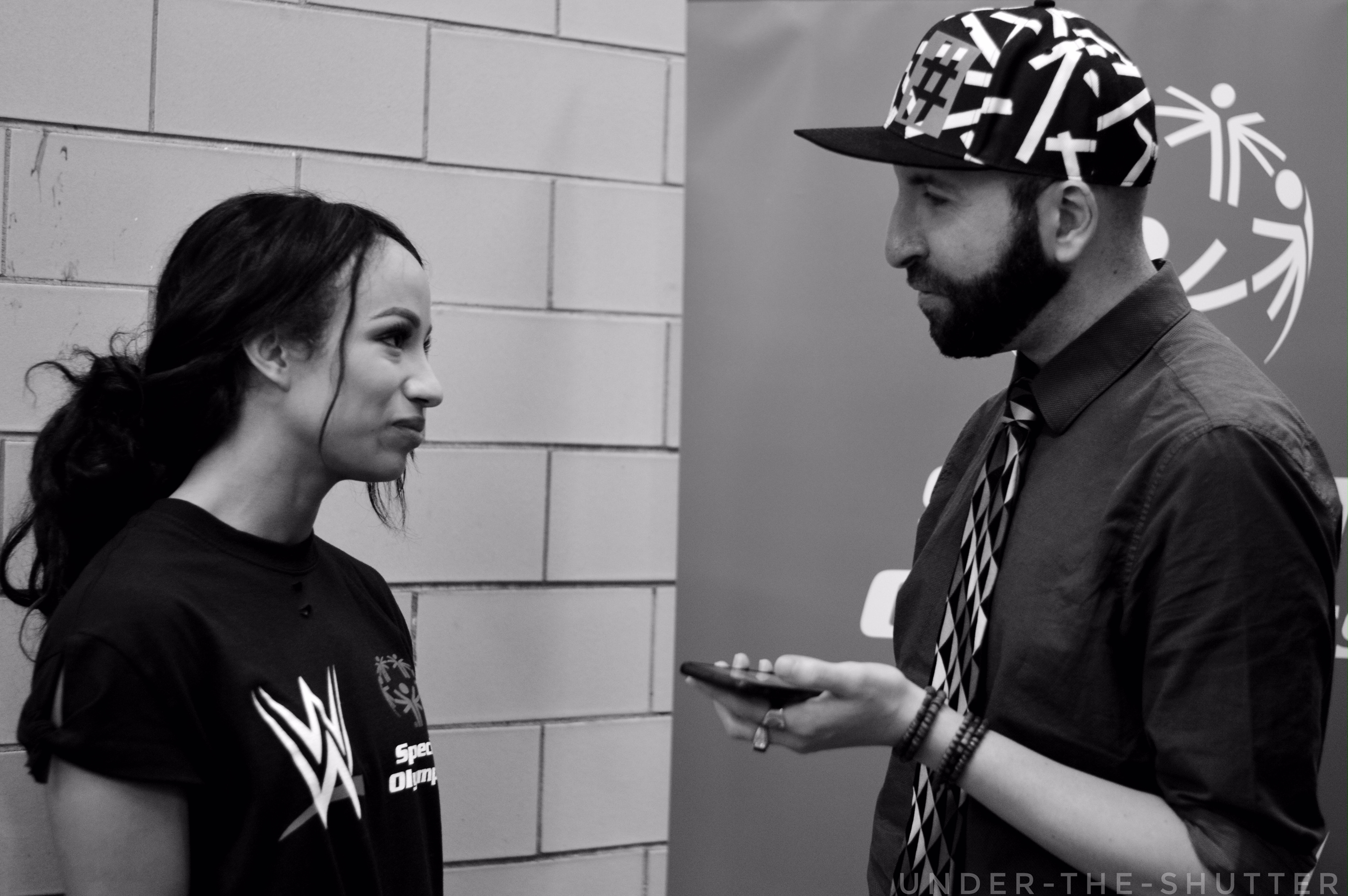 "The Boss" couldn't get over how supportive the kids were of each other. "I was just so shocked with how amazing it all was. There was so much teamwork. When the players got knocked down, kids from the opposing team would help them up," Banks smiled. She followed up by stating, "I love that so much. I think that's what is so important about the world today. People should help each other out and just give a helping hand. We need to put smiles on kids faces and be good role models."
Her fellow WWE Superstars also had an incredible time at the Boys & Girls Club of P.S. 64. WWE Hall of Famer Howard Finkel called the action as only he could while Sasha Banks and Dana Warrior cheered their team on. "My heart was so happy. I was telling Dana, 'This is probably the greatest thing I have ever been a part of.' Just the sportsmanship of it all. Everyone was awesome," Banks said.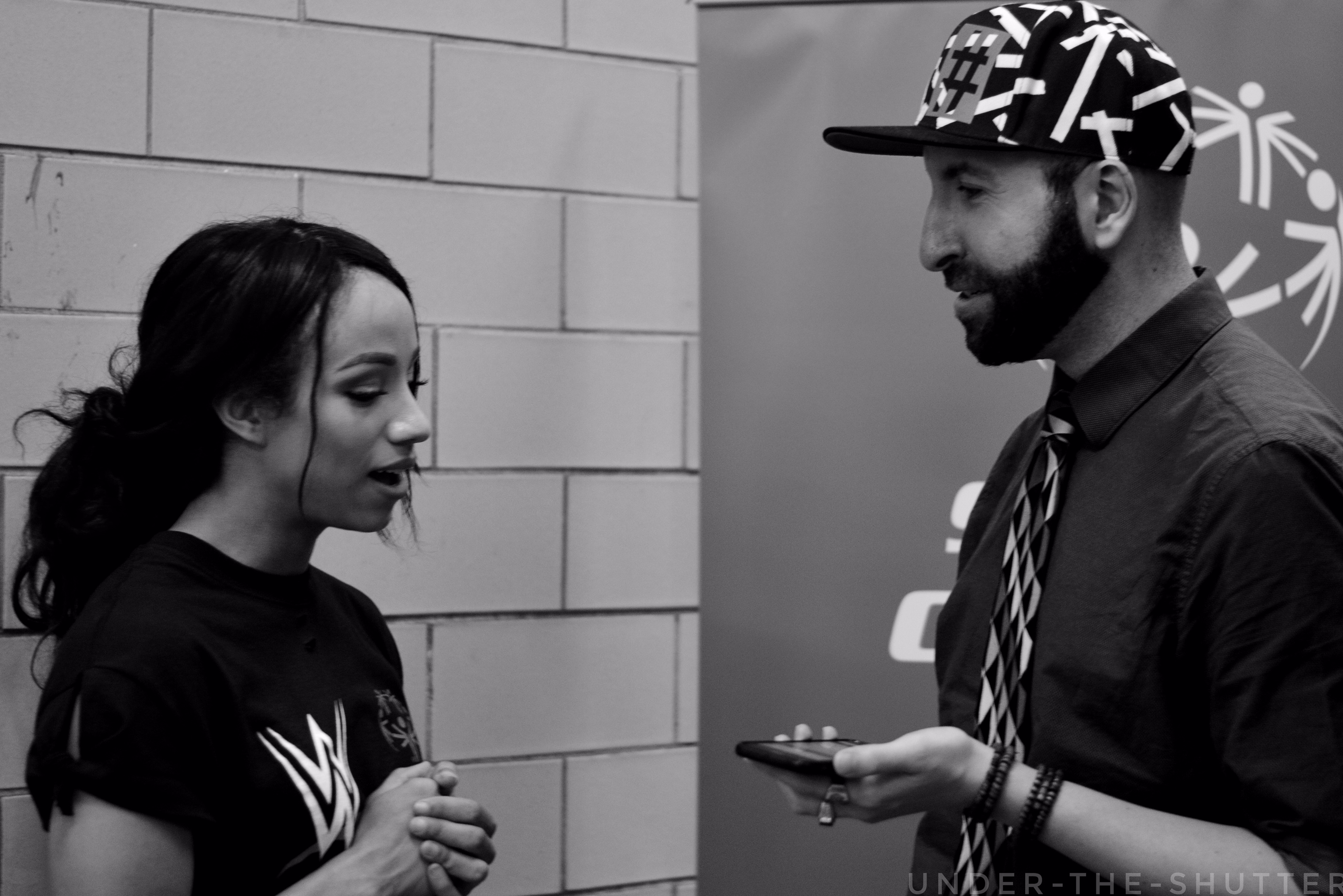 Banks is currently a gigantic part of WWE's push for a "Women's Revolution" in the professional wrestling industry. It should be no surprise that "The Boss" was inspired by the popular 90s anime "Sailor Moon" when she was younger. The animated show focused on strong female characters who were able to change the world for the better. "I felt like watching 'Sailor Moon' was like looking in a mirror," Banks laughed. "The Boss" told Still Real To Us, "I wouldn't say I was lazy…but Serena, my favorite character in 'Sailor Moon,' was always late to school. So was I. I was a meatball head," Banks laughed again. She then got serious. "Just the premise of it was cool. Being a superhero. Not really knowing who you are but finding out who you truly are once you hit that change. That's me. Sasha Banks. Once I put my wrestling gear on and I see that RED camera while hearing those fans…I am a whole different person."  Banks nodded, "I feel like I can do anything. I hope that shows to the fans. I hope when they watch me they can be inspired and know that if they have a dream, they can accomplish anything."
Banks accomplished her own dream Sunday night after she stepped up to the plate when Bayley went down with a sudden injury. "It's crazy because it wasn't supposed to be my opportunity. It was supposed to be Bayley's big shot," she sighed. While her good friend had to sit SummerSlam out this year, Sasha was ready for an opportunity of a lifetime. "It's crazy how things work out. When I was in Boston, my hometown, getting to wrestle Nia Jax…It was incredible. I got so much amazing feedback from that match. Going into SummerSlam…Brooklyn holds a special place in my heart because of my match against Bayley at NXT TakeOver." The two tore the house down in a competitive contest that is still regarded as one of the best matches in 2015.
What was her strategy going into the biggest PPV of the summer this time around? Banks winked, "I'm excited to train with my friend, Amazing Red — who I always train with whenever I'm in Brooklyn. He is going to teach me a couple of new things. Get ready for a 4-time Raw Women's Champion!"
It looks like her training sessions with Red paid off because "The Boss" is back on top of the world and is more than ready to take on all challengers that come her way.
Pictures were provided by Kevin Jackson.  More of Kevin's work can be found by clicking here.  You can read more interviews exclusive to Still Real To Us by clicking here.  You can also find out more about WWE's partnership with the Special Olympics by clicking here.