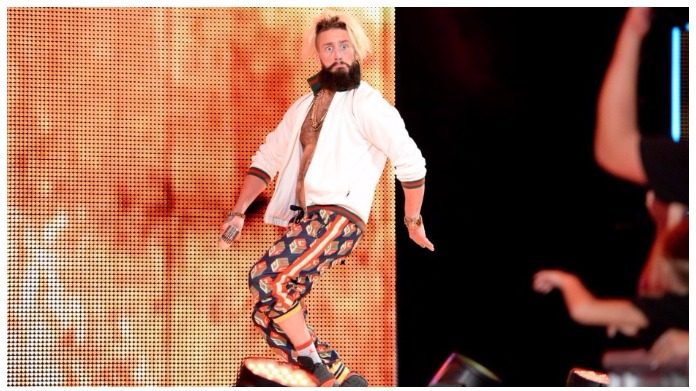 Enzo Amore is happy and having a great time. He obviously still has plenty of fans who love him because 4,000 people surrounded him in Times Square on Memorial Day to wish him well. Now it looks like he's going to give even more fans an opportunity to hang out with the Realest Guy In The Room because Real1 is opening a pop-up shop for one day only.
In an excited Instagram message, Amore sent out: "Real1 Clothing Company is holding it's 1st ever Pop-up store in …… where da f#%k else!?! If I didn't get an opportunity to meet you in Times-Square on Memorial Day I apologize! I'll be hosting a pop-up Origins at 406 Broadway, New York NY 10013 from 4 pm – 8 pm on 6.8.18. Merch & entry is first come first serve but EVERYONE WHO GETS IN THE STORE BEFORE THE DOORS CLOSE AT 8pm IS GUARANTEED AN OPPORTUNITY TO INTERACT AND FLICK IT UP WITH ME."
As time goes on maybe Real1 will find his way back to WWE but in the meantime, he's still doing a great job being himself and having a ton of fun in the process.
So if you're in the area Real1 is giving people another chance to rub elbows with a Certified G, how you doin'?
https://instagram.com/p/BjgD3xYAMGm/
Speaking of Enzo Amore he was actually edited out of an upcoming episode of Undercover Boss featuring WWE. It's ironic that by the time the episode actually airs he is now free and clear of the investigation and allegations.
WWE's episode now has an official airdate and it's coming up pretty soon too. You can catch the WWE-themed episode of Undercover Boss on Friday, June 15th on CBS.
Hopefully, this episode won't disappoint especially when it comes to the prizes people will receive at the end for being great employees.
Seriously though, if you were a WWE employee meeting someone strange and showing them your job and you had video cameras around, wouldn't you recognize the Billion Dollar Princess?
.@StephMcMahon will be taking on a new role during @undercover_cbs! Watch her journey when it airs Friday, June 15, at 8/7 C on CBS! #CelebrityBoss https://t.co/RUDgpnN6KJ pic.twitter.com/fdAenV67VV

— WWE (@WWE) June 2, 2018