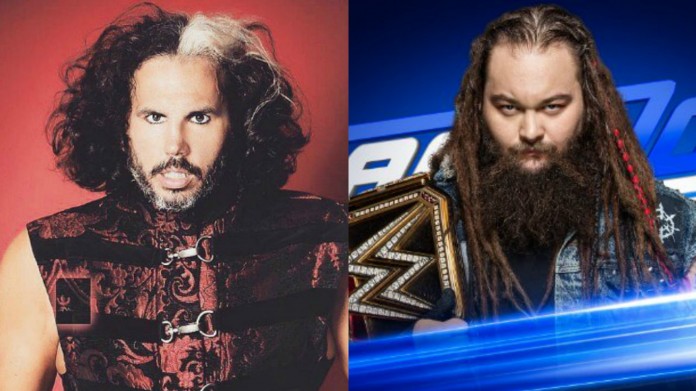 December of last year seems like it was so long ago. We were unsure of so many things, we didn't know how 2017 would start, we were anticipating Broken Matt Hardy's Total Nonstop Deletion, and we were wondering how long AJ Styles would hold the WWE Championship.
As Broken Matt Hardy was gathering teams to compete in his Tag Team Apocalypto, he sent out challenges to many top current and former tag teams to appear at his compound and face them in front of the Seven Deities, Vanguard 1, and the entire world.
"The Family of Wyatts" didn't show up, but Bray did respond 2 days prior to Total Nonstop Deletion with a simple phrase: "you know where to find us." We're sure Matt wrote and "DELETED" several responses but he eventually had no initial reply.
Since this happened, everything has changed. The Broken Hardys are no longer bound to Impact Wrestling and their future looks to be wide open. Now the Broken Brilliance of Matt Hardy has deemed it an appropriate time to respond to The New Face of Fear.
We're not sure if he plans on showing up on Smackdown or Raw upon his emergence back into WWE's picture, if it even happens at all. But this response certainly leads us to believe Broken Matt is paying close attention to the Era of Wyatt, and that has got us very excited.
I certainly do, Champion of MeekMahan's BLUE Show.

At least I can trust my #BrotherNero. https://t.co/x01OE3GU6T

— #BROKEN Matt Hardy (@MATTHARDYBRAND) March 1, 2017
Sometimes when we read something awesome we have to read it over and over again because it just seemed too awesome to imagine at first. Well, that seems to be happening all over the place at this point. Especially where the Broken Hardys are concerned.
Tommaso Ciampa is one half of DIY and a former NXT Tag Team Champion due to that partnership. Along with Johnny Gargano, he has participated in some of the best tag team matches the WWE Universe has seen in a long time. It seems anyone who goes against them has the possibility to turn their match into magic.
This is why Team Do It Yourself versus The Revival took the coveted Match of the Year Award at the 2016 NXT Year End Awards. Dash and Dawson are top guys, but Tommaso and Gargano were also due extreme credit when it came to getting the match over.
Naturally there are quite a few dream matches fans want to see between DIY and a number of seasoned tag teams. Now that the Broken Hardys seem to be on the market so to speak, a match between the two teams can now potentially happen and we aren't the only ones who realize this.
Tommaso recently sent out a very simple tweet, but it had outstanding implications and impact (no pun intended). He simply tweeted "Hardy Boyz vs DIY" and it got our blood pumping. What caused us to mark out even harder was the fact Broken Matt replied in turn with a response that could only come from someone with Broken Brilliance.
Hardy Boyz vs DIY

— Tommaso Ciampa (@ProjectCiampa) March 1, 2017
If you have Tag Team GOLD to PROCURE, @Vanguard1AAR will certainly bring us to you. #EXPEDITIONofGOLD https://t.co/cPfTOS4in0

— #BROKEN Matt Hardy (@MATTHARDYBRAND) March 1, 2017