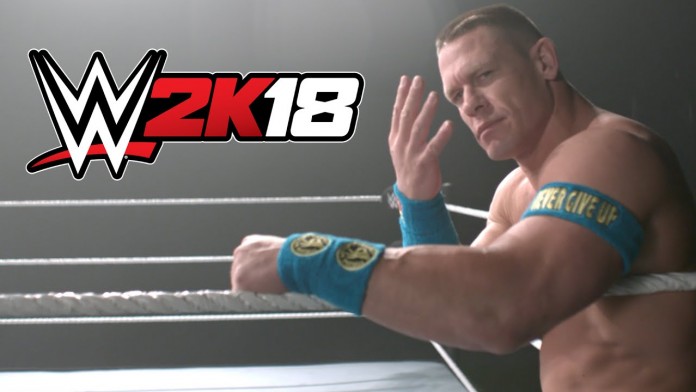 WWE 2K18 is set to be released in October, and hype for WWE's annual video game is at an all time high following the release of the first trailer. But today WWE released a new trailer, and the company announced that special Collector's Edition of WWE 2K18 will also be released in the fall, and it will shine the spotlight on John Cena's 15 year career with WWE.
The Collector's Edition will be called the Cena (Nuff) Edition of WWE 2K18, and only 30,000 copies will be available for Xbox One and PS4. The Collector's Edition will cost $149.99, and it will include the following:
– The WWE 2K18 Deluxe Edition video game, featuring
– Access to WWE 2K18 Season Pass
– Playable versions of Batista and Rob Van Dam, two of John Cena's legendary rivals
– Playable versions of Cena recreating his appearances at ECW One Night Stand 2006 and WrestleMania XXVI
– Access to the Kurt Angle Pack, which includes two playable versions of The Olympic Hero
– Exclusive premium packaging that includes a unique cover sleeve, which will delight both Cena's fans and his detractors
– An exclusive Mattel action figure featuring John Cena with Cena/Cena Nuff T-shirt options
– A Fanatics limited-edition commemorative plaque that includes a piece of the ring mat from Cena's historic 16th World Title triumph at Royal Rumble 2017, as well as a hand-signed photo from The Cenation Leader himself
– Limited edition WWE SuperCard in-game cards decorated with Cena (Nuff) card backs that feature Cena, Batista and Rob Van Dam
"Whether you love him or love to hate him, there is no denying the hustle, dedication and impact of a guy like John Cena," said 2K Vice President of Marketing Chris Snyder. "There will never be anyone else like him – a testament to his character and our Be Like No One campaign – and it makes him the perfect fit to honor with a fun, yet memorable collector's edition that's a must-have for any WWE fan."
You can check out the trailer for the WWE 2K18 Collector's Edition below.