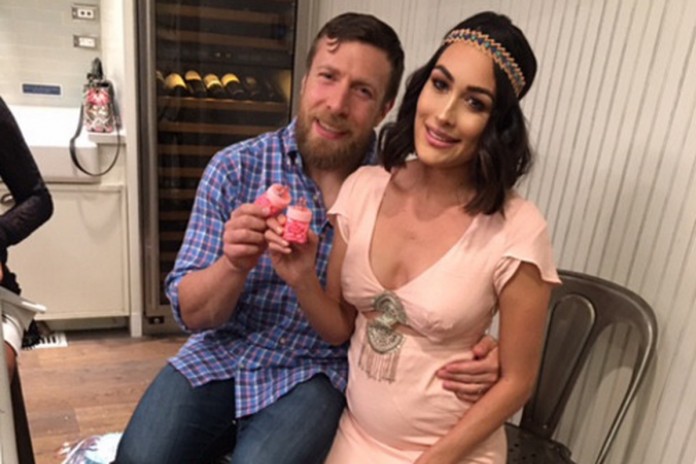 Brie Bella and Daniel Bryan's journey to parenthood has been widely documented. Fans feel like they've been with them every step of the way because they've documented practically every big moment from discovering they were pregnant to packing for the hospital.
The greatest love I have ever felt!! My sweet little Birdie!! She's her Daddy's mini me ✨ #ImaMom pic.twitter.com/eYiLA8nIel

— Nikki & Brie (@BellaTwins) May 12, 2017
Now baby Birdie Joe is finally here and The Bella Twins' official YouTube channel has uploaded a video chronicling every step of the way. From coming up with a baby name (Bryan wanted to name his daughter "Bertha") to all of those belly measurements, it's all in this video.
It's interesting to note the name they ended up going with for baby Birdie Joe was their 4th pick on the list of names when they asked for fans' opinion. Watch and see how Brie transformed month-by-month on her way to motherhood. It also includes a photo shoot Brie did for Fit Pregnancy Magazine featuring her sister Nikki.
You can relive all the baby Bella moments as Brie and Bryan prepare to welcome Birdie Joe into the world. It certainly has been a long 41-weeks, but we're willing to bet it's been even longer for Brie Bella.
If you saw the trailer for the next season of Total Bellas, you'll know it will include much of the pregnancy build up to the birth of Birdie Joe as well. So we have that to look forward to.
It's really cool they're doing this kind of thing so Birdie Joe can look back years from now and see all of the preparation that lead up to her arrival. We can also bet she'll be very glad her parents didn't name her Bertha.
The happy new family also received a couple awesome congratulatory messages. Trish Stratus wished the family the happiest of times as well and wanted to set up a play-date and "baby on a pole matches" as soon as possible. They also received a message from The Chairman Of The Board himself, Vince McMahon.
Congratulations to Brie and Daniel.
https://twitter.com/trishstratuscom/status/862838757795516422
Congratulations to Brie @BellaTwins & @WWEDanielBryan on their beautiful daughter and newest addition to the @WWE family.

— Vince McMahon (@VinceMcMahon) May 10, 2017