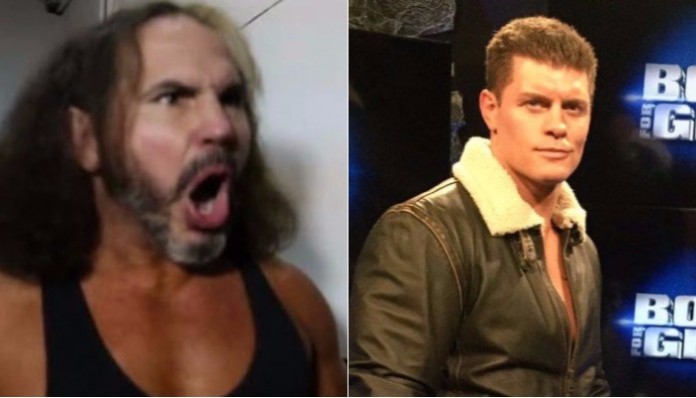 Broken Matt Hardy is incredible. Brother Nero is fascinating. These two make a fantastic pair. Even if they weren't brothers they would still be the perfect tag team. They have been through one brilliant and broken trip in the past year and have landed on top of the professional wrestling world.
They are not only one of the popular pro wrestling acts in America but they're also in great demand all over the globe. Their former employer, Impact Wrestling is causing them a whole lot of legal problems because they want them to stop using their wildly successful gimmick. This didn't bode well for the Anthem property because the Hardys have a legion of passionate fans at their disposal.
The Hardys recently took over the Imperio Lucha Libre show in Peru. Before the match, Matt Hardy delivered a great promo and the entire crowd was more than behind them. It's remarkable that although English might not be this crowd's native language, they sure know how to chant "delete".
Matt and Jeff might be headed back to WWE very soon, but in the meantime, they're really tearing it up on the indie circuits all over the planet. This looked like an incredible show with a ridiculously amazing audience for sure.
@MATTHARDYBRAND @JEFFHARDYBRAND @ImperioLucha WONDERFUL #ImperioLucha pic.twitter.com/wmEiBCWFy0

— Piero Anaya (@AnayaPiero) March 26, 2017
Cody Rhodes took off from WWE to make it on his own. He's been doing great too. The Grandson Of A Plumber has been putting on spectacular matches all over the place and doesn't show any signs of slowing down.
However, the independent wrestling world is full of all kinds of people. Some want to put on a great show and make sure everyone leaves happy. Other people just want to make a buck and don't care about their reputation. It appears as though Cody has recently run into someone of the second description.
Cody Rhodes recently went to Twitter and announced he had just dealt with his first "carny trickster promoter". To be honest, it would be nice to know who tried to trick Cody and what tactics they were using. So, someone get Cody a couple of shots so he'll tell us who it was. Still, it's nice to know Rhodes had the ability to know what was going on and didn't fall for what dirty tricks this promoter was trying to use.
Had my very 1st dealing w/a carny trickster promoter. Just a rotten human, hard to bite my tongue. Somebody liquor me up so I can snitch ha.

— Cody Rhodes (@CodyRhodes) March 26, 2017