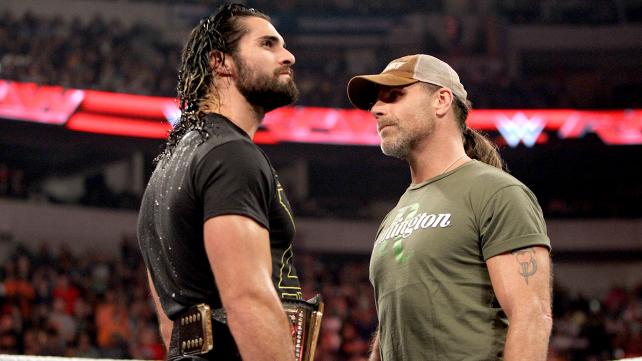 WWE Hall of Famer Shawn Michaels put his career on the line when he faced The Undertaker at WrestleMania 26, and unfortunately for Michaels, he lost the match. Michaels officially retired on Raw the next night, and since then he has stayed true to his word, as he has yet to wrestle another match.
Related: AJ Styles Plays Up Rumors Of A Match With Shawn Michaels
However, rumors have been going around recently claiming that WWE is interested in booking Shawn Michaels in a match against AJ Styles at the Royal Rumble in January. When asked about a possible match with Shawn Michaels, AJ Styles noted that he would love to face the WWE Hall of Famer, but as of right now the rumors are nothing more than rumors.
AJ Styles is the current WWE World Champion, and an AJ Styles vs. Shawn Michaels bout has dream match written all over it. But Seth Rollins has made it clear that AJ Styles isn't the only man in WWE who wants to face off against Shawn Michaels.
Seth Rollins recently spoke to the Gorilla Position Podcast, and he told them that if Shawn Michaels ever does come out of retirement, AJ Styles might have to fight him for the right to face HBK.
"If he's ever coming out of retirement it better be at WrestleMania. Kudos to AJ for giving it a shot but he can take a backseat," Rollins told GPP via The Sun. "I would like that match before he gets his hands on Shawn. A lot of people would pay good money to see Shawn and AJ. Me and AJ might have to fight it out. Winner gets Shawn."
Shawn Michaels influenced many of the top stars in the wrestling world today, and Seth Rollins is one of them. Seth also noted that Shawn Michaels can do everything, he feels his own style is diverse because he can work as a technical wrestler, a high flyer or a brawler.
"I would never compare myself to him, but like a Shawn Michaels, a guy who can do everything. I've always prided myself on doing different types of matches with different opponents."
Seth Rollins is set to team up with Universal Champion Kevin Owens, Chris Jericho, United States Champion Roman Reigns and Braun Strowman to take on Team SmackDown at Survivor Series on Sunday.
Who would you rather see face Shawn Michaels, AJ Styles or Seth Rollins? Sound off in the comments below.