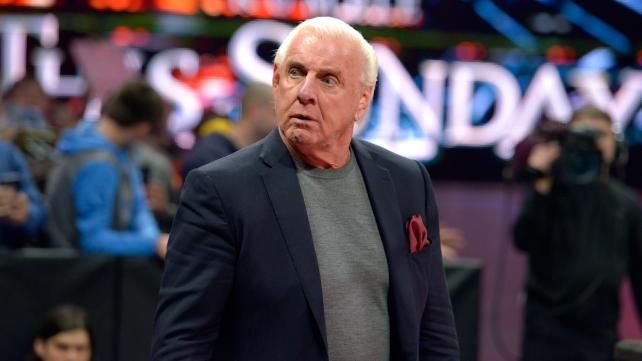 Ric Flair was taken to an Atlanta area hospital on Saturday morning and since then the news coming out of the situation hasn't been good. But we're still holding out hope for the best.
In what was described as a heart issue, Flair was kept for routine testing and most didn't think it was too serious until his family and friends began sending out messages to keep Flair in our prayers and to send good vibes toward The Nature Boy.
As we've previously reported Ric Flair was put into a medically induced coma and prepped for surgery. WWE has confirmed there was a surgery but they wouldn't specify what it was.
WWE announced Ric Flair was suffering from "tough medical issues" without really telling fans much of the story.
The hospital visit was supposedly downplayed until a surgical procedure was necessary. Dave Meltzer reports Ric Flair was set to undergo surgery this later this week anyway but it's not clear whether the initial procedure and the one he just had is one-in-the same.
Meltzer reported there is belief that there is a heart-related issue and a separate issue as well which would explain why Ric Flair had a previous procedure planned.
Still, even though not much is known about the procedure The Nature Boy had to undergo, everybody's been told it is a serious situation. He is out of surgery now but it's a waiting game to see how it all turns out.
Again, our deepest well-wishes go out to Ric Flair, his family, friends, and anyone who ever yelled "Woooo" just like The Nature Boy. He is loved by legions of fans around the world. Many regard him as the greatest pro wrestler to have ever lived and it would be awesome to see him pull through this.
Scott Hall had one of the best things to say about the situation in a heartfelt tweet he sent out to Flair.
Prayers up for @RicFlairNatrBoy . Kick out on two and 1/2 like you always did

— Scott Hall (@SCOTTHALLNWO) August 14, 2017