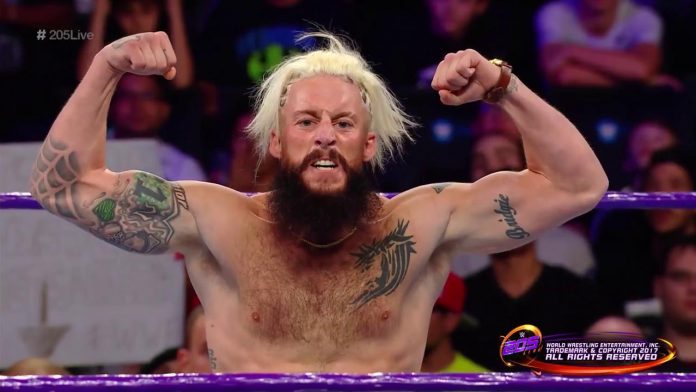 It's been a crazy time for Enzo Amore. He was on the top of the heap selling loads of merchandise and then all of a sudden he turned around and had more backstage heat than The Miz wearing a Hulk Hogan bandana and a Chris Benoit t-shirt. Enzo was one of the best parts of NXT and Monday Night Raw but ever since Big Cass turned on him things seem to have gone downhill from there.
Enzo was the victim of a couple social faux pas as well as torrid tell-alls. It looked like he was wrapping up his feud with Big Cass on Monday Night Raw but then out of the blue Big Cass destroyed his knee and the match was called off. In a very "Enzo move," the Certified G decided to bury his former tag team partner while still wishing him the best.
There were reports a couple of weeks ago saying WWE officials were trying to figure out something to do with Enzo and were thinking about moving him off Raw. The idea was tossed around to send him back down to NXT or switch him over to 205 Live. The entire thought behind this move was to simply get Enzo out of Vince McMahon's eyesight because apparently, it wasn't doing Amore any favors being that close to the boss.
Well, it finally happened on the 205 Live after SummerSlam. One night removed from Big Cass going down like a ton of bricks, Enzo Amore made his debut on 205 Live. After Neville successfully defended his Cruiserweight Title against Akira Tozawa he grabbed the microphone but was interrupted by Enzo.
It was often thrown around how Enzo might be a good "Conor McGregor" type character on 205 Live and now is his chance to show what he can do. Enzo received a light pop when his music hit. "You've gotta be kidding me," Corey Graves said on commentary, "why on Earth is Enzo Amore on 205 Live?!"
Enzo cut a promo on the King Of The Cruiserweights and people still knew the words to his catchphrases but it was a noticeably softer reaction than he used to get. The crowd still chanted for Enzo as he stood face to face with Neville.
"205 Live just became the realest show in the room," Enzo said before dropping his custom microphone at Neville's feet. Then Neville just grinned and walked off.
Enzo described Neville by spelling it out for him but he didn't even have to do it because the crowd said it for him. "S-A-W-F-T."
This might be the beginning of the end for Enzo, or it could be a new chapter. This also might give people a new reason to watch 205 Live if they want to catch Enzo. He could still always show up on Raw because the cruiserweights are known to occupy at least a couple segments on Monday nights.
So we haven't seen the last of Amore, he's just on a different roster now. Hopefully, he's on one he will be able to excel in as well.
WHAT JUST HAPPENED?!?!?! #205Live @real1 @WWENeville pic.twitter.com/MwOlOsXGOz

— WWE (@WWE) August 23, 2017