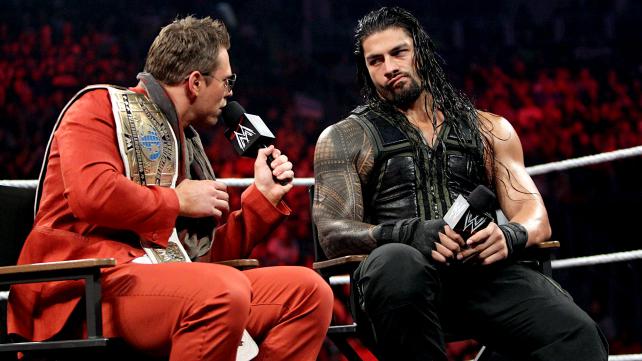 The Miz is the current WWE Intercontinental Champion, and he's currently wrapped up in a feud with Seth Rollins and Dean Ambrose. The Miz has never really gotten along all that well with any of the former Shield members, and he definitely doesn't see eye to eye with Roman Reigns.
Even though The Miz and Reigns don't always get along, Miz still had praise for Roman Reigns when he talked about The Big Dog during a recent interview with Mike Jones of DC 101.
"Right now, he's a really big good guy or a really big bad guy, it all depends on the way you look at it. He'll walk out and get booed out of the building or he'll walk out and get cheered out of the building. But the one thing that Roman Reigns has is the "it factor" and he's a bonafide star who can go in a WWE ring."
The Miz certainly isn't known for being shy. He will always say what's on his mind, and he likes to try and get under the skin of his opponent with verbal jabs. The Intercontinental Champion also talked about WWE stars stabbing each other in the back, and he said that some people can't handle the truth.
"That's the problem with everyone, like everyone's not honest around WWE. I'm the person that will tell you straight up to you face, whether you like it or not, and most of the time people don't like the things that I say. But what I say is the truth and sometimes the truth hurts and I guess people can't take it. And so if you can't take it then I guess you shouldn't be in the ring with me with a microphone, you should just get away from me. That's why I'm the Intercontinental Champion, my job is to make it them most prestigious, most relevant title in all of WWE and that's exactly what I'm doing."
On this week's episode we're talking to Simon Grimm, aka Simon Gotch about what's next for his career and more. In the episode Simon goes into some interesting ideas that he pitched to WWE creative, where he wants to wrestle next, and he also shares the story of how he found out The Vaudevillains were getting called up to the WWE main roster. We're also sharing our predictions for the WWE Battleground pay-per-view and more. You can subscribe to Still Real Radio on iTunes, and you can also check out the latest episode below.