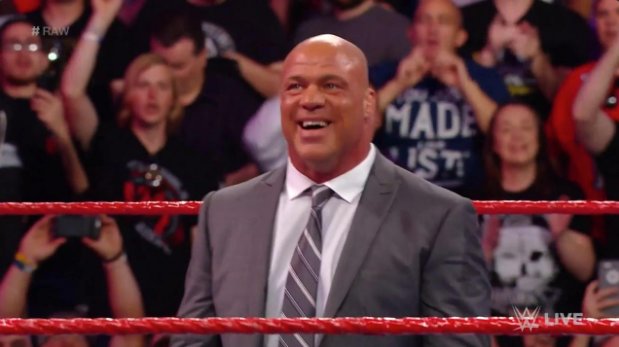 It's been a while since WWE fans have seen Vince McMahon appear on Raw, but the Chairman of the Board broke his silence tonight on the Raw after Mania when he came down to the ring to make an announcement. The crowd greeted him with a "Roman Sucks!" chant. Vince shook it off.
Vince told the crowd that he wanted to give them a well deserved "thank you" for being the most passionate fans in the world.
McMahon said WrestleMania was last night, and the big wheel keeps on turning. He announced that next week the WWE will be shaking things up. He essentially announced a draft, but didn't directly call it a draft. He said that there was something that broke all of our hearts at WrestleMania, then he played a video clip of Stephanie McMahon falling through a table in the Seth Rollins vs. Triple H match.
Vince McMahon announced that Stephanie McMahon will be out of action for a while. He told the fans that they were being insensitive and they responded with "DELETE" chants.
The Chairman of the Board said that the show must go on and he named a new Raw General Manager. He said that the new General Manager was just inducted into the Hall of Fame and Teddy Long's music hit. McMahon called for Teddy's music to be cut.
Vince told Teddy he's not the new General Manager and Teddy left. He called for the new General Manager but no music hit. He then announced Kurt Angle's name and the crowd went wild.
Vince handed Kurt the microphone and told him he better do a good job as the crowd chanted "YOU SUCK" and Kurt Angle smiled. They greeted him with a warm "welcome back" chant. Kurt Angle said that it's great to be back on Monday Night Raw, "oh it's true, it's damn true." He dropped the mic and left.
After announcing a @WWE #SuperstarShakeUp next week, @VinceMcMahon needs a new GM for #RAW…IT'S TRUE, IT'S DAMN TRUE! pic.twitter.com/TdFxV6NLG0

— WWE (@WWE) April 4, 2017