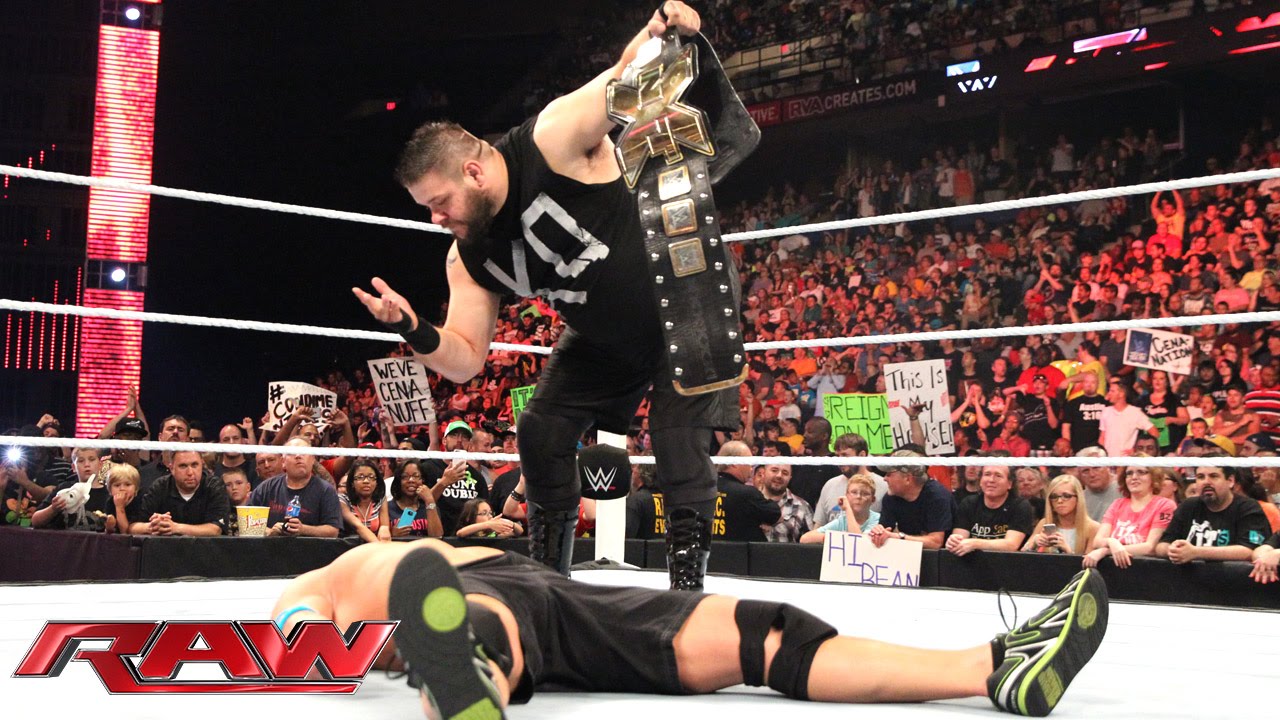 Today Kevin Owens celebrates his one year anniversary on the WWE main roster. Over the past year Kevin Owens has been able to accomplish some pretty incredible things. He's won championship gold, he's defeated John Cena and he's even beaten up a celebrity. In honor of his one year anniversary we're going to take a look at some of KO's biggest moments from his first year on the main roster.
One year ago today, I showed up on Raw for the first time. Year 1 was pretty successful.
Let's see how I can make year 2 even better…@WWE

— Kevin Owens (@FightOwensFight) May 18, 2016
#7 – His Debut
When Kevin Owens made his main roster debut he was the NXT Champion at the time and no one saw it coming. He kicked off his main roster run in a very big way by confronting John Cena. Owens cut an epic promo about his journey to the WWE and he looked like a star as he stood in front of the face of the WWE. Kevin then put an exclamation point on his debut by hitting John Cena with a Pop-Up Powerbomb that got everyone talking.
#6 – His Powerbomb To Machine Gun Kelly
Remember when Kevin Owens powerbombed Machine Gun Kelly? Of course you do. It was something so simple, but it ended up being one of the most memorable moments of Kevin's main roster run so far. By the time Kevin Owens attacked MGK he had only been on the roster for about a month and this little altercation helped establish him as one of the most evil heels in the company.
#5 – His Last Man Standing Match With Dean Ambrose
At this year's Royal Rumble Kevin Owens and Dean Ambrose fought over the Intercontinental Championship in a Last Man Standing Match. Both men put on one hell of a performance and they made it seem like the IC Title was the only thing they cared about. This match helped elevate the title and it also helped to elevate Owens and Ambrose. On this night Ambrose and Owens didn't just open the show, they stole it.
#4 – His Reaction To Sami Zayn At The Royal Rumble
Kevin Owens and Sami Zayn have a long history together and their feud in NXT was truly something special. We all knew that it was only a matter of time before we got to see that rivalry continue and at this year's Royal Rumble Sami Zayn officially joined the main roster. The fans were thrilled to see Sami but Kevin Owens was not, and his reaction was priceless. When Sami arrived his feud with Kevin Owens picked up right where it left off and the two rivals are still currently battling each other on WWE programming
#3 – KO-Mania
Kevin Owens was the Intercontinental Champion going into WrestleMania 32 and he defended his title in a multi-man ladder match. He may not have won the match and walked out of event with the gold, but Owens got to compete in a high profile WrestleMania match in his first year on the main roster.
#2 – His IC Title Win
Kevin Owens has only been on the main roster for a year but he's already a two time Intercontinental Champion. Owens defeated Ryback at Night of Champions in 2015 to win the Intercontinental Championship for the first time, and he then went on to win the belt once again in February of 2016.
#1 – His Victory Over John Cena
Kevin Owens has had some awesome moments since he joined the main roster, but his biggest moment was definitely his victory over John Cena at Elimination Chamber 2015. Kevin Owens faced off against the face of the WWE in his first ever WWE pay-per-view match and he took John Cena to the limit. These two guys brought out the best in each other but no one actually expected Kevin Owens to win, and then he did. The match was one of the best matches of 2015 and Kevin's victory over John Cena was also one of the most shocking moments of the year.