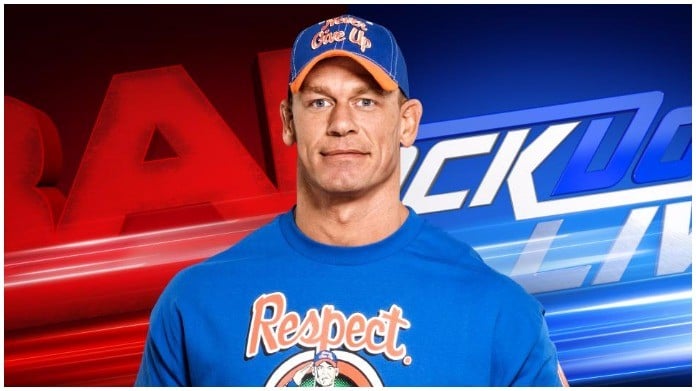 John Cena is now a free agent, which means he can work with stars from both Raw and SmackDown Live. Cena confirmed his free agent status when he made his return to SmackDown Live a few weeks ago, but fans have yet to see the 16 time WWE World Champion appear on Monday Night Raw.
Related: John Cena Explains Why He Requested To Be A Free Agent In WWE
Cena defeated Rusev in a flag match last week at the Battleground pay-per-view, and now he has his sights set on SummerSlam. He'll be battling Shinsuke Nakamura on SmackDown Live Tuesday night, and the winner will go on to challenge Jinder Mahal for the WWE Championship at SummerSlam.
Whether or not Cena will earn the title shot remains to be seen, but it looks like he could be moving over to the Raw brand after the biggest party of the summer.
WWE is currently advertising John Cena for the No Mercy pay-per-view from the Staples Center in Los Angeles on September 24. Plans for Cena at the pay-per-view are unknown at this point in time, but if he is indeed going to wrestle at the pay-per-view that means he will likely have to make a few appearances on Raw in order to build up a feud for the show.
If Cena does wrestle, who could he be facing? Well, he's being advertised for a match with Samoa Joe at a Raw live event in August, and sometimes feuds are tested at live events before they are brought to TV, so that could be an indication of WWE's plans for Cena moving forward.
There's no way of knowing for sure until it happens, but hopefully this means we'll be seeing Samoa Joe and John Cena push each other to the limit on Raw in September.
On this week's episode of Still Real Radio, we're talking about the fallout from Battleground, including the Great Khali's return, and our thoughts on the Punjabi Prison match. We're also talking about AJ Styles' big US Title win, Chris Jericho's surprise return on SmackDown Live, and the road to SummerSlam. New episodes of Still Real Radio are available every Wednesday. You can subscribe to the show on iTunes, and you can also check out the latest episode below.