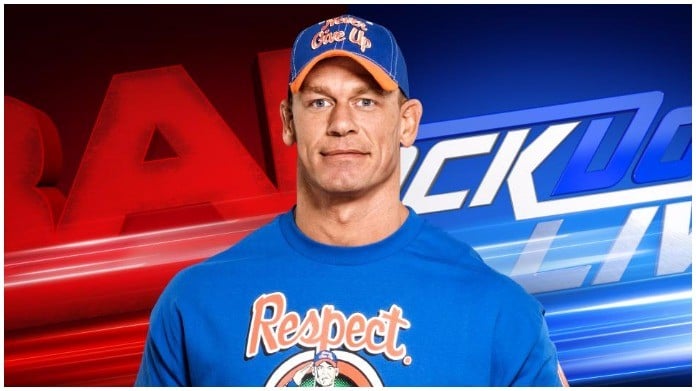 John Cena recently made his return to SmackDown Live, but he's no longer a SmackDown exclusive star. Cena is now a free agent, which means he can be used on both Raw and SmackDown.
When John Cena's free agent status was first announced, fans had questions, and although many of them have yet to be answered, Cena recently shed some light on why he became a free agent. During an interview with Complex, the 16 time WWE World Champion opened up about his future with WWE, and he said that he requested to become a free agent because he knows his days are numbered.
"The reason that I wanted to be a free agent and the reason they kind of granted my request is because I don't know if I'll be available for Smackdown specific only or Raw specific only, and I also know that my days are numbered. I just turned 40 in April and we have so many young and talented performers, I don't know how many years I have left. So in the time I have left, I'm gonna do what I can to dedicate to this company I just want to be able to do it the most time that I possibly can."
Even though Cena's days in the ring are numbered in the ring, he also made it clear that he wants to continue working with WWE as long as the company will have him.
"If the day comes when I'm not involved with the WWE that would come as a drastic surprise to me. I would certainly understand it because we all have our career paths and nothing lasts forever but WWE has been my family for the past 15 years and I've been very vocal about my passion and love for not just my time in the ring as a wrestler, but the company itself, what it stands for, the people that work for. I literally would do whatever they asked me to. In whatever capacity I can help the company I would love to do so."
On this week's episode we're talking to Simon Grimm, aka Simon Gotch about what's next for his career and more. In the episode Simon goes into some interesting ideas that he pitched to WWE creative, where he wants to wrestle next, and he also shares the story of how he found out The Vaudevillains were getting called up to the WWE main roster. We're also sharing our predictions for the WWE Battleground pay-per-view and more. You can subscribe to Still Real Radio on iTunes, and you can also check out the latest episode below.