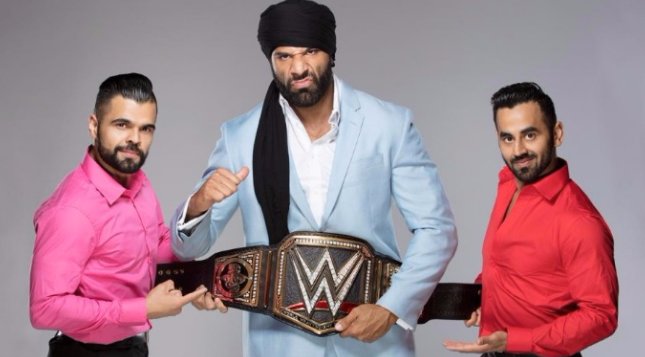 Jinder Mahal is the WWE Champion, and Sunday night he's set to defend his title against Randy Orton in Orton's hometown of St. Louis, Missouri.
Recently everyone's been talking about Mahal's rapid ascent to the top of WWE, and during a recent interview with Sportskeeda he was asked who's responsible for his success. Jinder believes that his hard work has led to his success, and he also praised Vince McMahon for giving him good advice.
"Ultimately I believe that I'm responsible for my own success because it's me who's putting in all the hard work. Being there every night, you know giving it a 100% and leaving it all in the ring. Vince McMahon has luckily been really hands on with me which I've been very fortunate about as he is one the great minds of the business. He has made WWE into a global phenomenon. Ultimately it's my hard work but also I'm really thankful to Vince for being such a great boss and really hands on with me and also for the great advice he gives me."
Jinder Mahal is good friends with former WWE World Heavyweight Champion The Great Khali, and he was also asked about the Punjabi Playboy possibly returning to WWE. Although Jinder is currently focused on singles competition, he did note that he thinks it would be fun to team up with The Great Khali.
"Yeah I would love to see Great Khali back to the WWE. I think it would be awesome when WWE comes back to India you know, maybe I and Khali can tag together. It would be fun to be a tag team together you know against whoever; Roman Reigns, John Cena, Randy Orton. You know I think that would be great because I look up to Khali like an older brother. A lot of times I get advice from Khali and I talk to him on the phone quite often. I would love to see him back in the WWE but I know he's doing his own thing."
Roxy Astor and Sunny The California Girl from GLOW joined this week's episode of Still Real Radio to talk about what's going on with the GLOW girls, their AfterGLOW cruise and more. Jeff Timmons from the band 98 Degrees also randomly makes an appearance, and we run down our predictions for the Money in the Bank pay-per-view. You can subscribe to Still Real Radio on iTunes and you can also check out the latest episode below.