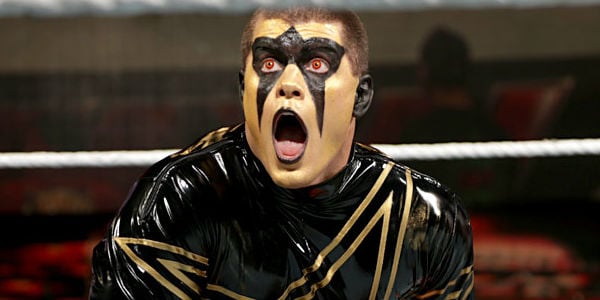 Cody Rhodes parted ways with WWE in 2016, and since then he's been making waves on the independent scene. Rhodes hasn't been shy about letting the fans know that one of his main reasons for leaving WWE was because he wanted to drop the Stardust character and he's made a clean break from the persona.
Related: Cody Rhodes On Playing Stardust: "I Felt Like The Biggest Jabroni Ever"
During a wrestling event over the weekend a fan was shouting "Stardust" at Cody Rhodes prior to his match, and the rest of the fans in attendance responded by chanting "F*** that guy!" After letting the chant go for a little while, Cody calmed the crowd down and then he responded to the fan by doing a cartwheel, followed by a middle finger which got a big response from the crowd.
You can check out a video of the exchange below.
Someone called @CodyRhodes a bad name last night. He responded in kind. #defy1 @StricklandShane pic.twitter.com/kYAH4DBCdv

— Dan L (@LegacyX0) January 14, 2017
Although the middle finger is a typically mean spirited gesture, the fan who shared the video on Twitter noted that it was all in good fun.
@ScottLawson85 Its a Seattle crowd thing. We get weird and it's all in good fun(imo). You had to be there. 🙂 #NoHardFeelings

— Dan L (@LegacyX0) January 15, 2017
Another fan also noted that Cody Rhodes was smiling the whole time as well.
@LegacyX0 @ScottLawson85 yeah no one was for real upset and Rhodes was smiling the whole time anyway haha

— The Revolting Blob (@svenislegend) January 15, 2017
Cody Rhodes has found his fair share of success since leaving WWE and he managed to become the first man to appear at WrestleMania, TNA Bound For Glory, ROH Final Battle and NJPW's Wrestle Kingdom in the same year.
Cody has been working hard to separate himself from the Stardust persona, so just remember if you see Cody at a wrestling show, you're probably going to get the finger if you yell for Stardust.