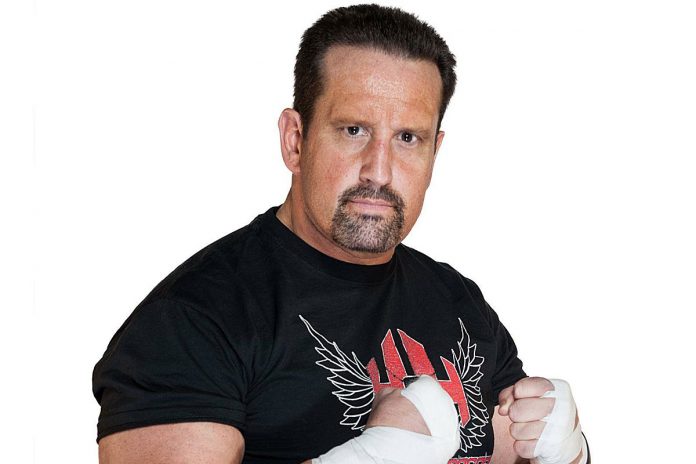 It was an insane four days at the New York Comic Con this year for professional wrestling fans. NYCC attendees were seen sporting a variety of Bullet Club t-shirts in addition to cosplaying as legendary superstars including "Macho Man" Randy Savage, The Dudley Boyz and The Ultimate Warrior.
Tommy Dreamer was in the house for the convention. The iconic Extreme Championship Wrestling performer had a long line of fans waiting to meet him. He graciously took time out of his day to chat with Still Real To Us about his experience at NYCC, the next generation of superstars and giving his friend and fellow WWE alumni, Candice Michelle, her last match.
"This is my first ever New York Comic Con. I've heard they have officially outdrawn the San Diego Comic Con. As Will Farrell said, 'F U, San Diego,'" Dreamer exclusively joked with Still Real To Us.
"It's awesome. You know, it's pretty funny. Back in the day, if you said you were a nerd or a geek, you were ostracized or bullied. Now, it's cool to be a nerd or a geek and I love that," said Dreamer. He continued, "I always felt that the wrestling community was a bunch of nerds or geeks that all came together. Now, guess what? Wrestling is strong as can be."
"It's the third most talked about thing on social media," Dreamer nodded. "It's pretty crazy. I'm having a great time. I know on Thursday, we had about 170,000 people come through. I know on Saturday there were over 200,000 people! I like it. Everyone is all dressed up. I've seen Bullet Club t-shirts everywhere," he observed.
The friendly wrestler knows a little something about creating something from nothing. He has been tirelessly developing his own promotion, House of Hardcore, since 2012. Through his blood, sweat and tears, Tommy Dreamer has turned his idea into a wrestling phenomenon.
When asked why he created House of Hardcore, Dreamer said, "It was the next step for me. I always wanted to do one show. I did one show and it was pretty successful. That was five years ago on October 5th. Then, the next year, I did two shows. Then I did a show in Canada and we sold out the Ted Reeve Arena. We set the attendance record there and I went, 'Whoah! We are on to something.'"
He was not wrong. Wrestling fans from all over the world loved what House of Hardcore was doing. The promotion built up a passionate and rabid fanbase. Dreamer continued telling Still Real To Us, "For me, I want to show wrestling fans a variety. Something different. When you think about wrestling–there really is only one wrestling organization as opposed to baseball where there's 30. The same goes for football, hockey or basketball. But you know what? They are all still playing the same game." He elaborated, "I just want to show people my crazy vision of professional wrestling. We are coming up on House of Hardcore 34, 35 and 36. I'm enjoying this. I have now dedicated my life to doing it because I love it. The fans have been really, really appreciative of it. Now it's also a business. I'm building a brand for it."
Tommy Dreamer smiled, "Even here at the Comic Con, so many people already know about it. That means a lot to me."
The wrestling community is known for their loyalty to their favorite superstars. Dreamer has seen their dedication firsthand through the attendance numbers of his HoH shows. "We went to Australia and we packed five nights there. All of the business that came in was seriously just off of my Twitter and Facebook. The power of social media and professional wrestling is awesome. I'm blessed," said the heart and soul of ECW.
The owner of House of Hardcore thinks professional wrestling is in good hands. He told Still Real To Us to keep an eye out for the next generation of players in the industry. "There's a lot of great wrestlers out there. Ricochet is amazing. Sami Callihan is amazing. The Young Bucks are amazing. I'm a big fan of The Kingdom from Ring of Honor. They are really, really cool. I think Adam Page is a breakout star from ROH," said Dreamer.
The guys aren't the only ones who are changing the business. Tommy Dreamer pointed out that the women of professional wrestling are also stepping up to the plate and hitting home runs way out of the park. "There's a lot of talented men and women out there," the Innovator of Violence told Still Real To Us.  "For me, it's cool. I've done 34 shows and we are up to 39 people who have been signed by WWE. I also like the fact that back in the day, especially in ECW–or anywhere else for that matter, women were just viewed as more of the T and A brand. Now, the girls are on par with the guys and that is great," he said. Dreamer continued, "I've always been a proponent for all of the women in wrestling because they never got their due. I am happy that they are finally getting their due."
The former ECW World Champion wanted to let casual fans know that he is still very much active on the independent scene and far from done. "I'm 46 years old. This year, I will have wrestled 180 shows. There is life after WWE. I love WWE. I have the network. I am a shareholder. If I win the Powerball, I will never try to compete against WWE," Dreamer laughed. He continued, "I just want to show fans a variety of talent. Even here at the Comic Con, some people have asked, 'What happened to you after you retired?' I was like, 'I actually wrestle more than some people do in WWE.'"
Besides putting on memorable and exciting matches outside of World Wrestling Entertainment, Tommy Dreamer is giving a friend of his a final farewell. "Another big thing for me is what I'm doing in December. We are sending off Candice Michelle," he said.
"When you leave WWE, people think that you just disappear. I was blessed to have a nice farewell from WWE even though they brought me back. I'm giving Candice Michelle her last ever match. It really is her last ever match," Dreamer stressed. The visionary behind House of Hardcore continued, "She couldn't believe I wanted to do that for her. I was like, 'Hey! You were a person who came in as a Go Daddy girl. You knew nothing about wrestling and just fell into it. Then, you became a great in-ring talent and champion.' I feel wrestling fans need closure for the character as well as the person herself who needs her own, personal closure."
The former WWE Women's Champion joins a list of other talent that Tommy Dreamer has helped honor. "I've done it for Beulah. I've done it for Traci Brooks in her hometown and now I'm doing it for Candice Michelle. I love the fact that I can do this for anyone in the business. Weirdly, women are able to leave the business a lot easier than the men," the ECW icon paused. "It's just really, really cool. For me, personally, it's a huge gratification that I can do this for my friend. I love that about wrestling. It's going to be a huge sendoff. We are going to have some really big news this week," Dreamer hinted.
Before departing, Tommy Dreamer showed some love to all of the fans who have had his back throughout the years. "Thank you guys for supporting me. It's always still real to me," Dreamer winked.
You can keep up with Tommy Dreamer on Facebook, Twitter and Instagram. To keep up with breaking House of Hardcore news, click HERE.