The women of the professional wrestling world have been gaining serious momentum. Besides tearing it up in the ring and putting on classic matches, the mainstream spotlight is shining down on the girls who have been fighting tooth and nail to prove they are just as tough as the guys in the locker room.
Ring of Honor gave an exciting announcement during their Final Battle pay-per-view that made fans of the Women of Honor hyped for the division's future. The company is putting together a tournament to crown the first ever women's champion in ROH. Still Real To Us recently caught up with the talented "Gatekeeper" Kelly Klein, one of the fierce competitors entering the tournament. In an exclusive interview, she spoke about what it means to be involved in ROH's tournament, which will feature some of the best female talent in the world.
"The fact that I'm part of this entire generation of wrestlers and being part of this roster is really cool," Klein told Still Real To Us. "It kind of goes back to what a lot of the women have been saying. It contributes to the state that we are in now. When any one of us does better, we all do better. The more everyone keeps working, improving, and growing, it's just pushing everything ahead."
Klein didn't have a traditional story when it came to entering the business. Many current stars were hooked watching larger than life characters like Hulk Hogan, Roddy Piper, and Ted Dibiase during their childhood years. Watching wrestling on Sunday mornings wasn't in Klein's weekly routine when she was a kid.
"I did not grow up watching professional wrestling at all," Klein confessed. "I wasn't really allowed to watch it when I was younger. It became a moot point because I didn't grow up with cable television. I didn't have a lot of awareness to it."
The ROH star grew up tough in Cincinnati, OH. She learned to hold her own by hanging around her family. Klein explained that they had deep roots in the amateur wrestling scene.
"I did grow up around high school wrestling, in particular. My brother wrestled. My dad coached–my dad had wrestled for Purdue University. All of my cousins, and a lot of my uncles all wrestled and coached. I was growing up around that when I was 5-years-old," Klein recalled. "My older brother was 14 and would come home from wrestling practice, showing me what he had learned."
Klein's time spent going to all of the wrestling meets when she was little would pay off later in her career.
"That would explain why that I am drawn to to a particular style and group of wrestlers. I really gravitate toward the style of mat wrestling. That Greco-Roman, Olympic-style wrestling," she stated.
Before mastering moves like the snap DDT, big boot, and fallaway slam, Klein had a different future in mind for herself: being a rock star.
"I started my training as soon as I could after seeing my first independent event. I was actually pursing music at the time. I was singing in a local rock band with a couple of my friends. I had a bigger gig that had come up at a pretty decent venue," Klein told Still Real To Us. "I told some people that I worked with where I waitressed. I invited them. One of the other servers said, 'I'll come see your band if you come see me wrestle.'"
Klein agreed to the request and it changed the course of her life. Her relationship with professional wrestling was truly love at first sight.
"I went to this wrestling event put on by the Heartland Wrestling Association. I was hooked before it was over–to the point where I was trying to ask anyone, 'How do I get in that ring?' It took a few months before I was able to ask the right questions to get the right answers."
Klein took her newfound love for wrestling to the next level. She became an established competitor in the Midwest independent scene, putting her opponents on notice with a winning attitude. As she picked up new skills in the ring, the wrestling landscape started to evolve. The smaller territories were disappearing, leaving Klein to find a new place to call home.
"At the time, it was a pretty decent scene. That kind of scene is always changing. Right now, it's not really the way it was at the time when I first started. A lot of the companies that popped up are gone."
Seeing the drastic changes firsthand, Klein took a guess as to why the smaller companies went belly up.
"I think it's a lot of different things. It's probably money, geography, and people. Things just change. I think the Northeast and New England area have always been good areas because of all the different places you can get to. There is that history there, where you've got the arenas," Klein speculated. "Having the train, and access to transportation makes all the difference. In the Midwest, if you don't have a car, there's not a whole lot that you can do."
The dominant wrestler was on the hunt for more. She would eventually make her debut with ROH during the company's Glory By Honor XIV: Champions vs. All-Stars event in October 2015. She picked up an impressive victory over Ray Lynn. Fans quickly noticed her allegiance with longtime ROH veteran, B.J. Whitmer. It was the perfect pairing for the new arrival.
"If people followed me from the beginning, they could see the new addition of my attitude, which is something that I wanted at the time. I wanted to get more serious with the aggression and more focused nature," Klein remembered. "Before, I was still trying to do well and be successful, but there was more focus on the fun aspect. Working with B.J. Whitmer, the intense, no-nonsense aspect–that was something I wanted to develop and learn. I'm still always learning from different people."
Klein not only learns; she excels. Putting away opponents like Veda Scott, Taeler Hendrix, and Kimber Lee is no easy task. As for her favorite competitors that she faced in her career thus far?
"You'll notice a trend. I would say, three of my favorite opponents, especially in the last few years, have been Kennadi Brink, ODB, and Bonesaw Jessie Brooks," Klein told Still Real To Us. "If you know anything about those three, you know they are all beasts. They are all intense and aggressive. They are a lot like me, I think. It's something that is a challenge for me. It's fun and interesting to be in that knockdown, drag-out, fight situation."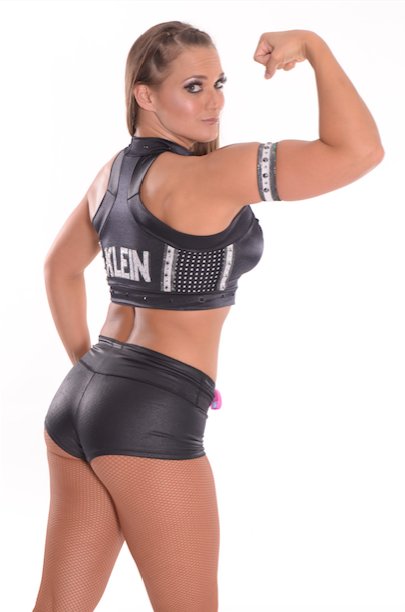 The Cincinnati native appreciates when she has competition that can dish punishment right back to her. 
"A lot of times I am the larger person in the ring, so there is a different dynamic and approach when you lock horns with them. There is something that is just so intense about that," said Klein.
Klein firmly believes that she will face some of the best and brightest female competitors in the world for the upcoming tournament to crown the first ever ROH Women's champion. She tells wrestling fans that they can expect to see a lot of her as the tournament progresses.
"Fans can expect to see me from the beginning to the end. There is some incredible talent in the tournament and that is something that pushes me, and challenges me to step up and be better," Klein nodded. "I think the way Ring of Honor is doing the brackets is going to make it possible to see a lot of first time match-ups. I'm going to study these different competitors, some who I've never been in the ring with at all. I think that brings a dynamic that's going to be very interesting to watch."
The Women of Honor have officially been put on notice, and if Klein has anything to say about it, she is going to take home the grand prize. She plans on making 2018 her best year yet, by making her presence known in STARDOM, and Chris Jericho's epic cruise ship.
Klein told Still Real To Us that she is "really thrilled" to have that association with the STARDOM promotion in Japan, in addition to getting ready for October's big event on the sea.
"I think everyone is also really excited about the cruise. It is definitely unique. I was talking to someone the other day about what types of venues I have wrestled in, and that would be a first. I think that's pretty cool. Anytime there's a first in anything, people take notice. Whether they are vocal about it or not, they are sitting back and paying attention," Klein laughed.
You can follow Ring of Honor on Facebook and Twitter. You can also follow "The Gatekeeper" Kelly Klein on Facebook, Instagram, and Twitter. To read more exclusive Still Real To Us interviews featuring your favorite Superstars, click HERE.