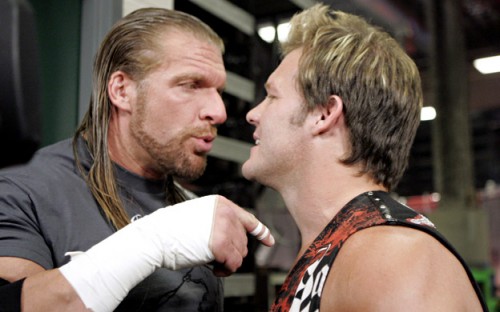 Chris Jericho is a very busy man right now, as he's been promoting his book "No Is A Four Letter Word" and he's also been doing live performances with his band Fozzy. Jericho recently sat down with Sean Evans for an episode of "Hot Ones" and he put his tolerance for hot wings to the test while he talked about pro wrestling, music and more.
Jericho can talk trash with the best of them, and when he was asked about the greatest trash talkers of all time, he named some of the biggest stars the business has ever seen.
"Obviously Rock has to be in there, Steve Austin was a great talker for sure. Cena's really good, but sometimes he gets a little bit immature…"
Jericho was also asked which pop culture character he thinks would make a good heel in WWE, and he named Dwight Schrute from "The Office."
"I loved Dwight Schrute in 'The Office,' just being a f*cking assh*le… Not tough, but just that guy you're just like 'This guy's just a jerk.' That's a great character [for] wrestling or anything. You have to fall into the character, become the character."
Chris Jericho has openly spoken about his past heat with Triple H, and he noted that in 2002 they really didn't like each other, but now he feels completely different about The Game.
"Triple H. In 2002, we didn't like each other. I think we were almost pitted against each other in a lot of ways. We had great chemistry, great matches…I just didn't like him, he didn't like me, and there was no falseness. Now I love him. Great guy."
Chris Jericho shares quite a few entertaining stories about topics including getting headbutted by Bruce Willis, and smoking a cigar with Arnold Schwarzenegger which can be seen in the full video below.