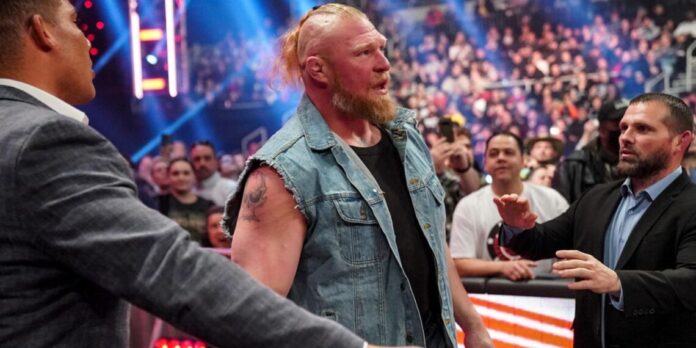 A few weeks ago it was confirmed that Brock Lesnar will face Omos at WrestleMania 39, and this week on Raw the two stars met face to face in the middle of the ring for the first time.
As Lesnar and Omos stood face to face the fans chanted "holy s**t" and Omos shook Lesnar's hand but refused to let go which led to Lesnar stomping on Omos. Brock Lesnar then tried to take Omos to Suplex City which didn't work out so well for The Beast as Omos got the upper hand and threw Lesnar out of the ring. Brock then made his way out to the backstage area as WWE officials rushed the ring.
PWInsider is reporting that Brock Lesnar left Monday Night Raw immediately after his segment was over. According to the report there was a car running in the back of the arena waiting for Lesnar for when his segment was over. After his segment finished up Brock went straight to the car and was driven to a private plane so he could fly back home.
WrestleMania 39 will air live from SoFi Stadium on April 1 and April 2. WWE has yet to announce whether Brock Lesnar vs. Omos will take place during night 1 or night 2. Stay tuned for updates.