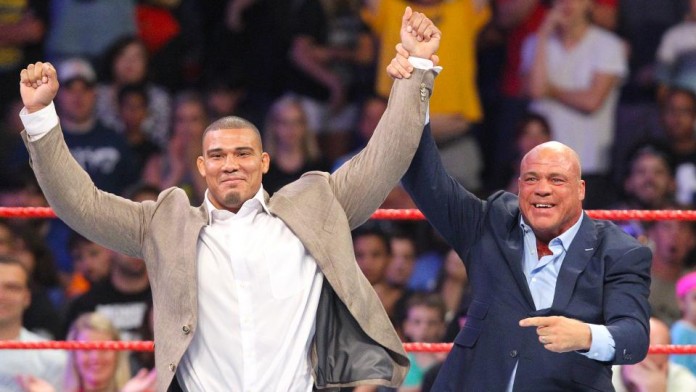 For months now Kurt Angle has been hiding a big secret from the world, and this week on Monday Night Raw he finally came clean. Kurt confessed to the world that while he was in college, he conceived a child that he did not know about who was later put up for adoption, and that child turned out to be none other than Jason Jordan.
Related: Huge Update On Kurt Angle's In Ring Future With WWE
Angle announced that Jason Jordan is now a member of the WWE Monday Night Raw roster, and he hugged his son in the middle of the ring after making the big announcement. Now that Jason Jordan is a member of the Raw roster, many fans have wondered what this means for the future of American Alpha, and it doesn't appear that there is much of a future for the team.
Pro Wrestling Sheet is reporting that there are currently no plans for Chad Gable to join the Raw roster, so it looks like he'll be staying on Tuesday nights.
According to the report, Jordan is set to receive a solid midcard level push following the big reveal, and his relationship with Kurt Angle will continue to grow as Kurt attempts to be a father figure for Jason.
The angle will reportedly be a central storyline on Monday Night Raw over the next few months
On this week's episode of Still Real Radio we're talking about Samoa Joe's performance in his big Universal Championship match with Brock Lesnar, as well as all the highlights from WWE Great Balls of Fire. We also run down what could be next for The Hardys, AJ Styles' big WWE United States Championship win and more. You can subscribe to Still Real Radio on iTunes and check out the latest episode below.