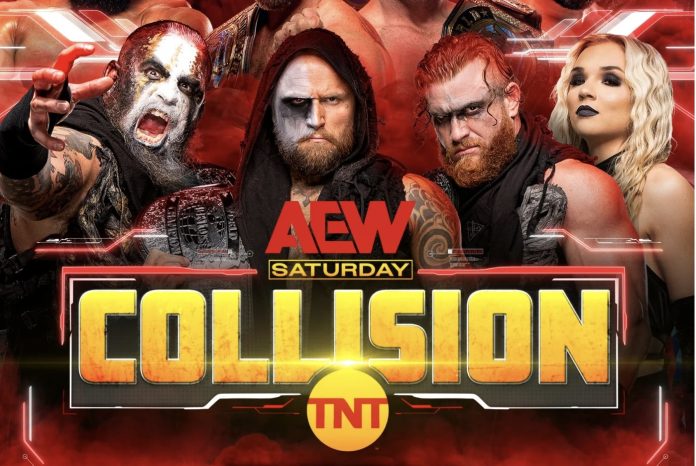 For weeks now the wrestling world has been buzzing about AEW potentially airing a third show titled Collision on Saturdays. Today the show was officially announced and it was confirmed that Collision will premiere on TNT on Saturday, June 17.
The show will air from 8 to 10 and so far several names such as Miro, Samoa Joe, Thunder Rosa, Powerhouse Hobbs and Andrade El Idolo have been announced for the show. CM Punk has been heavily rumored for Collision, but so far no official announcements have been made regarding his return. AEW issued the following press release:
TNT LAUNCHES A SECOND NIGHT OF WRESTLING WITH
"AEW: COLLISION" FEATURING HEADLINERS THUNDER ROSA, MIRO, SAMOA JOE, POWERHOUSE HOBBS AND ANDRADE EL IDOLO ON SATURDAY, JUNE 17
NEW YORK (May 17, 2023) – TNT launches a second night of professional wrestling with a new tentpole series, "AEW: Collision" on Saturday, June 17, it was announced today by Kathleen Finch, Chairman and Chief Content Officer, US Networks Group, Warner Bros. Discovery, during the company's 2023 Upfront presentation at Madison Square Garden in New York City. This live, two-hour, in-ring show will air every Saturday night from 8-10 p.m. ET and feature more wrestlers, more stories and more action to super-serve fans. "AEW: Collision" will feature headliners including Miro, Samoa Joe, Thunder Rosa, Powerhouse Hobbs, and Andrade El Idolo.
In only four years following the launch of "AEW: Dynamite," AEW's footprint has more than doubled across TNT and TBS. Along with "AEW: Dynamite," Friday night's "AEW: Rampage," the recent follow-doc "AEW: All Access," and now "AEW: Collision," TNT and TBS deliver the best matches and most entertaining moments in professional wrestling today. AEW has reached 23M total viewers so far this year across all of its shows on TBS and TNT.*
"We're doubling-down on wrestling with 'AEW: Collision,' which gives fans two more hours every week," said Jason Sarlanis, President, Turner Networks, ID and HLN, linear & streaming. "AEW's roster of talent has expanded so quickly that we felt it needed another night to bring our audience the epic rivalries, unforgettable matches and stars they love to watch. Adding 'Collision' to our programming mix on TNT will allow us to satisfy the massive demand we've felt from our hardcore fanbase and be the ultimate complement to 'AEW: Dynamite' on TBS."
"With the addition of 'AEW: Collision' on TNT, I'm extremely proud that a Turner network will be the home of Saturday night wrestling for the first time in more than two decades," said Tony Khan, CEO, GM and Head of Creative of AEW. "The debut of 'Collision' is significant across numerous sectors including television, wrestling, entertainment and sports, and reinforces AEW as the bold property we envisioned when we launched in 2019. 'Collision' will deliver live every Saturday night more of what fans and viewers tell us they want – athleticism, big personalities, exciting storylines and hard-hitting wrestling action, all of which have become synonymous with AEW."
About TNT
TNT, a Warner Bros. Discovery brand, is Cable's #1 entertainment network, known for big, lean-forward television that takes viewers on a thrill ride of electrifying stories, dynamic characters and premium events. TNT is home to some of television's most popular sports franchises and unscripted and scripted originals including "AEW: Rampage," "AEW: Collision," "Rich & Shameless," and "The Lazarus Project". TNT also presents primetime specials and sports coverage, including the NHL, NBA and NCAA Division I Men's Basketball Championships. Website: www.tntdrama.com
About AEW
Founded by CEO, GM and Head of Creative Tony Khan in 2019, AEW is offering an alternative to mainstream wrestling, with a roster of world-class talent that is injecting new spirit, freshness and energy into the industry. "AEW: Dynamite" airs every Wednesday from 8-10 p.m. ET on TBS and attracts the youngest wrestling audience on television. The fight-forward "AEW: Rampage" airs every Friday from 10-11 p.m. ET on TNT, and the new "AEW: Collision" airs every Saturday from 8-10 p.m. ET on TNT. AEW's multi-platform content also includes "Being the Elite," a weekly behind-the-scenes YouTube series, and "AEW Unrestricted," a weekly podcast series. For more info, check out Twitter.com/AEW; Instagram.com/AEW; YouTube.com/AEW; Facebook.com/AEW