Tony Schiavone has a new podcast on the MLW radio network called "What Happened When Mondays." The show is co-hosted by "Something to Wrestle with Bruce Prichard" co host, Conrad Thompson.
It promises to include the view from the "other side of the fence" seeing that Schiavone was with the company from Starrcade 1983 to the last WCW Monday Nitro in 2001, and has a plethora of stories to tell about his experience. Conrad says that this show will be a little bit more "southern fried" than the Bruce Prichard podcast.
The podcast is set up in a very similar format as "Something to Wrestle With" as Thompson acts as prosecuting attorney, grilling his subject about any given topic. The subject of conversation on the first edition of "WHW Mondays" is about a man that had an incredible impact in WCW and continues to make waves in professional wrestling to this day: Bill Goldberg.
#8 – Goldberg's Pre-Pro Wrestling Career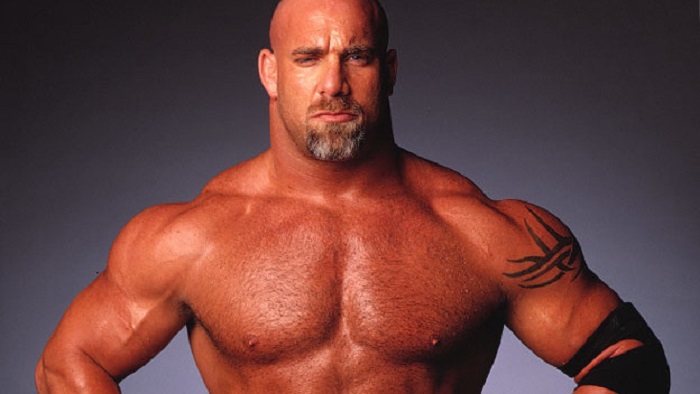 Bill Goldberg gave professional football a go before he went to professional wrestling, and he will go down in history as the first man to ever be cut by the Carolina Panthers NFL football team. Before that Bill Goldberg was a member of the Georgia Bulldog collegiate football team from '86 to '89.
Schiavone says that he wasn't a big Georgia football fan at the time, but he does remember that during coach Vince Dooley's last game during the Gator Bowl, Goldberg was unable to play because he was suspended. Schiavone says that he doesn't know why Bill was suspended, but there are so many rules for college football athletes that it could have been any number of things.
Schiavone tells a story that when Goldberg was with the Atlanta Falcons he would challenge his fellow football players to wrestle him. Tony says that someone told Bill Fralic to take Goldberg's challenge to which Fralic responded, "not me, that motherf****r's crazy."
#7 – The Power Plant And Early Goldberg Notes
WCW's Power Plant was a training facility that was ahead of its time. The Power Plant was a big warehouse which held a couple of rings and was intended to groom future WCW superstars. The facility was run by Assassin tag-team member, Jody Hamilton. Schiavone says that the Plant was a place where WCW could find talent, and that the Power Plant was an Eric Bischoff idea.
When Goldberg joined the Power Plant, Schiavone says that the first time he met Bill he thought that he was a monster, but very laid back personality-wise. Everyone was astounded at how he could instantly 'turn it on' in the ring.
Tony says that years ago when someone wanted to be a professional wrestler, Gene Anderson would pull people with wrestling aspirations in the ring and have them "run the ropes until they were ready to puke and beat the s— out of them." Tony says that he used to go to those try-outs and watch would-be wrestlers run up and down the stairs of the Charlotte Coliseum while Gene screamed at them, then an actual wrestler would be brought in to stretch and pummel them afterward. He says that it was more of a weaning out process at the time to see if guys really wanted it.
Conrad notes that Bill wrestled at least five dark matches before he made his television debut. He wrestled as Bill Gold during these matches. They put him up against seasoned veterans such as Hugh Morris, Buddy Landel, and Power Plant trainer Sgt. Buddy Lee Parker in these non-televised encounters. Bill Gold actually lost his final dark match before a Saturday Night taping to Chad Fortune. Schiavone says that he didn't see these matches because he didn't watch dark matches.
#6 – Goldberg's WCW Debut
Schiavone says that he thought Goldberg's Jackhammer finisher was sensational, although he did say that he thinks that Goldberg is a guy that got over because of his finisher and not his mic skills. He says that the move looked legit and it helped to establish Goldberg.
Hugh Morris was Goldberg's first victim on television. The encounter lasted just over two minutes and Bill suffered a black eye during the match.
Tony says that he knew at the time that Goldberg had incredible ability, but he had no idea if they had serious plans for him. When it came time to debut Goldberg on television in Salt Lake City, Schiavone says "that was one of the biggest clusterf—- that I ever announced in my life."
Tony says that there was a plan to put Goldberg on TV but no plan on what they were going to do with him. Schiavone says that WCW creative heads didn't even know what they were going to call Goldberg on television even up to the live broadcast.
Tony says they either didn't know how they were going to use him, or "they didn't know what the f— they were doing." Schiavone says this is the reason he neglected to say Goldberg's name for most of the match because he didn't know what they were going to even call him.
Schiavone says that the fact Goldberg looked a little bit like Steve Austin was just coincidental. He says that Goldberg looked and acted like a shoot fighter but they didn't bring it up on the air because they didn't care about shoot fighting. He says there were no directives from management to not mention shoot fighting.
#5 – The WCW Tough Man Division
During the podcast Schiavone confirms rumors that WCW flirted with the idea of having a Tough Man division complete with its own unique championship belt. Conrad reads a report from Dave Meltzer which said Chris Benoit, Mongo McMichael, Ming, Fit Finlay, and Goldberg were supposed to be among the roster in the division.
Tony says that there were plans to do this, but the idea got "lost in the shuffle." He also went on to say that, "if you have a Tough Man division, then eventually you're going to run out of tough men."
Tony Schiavone compared the Tough Man division to the Cruiserweight division and said that WCW had too much segmentation within the roster, therefore the idea was scrapped. He says having so many separate titles would decrease the value of their actual World Champion.
Tony says that the Tough Man division was still slated to be a work presented as a shoot match but it never materialized.
#4 – Goldberg's PPV Debut
Goldberg was scheduled to make his pay-per-view debut at Starrcade 1997, but injured his groin weeks before the event. Slated to tangle with Steve 'Mongo' McMichael, WCW officials instead arranged weeks of angles leading up to the show that featured non-match segments and "pull aparts."
When the event finally came, it won the title of 'worst match of the night' by a long-shot. The match featured one of the "worst table breaking spots in history." Tony Schiavone says that the booking committee arranged this match and that he is pretty sure that Goldberg and McMichael worked the match out at the Power Plant even though it didn't appear that they had any preparation.
Tony says that it was about running out of combinations for Goldberg, but it just didn't turn out well for anyone involved. He says that it was a bad match because both competitors were so green.
#3 – Goldberg's Streak And The 4 Horsemen
Tony Schiavone says that Goldberg's famous streak almost came as an accident. He says that they didn't realize that he hadn't lost on television until other people stated talking about it, therefore it essentially snuck up on the WCW booking committee. They decided to talk about the winning steak and tie it to Goldberg at about the 50-60 match mark of the 173 match streak. Schiavone says that he thought WCW officials worked the actual number of the streak to which Conrad confirms that they definitely did.
Schiavone says that there were discussions at one point to reinvent the 4 Horsemen and bring Bill Goldberg into the ranks. Tony says that it never got past the first phases and was eventually forgotten about in lieu of other story ideas.
Regardless of which way they used him on television his merchandise was still making incredible numbers. This might have had a lot to do with the fact that after only 8 months in the business, WCW gave Goldberg a four-year contract worth 2.4 million dollars. Tony comments that the 2.4 million figure sounded like a low number to him.
#2 – A Little Bit About WCW's Mismanagement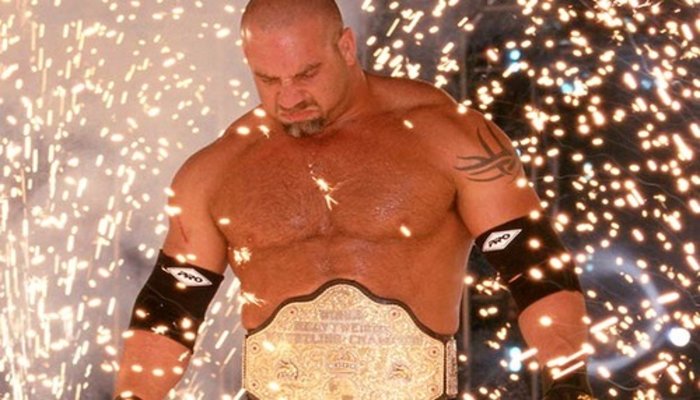 WCW used a technique back in the day to boost the on-sale date for house shows by sending a performer to a bigger market and do an appearance at the ticket office. Tony Schiavone says that this was a brainchild of Eric Bischoff and he spent some time putting Eric over for having big ideas.
Goldberg was used for many of these on-sale date appearances to promote that he'd be coming back to wrestle; apparently WCW drew some fantastic sale numbers for the events in the process. The only problem was that while bringing Goldberg in to do these appearances, they pulled him out of doing house shows that he had already made these on-sale date appearances to promote that he'd be there.
Piping in crowd reactions is an old trick that has been used by wrestling promoters and politicians alike for years, and WCW was no exception. The extended "Goldberg" chants that became so memorable were apparently not immune to this same tactic of deception.
The only problem was that the WCW camera crew would get shots of the crowd during these massive "Goldberg" chants to reveal that not one member of the audience was actually chanting. Tony Schiavone says he didn't know why WCW elected to do these pumped in chants, but it was probably an idea that came from Eric Bischoff and WCW director Craig Leathers.
#1 – Breaking Goldberg's Streak
Tony Schiavone says that the booking committee were always looking for new ideas for creative direction. He didn't deny the fact that there were several wrestlers who went to the committee with an idea of how they could beat Goldberg, although Schiavone doesn't remember any specifically.
Rumors are that Curt Hennig wanted to screw Goldberg over during his 100th win.
Tony says that it would have been more of an ego thing than a team player thing if anyone pitched an idea to beat Goldberg like that, because everyone was making so much more money off Goldberg's success.
When the decision to break Goldberg's streak finally happened it was very much a mismatched effort. Tony says that the idea to give Nash booking responsibilities was to freshen things up because they needed new ideas in there.
Goldberg had been cooling with the crowd, and Nash decided it was time to end the streak and give him a new purpose. Nash thought that it would be a better idea to have Goldberg chase the belt rather than just remain on top without anyone who could topple him.
Therefore, Scott Hall was sent down during Nash's match with Goldberg to hit Bill with a taser gun and assist in the win.
Tony says that he doesn't remember whose idea it was to use a taser or a cattle prod. He goes on to say that in hindsight it might have been a good decision to take the belt off of Goldberg and have him chase the belt.
Tony says that Goldberg losing his streak didn't mark the beginning of the death of WCW because the company had begun to die a long time before then.
There was apparently a deal made when Hulk Hogan dropped the World Title to Goldberg at the Georgia Dome that when the time came, Hogan would beat Goldberg to end the streak. Tony Schiavone says that he never heard that but it was probably true.
Raw hadn't beaten Nitro in the television ratings for several weeks, and Hogan was featured on those programs, therefore Eric Bischoff decided that it was a problem with Hogan so he gave the booking responsibilities to Kevin Nash. It was allegedly because of this why Hogan announced his retirement from professional wrestling on the Tonight Show shortly after.
There are many more topics covered in the three-hour podcast including everything you've ever wanted to know about the Glacier character, a ton more stuff about how disorganized WCW was, the Regal/Goldberg match that led to Regal being fired, two great stories about how tough Meng is, and so much more.
You can check out the full episode below.