WrestleMania 33 will be taking place on April 2, 2017 at the Citrus Bowl in Orlando, FL but it's never too early to start talking about the event. WrestleMania 32 has come and gone, and now every member of the WWE roster will be working to build themselves up in hopes of a getting a premium spot on next year's show. It remains to be seen where everyone will end up, but one thing's for sure, WWE has an incredible roster right now and WrestleMania 33 has the potential to be a huge show.
What will next year's card look like? It's too early to tell, but it's not too early to talk about all the possibilities. Today we're going to talk about several possible matches that could potentially tear the house down at WrestleMania 33. Let's get started
#8 – Cesaro vs Brock Lesnar
Cesaro made his return to the ring on Raw this week when he surprised everyone by entering the main event. Cesaro looked stronger than ever during his return which hopefully means it's going to be a good year for him.
WWE has done a great job of building up Brock Lesnar over the past few years and he currently looks like an unstoppable monster. But sooner or later someone is going to stop him, and Cesaro is a prime candidate to beat Brock Lesnar. Lesnar has decimated the WWE roster and there needs to be a pay off for all his destruction. Sure, it's a lot of fun to watch, but it would be great to see WWE use Brock to give someone "the rub" for once.
There is currently no one in the WWE that seems like they could believably beat Brock Lesnar, but there's plenty of time to make Cesaro a legitimate threat to The Beast. Cesaro's strength is his greatest gift, and a match with Brock Lesnar would give him a platform to show that gift off on the grandest stage of them all. Two time WWE Hall of Famer Ric Flair wants to see it, and he's even volunteered to be his manager.
"I feel like Cesaro, given the opportunity and with a vehicle to convey his thoughts, whether it be through himself or through a manager, which would be me, you could get him ready for Brock Lesnar in two months and the people would believe it. He's that strong and he's good [of] a performer. And he's that big. You're not going to bounce Cesaro around like a dart." Ric said on his WOOOOOOO! Nation podcast back in November.
Cesaro w/ Flair vs Brock Lesnar w/ Paul Heyman is a big money match if booked right. People often criticize Cesaro's mic skills, but putting Ric Flair in his corner would solve that issue. Flair and Heyman could do the talking and Cesaro and Lesnar could do the fighting. It's a perfect storm and it's a perfect opportunity to turn Cesaro into a star.
#7 – WWE Tag Team Championship – TLC Match: The New Day vs The Dudley Boyz vs Enzo and Big Cass 
Sooner or later WWE has to pull the trigger on another epic TLC match at WrestleMania. Those matches turned Edge and Christian, The Hardy Boyz and The Dudleys into legends, and it can do the same for today's generation.
Enzo and Big Cass have built up a loyal following in NXT and there's no reason to believe that they won't be able to do the same thing on the main roster by WrestleMania 33. The New Day is already the most popular team in the universe, and The Dudley Boyz are legends. It makes total sense for all three of these teams to collide at WrestleMania 33.
The Dudley Boyz may be legends, but the WWE hasn't really utilized their legendary status since they made their return to the company. WWE needs to start using the team to build new stars in the tag team division, and a TLC match at WrestleMania is the way to do it.
#6 – Balor Club vs The Wyatt Family
It is Monday today pic.twitter.com/L9QomAS9Wm

— Finn Bálor (@wwebalor) March 28, 2016
The members of The Wyatt Family haven't had the best of luck at WrestleMania in the past, so it's probably better off if they just stick together next year. It's always fun watching The Wyatts go to war as a team, but in order for the battle to be interesting they're going to need the right opponents. That's where the Balor Club comes in.
Finn Balor has been teasing the arrival of Doc Gallows and Karl Anderson for months and it looks like they'll be making their debut any day now. It seems inevitable that the three will be forming a stable similar to the Bullet Club at some point, and they'll probably be on fire by the time WrestleMania 33 rolls around.
We all remember how epic it was when The Wyatt Family faced off against The Shield a few years ago. If WWE could somehow capture that magic again with a Wyatt Family/Balor Club feud it could be a potentially show stealing match at WrestleMania 33.
#5 – WWE Women's Championship: Bayley vs Sasha Banks 
Women's wrestling has finally arrived at WrestleMania, and after the triple threat match that took place at WrestleMania 32, the bar has been raised for next year's show. How do you top that epic triple threat match? Give the fans Bayley vs Sasha Banks in a singles match.
Sasha Banks is already loved by fans on the main roster and it seems pretty likely that Bayley will be accepted by the WWE Universe with open arms. With all the history between these two it just seems like a no brainer to give them the spotlight next year.
#4 – AJ Styles vs Shinsuke Nakamura
AJ Styles went from facing Shinsuke Nakamura at Wrestle Kingdom 10 on January 4, 2016 to facing Chris Jericho at WrestleMania 32 in Dallas, TX on April 3. It would be poetic to see Styles and Nakamura meet again, one year later on the grandest stage of them all.
AJ Styles has been on a roll since his debut, and Shinsuke Nakamura put on a serious match of the year candidate with Sami Zayn at NXT TakeOver: Dallas. But Styles vs Nakamura at WK 10 is another match that fans are constantly referencing as a match of the year candidate on social media as well.
The bout received rave reviews from fans who tuned in to the show, and it's pretty much guaranteed that it would get a positive reaction if it happened again at WrestleMania 33. There's absolutely no shame in WWE going with a sure thing, especially when that sure thing is an AJ Styles vs Shinsuke Nakamura match.
#3 – The Undertaker vs John Cena
This match has been a long time coming and it was rumored that WWE wanted do it at WrestleMania 32 before Cena got hurt. We say this every year, but Taker can't have too many more WrestleMania matches left. WWE needs to pull the trigger on this one before it's too late.
Whether you love or hate John Cena you know that this is a HUGE match, and it would be real shame if it never happens. WrestleMania is The Undertaker's house and John Cena has become an almost unstoppable force since the last time he faced the Deadman one on one. This match would have fans on the edge of their seats from bell to bell, and it's really one of the only big blockbuster matches left for The Undertaker at WrestleMania.
As we saw with Sting's unfortunate situation, you never you know what's going to happen when a wrestler steps in the ring. The last thing WWE wants is to find themselves in a position where they can't book this contest. WWE needs to set it up while there's still time, because there's just no telling how much longer Taker is going to be wrestling. When it comes to this dream match, WrestleMania 33 could very well be their last chance to make it happen.
#2 – Triple H vs The Rock
Triple H vs The Rock is one of wrestling's most epic rivalries. They've faced off many times and they've even faced each other at WrestleMania. But they've never faced each other in a singles match at WrestleMania
As much as WrestleMania should be about building new stars, it's alway nice to see big epic clashes between legends. The Rock vs Triple H has always been a WrestleMania match that felt destined to happen, and it's shocking to think that it hasn't happened yet.
Triple H proved at WrestleMania 27 and 28 when he faced The Undertaker that he can take an old rivalry and make it feel new again, and he could easily do the same thing with The Rock. Triple H vs The Rock is a rivalry that always felt personal, and until this match happens it's always going to feel like there's unfinished business between these two legends.
#1 – WWE World Heavyweight Championship: Roman Reigns vs Seth Rollins vs Dean Ambrose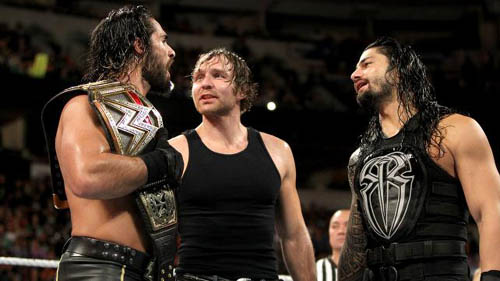 This match has been a long time coming and it will definitely tear the house down if it happens at WrestleMania 33. The Shield was one of the most popular factions of all time and just about every fan has a favorite member. If these three faced off in a triple threat for the WWE World Heavyweight Championship the match would bring the WrestleMania crowd to a fever pitch.
WWE has made the right call by not giving this match away yet because it is definitely a WrestleMania main event. If they manage to hold off on this match for another year the anticipation will be at an all time high by the time we reach WrestleMania 33.
Those are our picks for possible WrestleMania 33 matches, but we want to hear what you guys think. How would you book the show? Which matches would you want to see? Sound off in the comments below.