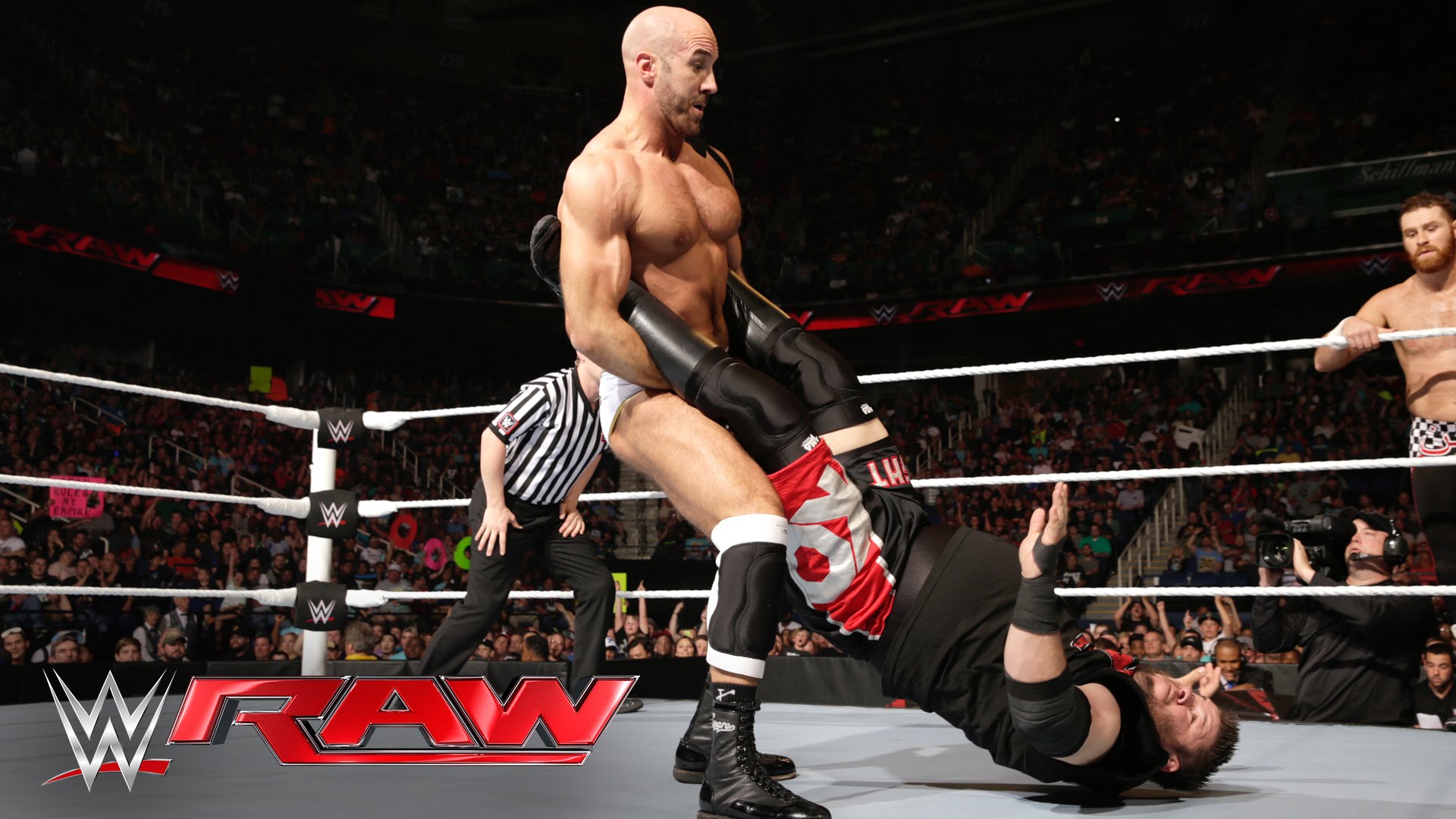 Tonight's "Raw" was full of holes like always, but some of the things going on are good. A few tweaks and those good things could be made even better, great perhaps:
– The Intercontinental Title means a lot more nowadays than it did two years ago, and that's a great thing. The current title picture is interesting as there are some strong characters involved. The fact that Sami Zayn and Kevin Owens had to team together was compelling. But putting two wrestlers on commentary during the initial Zayn-Cesaro match, taking away attention from the match? That didn't help anyone involved.
– Shane McMahon is still loved and has not overstayed his welcome, judging by the weekly fan reactions. But WWE still hasn't properly explained why Shane is still around after losing that Wrestlemania match to The Undertaker. There should be an explanation inserted in there at some point, or else future "loser leaves town"-style matches should never be taken seriously. Off the top of my head, maybe Shane had a clause in his contract that Vince forgot about?
– Speaking of Shane, it is fantastic that he is doing a "Tell All Podcast" with Mick Foley, even if a lot of the broadcast turns out to be a work. But it's not a podcast. If you're going to use new media lingo, use it correctly, or else you risk sounding like someone's grandparent. This is an "exclusive interview" or a "special sit-down interview." If WWE offered this content for downloading or streaming purposes outside of the WWE Network or its app, then it is arguably a podcast. The WWE offering more podcasts in the future would be a good move, even if it's just the audio from a show like "Table For 3" or "Ride Along."
– Primo and Epico are obviously talented performers, but that was a lousy opening promo from them. It's not that the promo itself was so terrible, it's that the vignettes used to introduce their tag team didn't tell you anything about them. The vignettes didn't say their individual names, or the name of their team, and the vignettes implied them to be fun-loving babyfaces. With some more squash matches in 'Murican cities, like tonight in Greensboro, this tag team can get over. But that could be a little harder to accomplish if The Shining Stars are appearing in cities with a substantial Puerto Rican population.
– Golden Truth were surprisingly over tonight. That was an incredible reaction that I don't think anyone was expecting. Both R-Truth and Goldust can still work, and both of them can still do comedy. Currently, their tag team is not in the tag team title picture, but the creation of secondary tag belts would suit Golden Truth well. The team could appeal to both children and the old-school fans that have been watching the two men wrestle for all these years.
– Dana Brooke had a strong debut tonight. But she's not currently among the top two women's division feuds. A secondary title would also benefit the women's division. Once Sasha Banks is back on television, that secondary title would give more of a purpose to Dana Brooke, Becky Lynch, Paige, and Natayla.
– A.J. Styles is a true, organic, main event babyface, and he managed to get over without great booking, some of the moves that made him popular, or an interesting theme song. Assuming that A.J. doesn't win the Roman Reigns feud and/or title, it'll be interesting to see where he is left on the card. He could help make the U.S. title relevant again.
– Big Cass is doing the best he can, given that he was brought in as a tag team wrestler and his partner remains out of action. He has come a long way on the microphone. Perhaps he could have an interim tag team partner or a meaningful singles feud. Otherwise, it doesn't make sense for him to be feuding with a tag team.
– Charlotte and Natayla got the closing segment, which emphasized the importance of women's wrestling in the big picture of the WWE. The room for improvement in this particular feud is that I don't think that anyone is counting on Charlotte to losing her title at Extreme Rules. However, the talent involved helped build up this weekend's match effectively. Charlotte has gotten excellent on the mic, actually drawing heat in her hometown. She arguably doesn't need her father anymore.
But let's be clear, three hours is still too long for a weekly TV show. If "Raw" went down to two hours and that extra hour was moved to a wrestling-centric weekly program on the WWE Network — for example, a show focused on secondary titles and/or tag teams — everyone would win as a result.