With 2016 coming to a rapid close, we tend to look back on the negative aspects of the year. 2016 saw the loss of quite a few pop-culture icons and a presidential race that seemed to divide the country.
Related: 5 WWE Superstars Who Deserve A World Title Shot In 2017
Not everyone had a bad 2016 however. Some WWE Superstars upped their value to the WWE brand throughout the year, and can look back on 2016 with fond memories. Here's a list of 5 of those superstars who can look back on 2016 as the year that propelled their legacy.
5. Braun Strowman
Braun Strowman is billed at 6'8″ and a slender 385 pounds, and he is the young "big man" that WWE needs. Strowman started the year as a member of the Wyatt Family, and his allegiance to the bearded buzzards played a big role in the Royal Rumble, where he had a dominant performance.
Braun was able to eliminate 5 WWE Superstars before he was shown the exit via Brock Lesnar. Strowman would get his revenge later in the Rumble by coming back to help The Wyatt Family eliminate the "Beast Incarnate."
The brand split did wonders for WWE's human 18-wheeler, as Strowman would go on to have numerous squash matches which eventually led to his current rivalry with Sami Zayn. Strowman has been laying waste to Raw's top talent while on his collision course with the "Underdog from the Underground." It's safe to assume that 2017 will have a lot in store for Braun Strowman and we'll likely be seeing even more destruction at the hands of WWE's latest monster.
4. The Miz
The Miz was someone who desperately needed a chance to shine, and when the WWE brand split return, the Miz seized the opportunity, and showed the world what he's capable of. Playing the role of the disrespected employee – the most must-see man in the WWE became just that, must see.
With his string of matches against his long time rival Dolph Ziggler, and his background feud with Smackdown's General Manager Daniel Bryan, the Miz has once again established himself as a valuable asset to WWE. 2016 saw the Miz once again rise to his perch as the one of the top heels in the company, so it should be interesting to see what 2017 holds for the current WWE Intercontinental Champion.
3. Chris Jericho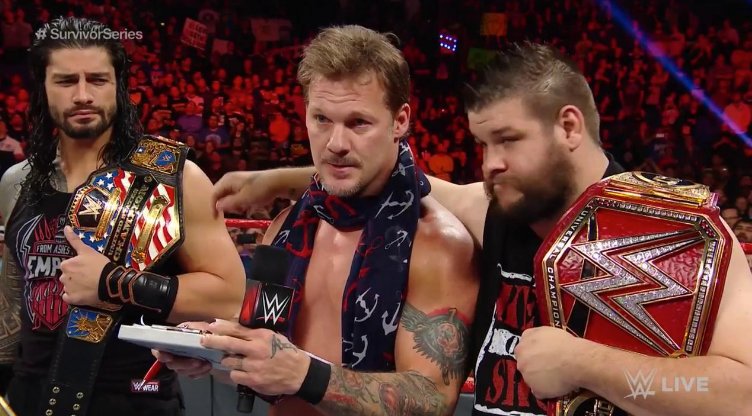 Chris Jericho is a walking catchphrase. 2016 saw the birth of the "Gift of Jericho," "Stupid Idiots" and the "List of Jericho." Jericho used 2016 to showcase what it takes to get into WWE's Hall of Fame, and it's amazing to think that at 46 years old, Jericho's best days may still be ahead of him.
If he's lost a step in the ring, you'd never know it because his veteran ring awareness is able to hide any of Father Time's cruelty. Chris Jericho is a living legend and the only thing that could slow down the amazing roll he's been on is a Fozzy tour.
2. Charlotte Flair
In quite possibly the greatest year ever for female professional wrestling in WWE, one woman rose above them all. Charlotte Flair has her father's mic skills and storytelling capabilities, but where she separates herself from her legendary father is her athleticism. Charlotte showcased her ability in the ring in 2016, and her abilities are impressive to say the least.
On her way to becoming a 4 time WWE Women's Champion, Charlotte broke down walls and made history alongside her rival Sasha Banks. These two women had quite possibly the most intense rivalry of 2016 with Charlotte coming out victorious in every singles pay-per-view bout that she took part in.
She didn't just win, she often looked dominant. There's not a woman on the current roster who boasts the in ring ability and mic skills that Charlotte possesses, and 2017 won't be able to slow her down either.
1. AJ Styles
Phenomenal. You cannot talk about AJ Styles without using that word. 2016 saw Styles up his value and become the most untouchable Superstar on WWE's payroll. Nobody in the world of professional wrestling had more 5 star matches in 2016 than AJ Styles.
WWE passed him over before, and some fans never thought he'd ever get to WWE. Now that he's there you can see it in his eyes that he wants to prove to everyone that passed him over, just how wrong they were. From his knock-down, drag-out brawls with John Cena – to his 5 star matches with Dean Ambrose and Roman Reigns, AJ Styles had a phenomenal 2016.