The nWo were one of the most influential wrestling groups in the history of the business. They had a huge impact on the world of professional wrestling and fans still wear nWo shirts proudly to this very day.
Related: 13 Things We Learned from Bruce Prichard's "nWo In The WWE" Podcast Part One
Although the group made themselves infamous during their time with WCW, there are quite a few interesting stories about their run with the WWE. The nWo's run with WWE didn't last long, but Bruce Prichard recently revealed some fun information about their time with the company on his podcast, Something to Wrestle with Bruce Prichard, and today we're going to run down a few things that you need to know.
#6 – Internal Thoughts About the New World Order
Bruce says that WWE officials were terrified about bringing Hogan back in as a heel because he was so famous for being a babyface in WWF. He says that when the three members of the nWo first appeared on WWE television and there was an enormous reaction, that it was very relieving to know that fans were going to accept them back into the fold.
Bruce says that creative asked Vince whether or not he would be seen in an "Eric Bischoff" position in the new WWE incarnation of the nWo, to which McMahon replied, "What?! Good God no!"
Bruce explains that Vince has a weird thing about him where he doesn't want to do something like what another person has done, but he still decided to bring back the same people to do almost the same thing. He said that Vince didn't want to recreate too much of it, but towed the line in his own way using his own reasoning.
#7 – Backstage Reaction In The Locker Room
Conrad mentions that WWE officials had a meeting backstage with the talent where they were told that the three nWo members were coming in, but they would have no political power whatsoever. Scott Hall allegedly went to a bar that night and got very drunk, came back inebriated receiving no admonishment for this action. Therefore, the boys were actually shocked that Hall was not reprimanded because they had been told that the nWo guys wouldn't get special treatment.
Bruce says that this meeting was a Vince idea. He said that McMahon wanted to get everyone together at the same time and address this issue to get it out of the way. Prichard also says that he doesn't know that Scott Hall wasn't reprimanded for these drunken actions. He does say that pretty much all of the agents including Arn Anderson didn't like the idea of bringing them in at all.
Conrad tells a story about Scott Hall approaching the Dudley Boyz asking them what the name of their finishing move is called. When they replied, "It's the 3D-Dudley Death Drop" Hall said, "I can't wait to kick out of it." This apparently caused a bit of heat backstage as well. Bruce says he has heard that story before and didn't deny that it ever happened. Bruce says that it was probably a rib, but due to the timing of the occurrence it only added to the already thick backstage tension and trepidation.
#8 – Scott Hall vs. Steve Austin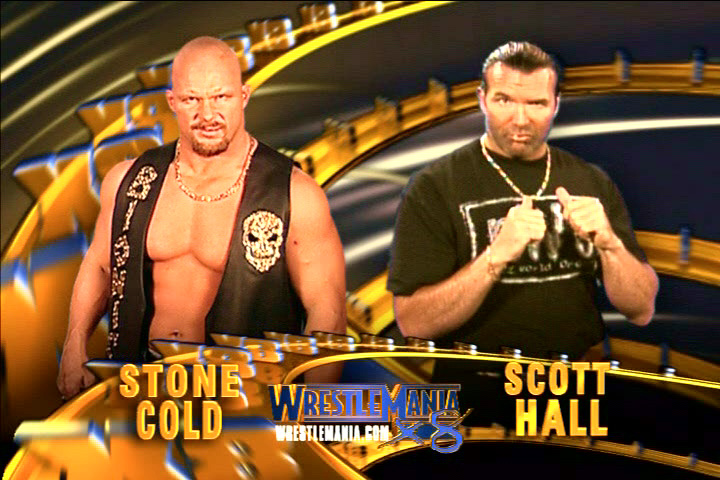 The nWo was introduced straight off the bat by getting huge heat off of Austin when they broke up an Undisputed Title match between the Rattlesnake and Y2J. They then spray-painted "nWo" on Austin's back and left him lying in the ring. Bruce says that Steve didn't volunteer for this but he didn't think that there was a problem with him doing it. Bruce says that it was just about this new heel team taking out the top babyfaces.
Bruce explains that the plan for Scott Hall was to pair him with Stone Cold right from the beginning because they didn't want to go right to Hogan vs. Austin because they knew that's what the fans wanted and they wanted to build to it. This is the reason why they booked The Rock vs. Hulk first instead, he says that they wanted fans to show that they wanted Hulkster vs. Steve Austin.
#9 – Scott Hall's Personal Problems
Bruce says there was concern that Hall wouldn't make it to WrestleMania to face Austin due to his "personal demons." Bruce explains that Vince tried to help this as much as possible by assisting Hall in finding outpatient treatment where he was eventually prescribed Antabuse for his problem.
During the scene between Hall and Austin where The Bad Guy was tied up to a chair and Stone Cold poured beer all over him, Bruce says that was a tragic scene. He says that it was shot at 2-3am and Hall had tape over his mouth because if one drop of beer hit his tongue he would get violently ill due to the Antabuse. The fact is that even the smell of beer will make someone sick if they're on Antabuse. Scott Hall was beginning to get violently ill just due to the smell of the beer being poured on him.
Another trivia note to remember is on the February 28th edition of Smackdown, Austin ended up pulling a gun on the entire nWo that shot a net over them (in theory) during this angle.
#10 – Hogan vs. The Rock
Bruce says that Rock vs. Hogan was great. He says that the two legends went out there where they just "felt it and went with it" during the initial stared own. Bruce says that the idea to run over the ambulance that the Rock was in by a semi-truck driven by Hogan was a group idea. Bruce does say that "Vince kind of had a fetish for destroying things and blowing s— up."
During this time period Rikishi was able to give Hogan a stinkface at a house show, Bruce says he doesn't remember this and doesn't know whether it was a rib or not because he didn't go to house shows at this point. Therefore, the answer to the trivia question of whether or not Daddy Uso has ever rubbed his ass in Hulkster's face is yes.
Conrad asks why WWE decided to give Hogan's first match away for free on television in a handicap match featuring Rock and Austin vs. the nWo and Bruce confirms that he agrees it was wasted. Bruce says that he would have wanted it to be on pay-per-view, but the idea was just to get a win over Rocky.
#11 – An Unexpected Face Turn
WWE still had hope that Hogan would get a heel reaction during his WrestleMania match against the Rock, but Prichard says the Toronto crowd was a crapshoot. The crowd was electric. Hogan tried every heel trick in the book but the crowd just cheered him more. "Die Rocky Die" chants broke out within the crowd because the audience seemed to do a double turn during this fantastic contest.
Rock won the match clean after two Rock Bottoms and a People's Elbow. Bruce says he watched the match on the floor in the SkyDome with Brian Gewirtz. Bruce says that Brian looked at him and asked, "Do you think they know Hogan is supposed to be the heel?" Bruce says he wasn't in the Gorilla Position, instead he was in the crowd enjoying the match as a fan.
Bruce says he never heard the stories that Hulk actually broke a rib during the contest. Bruce tells that he doesn't remember if the plan was for Hall and Nash to attack Hogan after the match, but he does confirm that WWE sent Hulkster home to Tampa, Florida in order to get his red and yellow gear. Therefore, WWE never expected a face turn at Mania for Hogan.
Hogan appeared the next night in Montreal on Raw in his babyface attire once more to a 17-minute ovation. Bruce says that he speculates having the Outsiders turn on Hogan might have been a call made from the Gorilla Position.
#12 – The Beginning Of The End
During the first ever WWE Draft, Vince McMahon drafted Hogan to Raw and Ric Flair drafted Hall and Nash to SmackDown. Bruce says the reason they ended the angle so abruptly without it ending in a singles match of any kind was there was no real upside to it.
Prichard explains that Vince wanted to get Hogan back in a super babyface status again and not keep messing with the nWo because if they kept up the feud then that's all people would remember.
Therefore, Hogan started a program against Triple H for the Undisputed Championship at Triple H's request and Hall and Nash didn't really do much after that as Kevin Nash was "suspended" off TV after grabbing Ric Flair. In reality Nash had injured his bicep during an angle where the nWo attacked the APA. Bruce says Nash seemed to keep coming up with injuries when it was time to work.
#13 – Scott Hall's Departure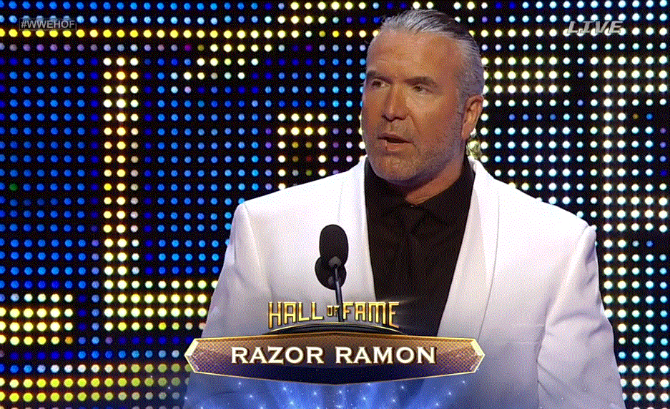 Bruce says Booker T was pretty much just put in the nWo because he used to be in WCW. Scott Hall was fired later that night due to Hall's alcohol use. Razor was taking Antabuse, but would only take his medication on days that he was wrestling giving him the ability to drink freely on his days off and when he was traveling.
Conrad read a report from Dave Meltzer that said Hall got hammered the night before WrestleMania 18, and he continued his drinking afterward. Reports were that Hall got extremely drunk on his way to the UK on a tour and even fell asleep backstage at the Insurrection pay-per-view. Bruce says that there is probably a lot of elements of truth to those accounts.
Bruce says when the decision was made to fire Scott Hall; Kevin Nash and Triple H were made aware of this before it happened. Prichard explains that Trips, Kevin, and X-Pac all tried to take care of Scott and really put them all over for being great friends.
We here at Still Real To Us are so happy Hall has been able to turn his life around and seems to be doing great now. Stay "Hall Good", Scott.
Many more topics were covered on this show like why they brought Shawn Michaels into the nWo after Hall left the company. Bruce gives so much more information about segments that he produced with the nWo, also Conrad and Bruce go into so many more details concerning the comedic routines surrounding Austin tormenting the nWo, including the hilarious story about the botched angle with the net gun.
Another fascinating topic of conversation was how they used Kevin Nash during this time period and Bruce's viewpoint of the entire situation. Bruce also tells a story about how the Kliq pulled a "power play" on Shane McMahon and threatened to quit if they didn't get their way.