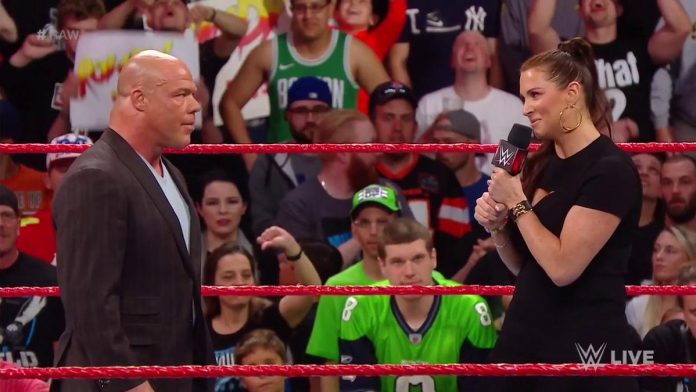 It's time for Raw when all anyone can talk about is SmackDown and their new home on Fox.
But Money In The Bank is only a few weeks away and Kurt Angle is set to kick off the show with a massive announcement.
Also, Nia Jax was facing Ronda Rousey at Money In The Bank for some reason and Sami Zayn was going to talk to Bobby Lashley's sister for an even more unexplainable reason.
It's been a long couple of weeks for the Raw roster as they just got back from a European tour. But now that they're back it's back to business stateside as Raw invaded Albany New York.
Opening Segment – Angle's Big Announcement
"You suck" chants meaning "we love you" is one of the best reasons for loving pro wrestling.
Angle said Rousey was in the house because of course, she was. Then he hyped the match that is happening way too soon. He said he will be presiding over the contract signing.
Then Suddenly Stephanie McMahon showed up on Raw for the first time in forever since Rousey first destroyed her arm which seemed to be all better now by the way.
Steph said WrestleMania 34 is water under the bridge and all is forgiven because she will always do what is best for business. The crowd chanted, "you tapped out" and Steph said, "I did tap out, I absolutely did."
Then McMahon tried to say that with her guidance then Angle could grow as a leader. But she said since Angle let the last contract signing get out of hand, she will be presiding over the contract signing instead.
Angle said he could use guidance and Steph said he's been handling Roman Reigns poorly by giving him too much slack but that needs to end. Then Roman came out to say hi.
Reigns took a moment to soak up the mixed reaction and said, "if you're gonna say something about me Steph, say it to me."
McMahon said she didn't understand Roman's new attitude. He was the Big Dog, the leader, but if she's going to let this Samoan temper get the best of him then he might look for another line of work. This got a little cheer. Then Roman said she better watch her attitude and he might go in the back and destroy all her favorite Superstars. This actually got a bigger cheer.
Steph said she cares about revenue streams and Roman brought up Brock Lesnar. Steph said she's taken all his requests to her father and they'll do what they can. Roman said to cut the crap because they don't want him around the Universal Title or the MITB match.
Steph said Roman lost his qualifying match so he should take it up with Jinder Mahal, "I already did," Roman replied with a grin on his face.
Then Kevin Owens came out to grab the brass ring in the segment. KO said he won the final spot in the MITB match and him winning the briefcase is best for business. Kevin said that everyone feels the same way about Roman it's just that he has the guts to admit it.
"I actually like Roman Reigns," Kevin said. Then he tried to get a "Thank you Roman" chant going but it did not work at all. KO said he only disagrees with what Roman said about Stephanie McMahon playing favorites. Kevin said although he had issues with Shane and Vince, Steph still knows talent when she sees it while putting his arm on Steph's shoulder.
"Don't ever touch me," Steph said and that seemed a little legitimate. Then she booked Roman Reigns vs Kevin Owens next.
Roman Reigns vs Kevin Owens
Roman Reigns beat Kevin around the ring and Owens sold like a champ crawling away from the Big Dog while the crowd cheered Reigns on.
Kevin took a shot while sitting on the top rope as Reigns punched him off to send KO toppling to the floor. Michael Cole made a comment about Reigns' new attitude as Roman left the ring to follow Owens. He tossed Owens back in the ring just to have Kev roll under the ropes on the other side of the ring to continue his breather.
It wouldn't surprise me a bit to see them take it as easy as possible seeing how they just returned from a grueling European trip. But they get the rest of the week off anyway.
Reigns missed a Drive By and Owens kicked him in the head before rolling him back in the ring. Kevin tried to get the upper hand on Roman but Reigns caught him with a right hand and climbed up to join The Prizefighter.
Reigns fired off with a few clotheslines and Owens sold them all very well before countering a big boot and nailing a DDT for a near fall.
Reigns returned fire with a Samoan Drop for a two count of his own. Owens rolled Reigns up for a two count and landed a clothesline in the corner he ran down for a cannonball but Roman jumped up for a Superman Punch. Then Roman Reigns yelled at the sky looking for the spear, but KO rolled outside so Reigns ran outside and hit a spear on him there.
Suddenly, Jinder Mahal appeared and attacked Roman Reigns causing the referee to call for the bell. Jinder's ribs were heavily taped for Raw which was a nice touch. It would have been a nicer touch if his ribs were taped throughout the entire European tour too which they weren't.
But Reigns made his way to the ring and suddenly Seth Rollins ran down to clear the heels out of the ring.
Roman Reigns and Seth Rollins vs Kevin Owens and Jinder Mahal
Oh good, this was turned into a tag match. Kevin and Roman were already tired and fought it out. Jinder tried to stop Reigns from making a tag so Reigns tossed Jinder outside. But Mahal grabbed Rollins and pulled him down before Roman could get a tag. Kevin Owens hit a cannonball on Reigns for the near fall.
The match continued for a bit with some back and forth action until Reigns started taking damage once again from KO. Owens smashed Reigns across the back of his head with forearms to shake him up as the heels continued to cut the ring in half on Roman.
Reigns finally made the tag to Rollins and he took it to Mahal. Rollins proved he was the biggest babyface on the roster as he hit a slingblade on Mahal and sent him out of the ring to hit suicide dives on both him and Kevin Owens on both sides of the ring.
Rollins his a blockbuster on Jinder then he geared up for the curb stomp. Sunil Singh distracted Seth but he kicked out after Mahal hit a devastating move driving his knees into The Architect's abdomen.
Owens got the tag but he was put face-first into the turnbuckle. Owens hit a gutbuster and an elbow off the middle rope but Roman broke up the pin.
Owens tried to hit a popup powerbomb but Rollins hit a superkick and a curb stomp for the win.
Winner: Roman Reigns and Seth Rollins via pinfall
After the match was over, Jinder Mahal destroyed both Rollins and Reigns with a steel chair. This was a nice thing to do for him on the one-year anniversary of him walking out of Backlash with the WWE Championship.
Sami Zayn Exposes Bobby Lashley's Sisters… Yeah
Zayn said he will expose Bobby Lashley and his lies. He invited Bobby's 3 sisters and they came out looking yeah… they were awful. Just awful. Dead reaction from the crowd. These men in dresses got no response from the crowd as the cheerful music they picked for their entrance didn't help at all.
Zayn said he sees the Lashley family resemblance. He went to Cathy first who was the one carrying a broom. She said Bobby was mean to everyone so she grabbed a broom and use it to "swat that snarling menace away from me."
"Wow, that had to be hard thank you for sharing," Sami said. Then he asked Francis why she carried a helmet everywhere. She said Lashley used to hit her with his knuckle so she saved up her money and went to the Army/Navy store and bought a helmet.
Sami commended her for her heroism and moved to the last sister and asked her why she carried a towel. She said Bobby would hurt her feelings and make her try and a tissue wasn't enough so by the end of the night her towel was sopping wet with tears.
Zayn said we're starting to get a clearer picture of what he always knew about Bobby. He said Bobby only loves himself and the middle sister said their mom and dad hated Bobby. He was disrespectful until they had to ship him off to reform school.
This was painful and nobody cared as the third sister called Bobby a brat and said he would steal candy. "It got so bad that when Bobby would come around they would the cops on him."
Then Zayn proceeded to call Lashley a liar, a thief, a menace to society… etc.
Suddenly Bobby Lashley came out in a t-shirt, sweatpants, baseball hat, and a huge smile on his face. He gave high fives to fans on his way to the ring and really played up the babyface thing.
Finally, Lashley got in the ring and addressed "his sisters." Bobby said he can't believe the first sister is single and the middle sister's outfit looks great. Finally he said Francis had something all women want… a big hair mustache.
He thanked Sami for doing this for him and said he loved it. Then he thanked him for being such a good friend. Sami Zayn was the only thing holding this dumpster fire of a segment together and even he was struggling with his amazing skill.
Sami said he might like it more if he Helluva Kicked him in the face and tossed him out of the ring like a piece of garbage because that's what his family thinks about him.
Bobby's smile turned into a scowl and suddenly he attacked Zayn but Bobby's sisters held him down and tried to gang up on them.
Bobby then put all of the men in dresses down before grabbing the helmet, putting it on Francis' head and hammering down.
One sister got stuck going over the top rope and the third one got whipped with the towel which is something we all should have seen coming before he hit a spinebuster.
He crotched another sister with her broomstick and sent her over the top rope as Sami Zayn looked on from the ramp. As Lashley took off his shirt and smiled at Zayn, the crowd finally cheered because the segment was over.
Ember Moon vs Alexa Bliss
Mickie James was at ringside to cheer Alexa Bliss and provided ample distraction at first. But Ember Moon fought them both off before the action returned to the ring and Alexa bliss took control of the match.
Bliss and Moon represent two different generations of NXT's Women's Division and now that they're on Raw we finally get to see them mix it up. Bliss kept Moon down with a submission hold until Moon got to her feet but Alexa soon brought her back down to apply damage on Ember's shoulder.
Then Moon his a forearm and a sideslam as Michael Cole said she's called the War Goddess for a reason. Moon hit a kick and trie dto pull Bliss into the ring but she grabbed the apron and dragged it into the ring. The referee was distracted as Mickie James got in the ring to hit Moon so the referee kicked her out.
While James was throwing a fit, Ember slapped her and Bliss rolled her up for a two count. Then Ember hit a forearm from the apron and climbed up to nail the Eclipse for the win.
Winner: Ember Moon via pinfall
Backstage Segment
Stephanie chaged Kurt's office into her own by putting up a picture of Vince and a basket of fruit. Braun and Finn walked in and Braun helped himself to some fruit as Balor asked for a rematch again Dolph and Drew.
Then Stephanie turned things around and booked Finn Balor vs Braun Strowman for a little friendly competition. "I like competition," Strowman said after crushing an apple with his bare hand. Finn just looked up at him like a bunny who was about to be eaten alive by a hungry bear.
Baron Corbin vs No Way Jose
Baron Corbin's theme song is so freaking good. I just have to point that out.
Jose got started by trying to jump Corbin and caught him with a baseball slide when Baron was trying to do his signature clotheslines after he ran around the ring post. But Baron soon took control and stomped Jose down while he waved off the disapproving crowd in the process.
Corbin crushed Jose's head with his boot against the ring post on the apron before throwing him in for a two count and latching on a stretching shoulder submission.
Jose came back on Baron and drove his shoulder into the ring post followed by a boot to the face and then he caught another one followed by a stiff clothesline.
Jose sent Corbin face-first into the mat for a two count before gearing up for the knock out punch but Corbin countered and hit the Deep 6 followed by an End Of Days for the win.
Winner: Baron Corbin via pinfall
Kurt Angle was backstage and Chad Gable walked up to him and said Steph was in his office. Angle said he liked it out in the… it looked like storage area? He said cell reception sucks there though.
Drew and Dolph walked up and gave Angle some crap for being in the dirtiest part of the backstage area they could find. Gable said they think they're pretty special and McIntyre said that's because they are.
Dolph said he doesn't sit around waiting for a handout and Gable took offense to this. Angle said they will settle it in the ring and called them jackasses after they left.
B Team vs Breezango
This is a match between two teams who really needed a win but Curtis Axel and Bo Dallas were the ones who the storyline was built around.
Dango got a nice spot in but he was quickly double-teamed and they picked up the win.
After the match was over, Bo and Curtis tackled each other again and celebrated like they just won a championship match at WrestleMania.
The B Team made their way to the announce table where Bo got on the microphone and said they're the best ever before hugging Corey Graves and hijacking Michael Cole's rolling chair.
Bo got in the chair and Curtis jumped on top of him as they both rode all the way down to the bottom of the ramp in celebration.
Winner: B Team
Contract Signing
Stephania McMahon said the WWE Universe is still stunned in disbelief at the challenge heard around the world. More like we all wondered why WWE ever let that footage see the light of day and they didn't shoot something else later. Seriously, that footage at the Upfronts was pretty cringe-worthy.
Anyway, Steph introduced Nia Jax who came down and hugged Stephanie McMahon. Steph brought everyone up to date on how Nia became champion and then she introduced Rowdy Ronda Rousey.
Ronda said Steph is holding that microphone well after she snapped her arm after Mania. Steph asked why Nia challenged her and hyped how Ronda hasn't competed in a singles match at all.
Steph started stirring the pot with Nia Jax trying to hype each woman up for the match. Then Nia Jax jumped up and said Rousey can't get the armbar on her and she will make a name for herself because she's going to beat her at Money In The Bank.
Then they both signed the contract and Rousey politely moved the table aside before taking the mic. Rousey said she's happy the truth came out, but that's okay. She shook hands with Jax before saying, "because I'm going to take your title." Rousey studied Jax arm for a moment before saying, "and your arm."
Dolph Ziggler vs Chad Gable
Gable is so good and so is Ziggler. If given the time these two could tear the house down. But this was a match during the third hour of Raw so it didn't get all the time it deserved. But it was still great to see these two amazing amateur wrestlers trade moves.
Ziggler took control after a picture-perfect dropkick though and he took a two count as Drew McIntyre shouted encouragement to his tag team partner.
After trading some quick back-and-forth moves, Ziggler hit a neckbreaker but Gable came back with an array of moves in return with Dolph kicking out every time.
Finally, Ziggler nailed a headbutt and a Superkick and won the match. It's nice to see a Superkick finish a match in 2018.
Winner: Dolph Ziggler via pinfall
After the match was over, Drew McIntyre came in to hit a Claymore Kick because he wanted to play too.
Natalya vs Dana Brooke vs Liv Morgan vs Sarah Logan
I just want to start this out by saying I don't like the fact that these Riott Squad members are in a match against each other.
The Riott Squad let the numbers game help them for a while until Natalya slapped a Sharpshooter on Sarah Logan and she tapped out.
Winner: Natalya via submission
Now Natalya is joining Money In The Bank. After the match was over Charly Caruso interviewed Nattie where she put over her friendship with Ronda Rousey totally telegraphing something down the line between the two of them.
Elias vs Bobby Roode
Elias had a chance to work the crowd and said WWE's stock prices raised 150% since he's been on Raw which is true because WWE stands for Walk With Elias.
Then he led everyone in a song called, "I love Elias" and got everyone singing along before stopping to say he didn't feel that way about them. This was pretty great.
Elias attacked Roode before he could even get his robe off and the referee couldn't peel him off of the Glorious One for a second.
Roode said he wanted to go and when the bell sounded he tossed his own robe in Elias' face and hammered away at him. Bobby hammered at Elias a little more before clotheslining him over the top rope.
Roode continued his assault when they got back in the ring. Roode hit a spinebuster and almost had a victory but Elias kicked out of a pinfall. Elias almost rolled Roode up it didn't work.
Suddenly, Bobby hit a swinging neckbreaker but he was stopped on the top rope when trying for the blockbuster and Elias hit the Drift Away for the win.
Winner: Elias via pinfall
Fun fact: This time last year Bobby Roode was NXT Champion.
As Elias was leaving, Braun Strowman's music hit and he came barreling out to send Elias flying with a shoulder block.
Braun Strowman vs Finn Balor
It's not we asked for this David and Goliath battle but it's happening.
Both men were smiling before they started off. Finn started by landing a kick to Strowman's legs so Bruan just hammered Finn down. While Balor sold on the mat, Braun laid a clubbing blow across his chest.
Strowman pitched Balor into the corner and roared as the crowd cheered. "You got pinned last week!" Strowman said before continuing his beatdown on Balor.
Balor tried to come back with something but Braun just hammered him back down. Then Braun punted Finn out of the ring. Bruan beat Finn around the ring and they moved back inside.
"Look at that smile! Isn't it pretty?!" Braun shouted before hammering down on Balor again. Strowman caught some boots to the face but Braun shut him down with a headbutt.
They moved outside for a moment where Finn tried for his kick from the apron but Strowman just grabbed his leg and sent him crashing into the apron.
"Have you had enough? I'm done playing with you!" Braun said before Finn slapped him across the face two times. Balor left the ring and Strowman went running around the ring. But Finn countered Strowman's bulldozer tackle with a sling blade.
Then Finn ran outside and hit Strowman with a shotgun dropkick that sent Braun over the barricade. But as Finn stood unaware, Braun rose up and grabbed him from behind.
But Balor kicked him down, got on the apron and landed a double stomp on Braun to the outside. Then Balor jumped on the barricade and nailed a Coup De Gras to Braun on the floor. Balor rolled in and let the referee count to 10… but Braun rolled back in at the count of 8.
Once Strowman got back in the ring Balor's offense didn't work anymore. He hit a shoulder block on Balor but Finn moved out of the way and Strowman took a shoulder to the post. Balor tried for a Coup De Gras, but Strowman grabbed him.
Balor reversed out of a running powerslam but Braun ended up hitting two of them anyway and getting the win.
Winner: Braun Strowman
After the match was over, Braun propped Finn up in the corner and tried to stand him up in a show of respect. Strowman roared once again after looking up at the MITB briefcase hanging above the ring. There you go. That was Raw.