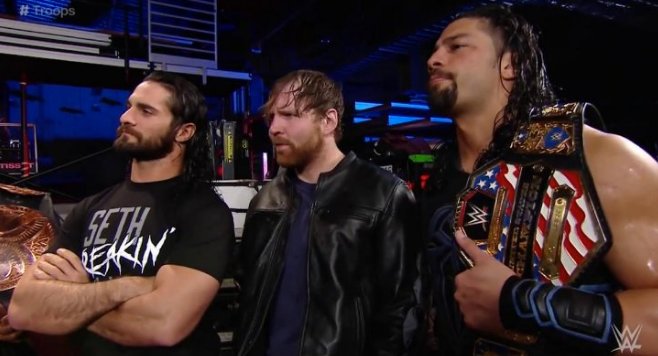 For this week in particular, WWE has a lot of content planned for a seven-day stretch. Besides Monday Night Raw, Smackdown Live, 205 Live, NXT and Total Divas, there was a Tribute To The Troops special last night and WWE Roadblock will take place on Sunday. That is a lot to keep up with, to say the least. Yet there were plenty of things that happened in the wrestling world outside of the ring that are arguably as exciting:
– Booker T – After plenty of Internet rumors, Booker T has announced that he is running for mayor of Houston. As a New Yorker that has only spent a few days in Texas — and that was around five years ago — I know very little about the political landscape of Houston. But given that sports-related figures have run for office before (e.g. Jesse Ventura for governor of Minnesota, Jerry Lawler for mayor of Memphis, Jack Kemp for Vice President under Bob Dole, Kevin Johnson for mayor of Sacramento), it is not far-fetched for a WWE Hall Of Fame to be elected to run a major city. This one will be interesting.
– Leaked Memo – Wrestlers are notoriously awful with keeping secrets, so it is surprisingly how few documents from the WWE have leaked over the years. This week's leak featuring live event "do's and don'ts," courtesy of Vince McMahon, had some great information in there. It shows how the Internet fans are not always wrong like wrestlers say they are; the part about only John Cena being allowed to do the "boo/cheer" spot being one example of that. Gossip aside, it is great to know that WWE is concerned about talent injuries and has procedures in place to minimize that.
– Cross-Promotion Interaction – In promotion of TNA's Total Nonstop Deletion, Matt Hardy was calling out WWE talent on social media, "inviting" them to participate in what he had in store. While no one is expecting Bray Wyatt to appear on TNA programming, the fact that he publicly-acknowledged Matt Hardy and what he is doing shows how wrestling has changed for the better. WWE no longer has tunnel vision with regards to being the only wrestling company out there. Furthermore, kudos to Matt Hardy in recent interviews acknowledging WWE and how he may want to go there if not given a stake in TNA. Storyline or not, Matt Hardy is one of the most compelling people in wrestling today.
– Nigel McGuinness – When Nigel McGuinness left Ring Of Honor, a lot of people did not know what to think. But with the news that he will be working for WWE comes joy that Nigel is getting a shot at the big time, even if it is in an announcing and/or backstage role. Again, WWE used to not want people "from the indies." Furthermore, it used to make all of its new talent change their performer names for the sake of owning intellectual property. This development, as paired with the upcoming Britain-themed WWE tournament for a United Kingdom Champion, ought to help the company expand its U.K. fanbase.
– #BlackExcellence – A photo was taken with The New Day, Sasha Banks and Rich Swann and posted on social media with the hashtag "#BlackExcellence." A lot of positivity came out of it, as people realized that WWE has plenty of black talent in top positions at the company. Whether or not the hashtag itself was the best way to explain these feelings, the WWE has also come a long way in the area of creative related to minority talent. Remember Cryme Tyme? The Triple H storyline of Booker T telling him that "people like him" didn't get opportunities? That Bad News Brown faced a blackface-wearing "Rowdy" Roddy Piper?
That all said, congratulations to The New Day and their record-breaking reign as WWE World Tag Team Champions.