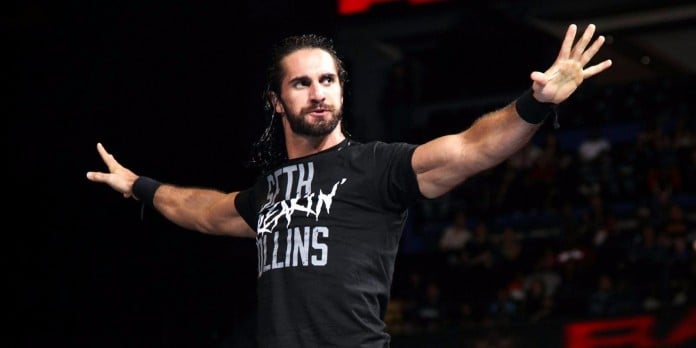 Imagine just how surprised you would be if you were at a SmackDown house show and Seth Rollins showed up out of nowhere to take out Jinder Mahal? Well, that's exactly what happened in Vancouver when Shinsuke Nakamura couldn't make the show. The Architect was more than willing to jump in The King Of Strong Style's spot and take out the WWE Champion and his minions.
Although it was kind of a bummer Nakamura had to miss the Canadian house show, this crowd still got one amazing experience that's for sure. You can tell by the intensity Rollins showed that he doesn't care whether he's wrestling in a Raw or SmackDown ring because Seth just wants to cause some damage and prove himself to be the best at what he does.
The Singh Brothers tried to restrain Seth but they wouldn't be able to stop him for long. It's pretty incredible to see how flawlessly Rollins was able to deal with the former Bollywood Boyz. Needless to say, the bucklebomb has never been more useful.
This crowd ate it up and were into every move they executed. It was certainly a pleasant surprise. Although not getting to see Nakamura had to have been a disappointment, the shock of Seth Rollins busting out at a SmackDown house show was probably more than made up for it.
It just goes to show that you never what's going to happen or who you're going to see when you go see WWE Live. I remember seeing Finn Balor as NXT champion defend his title against Baron Corbin at a random Huntington WV house show in 2015.
Jinder Mahal wasn't much of a match for Seth Rollins either. The Modern Day Maharaja took a nice looking table break spot after Rollins was able to overcome him.
We understand they wanted to send the crowd home happy so WWE booked the babyface Rollins to go over. But it doesn't really make SmackDown look too hot considering the fact a Raw superstar who isn't even in the main event right now was able to jump over and beat him. It is Seth Freakin' Rollins though, so it's not like they sent Elias Samson over therefore WWE gets a pass on that one. Besides, it was absolutely sick!
Seth Rollins Replaces #ShinsukeNakamura At #WWEVancouver And Powerbombs #WWE Champ Jinder Mahal Through A Table! #SupportProWrestling pic.twitter.com/ofXgE6u4CH

— Brian The Guppie (@briantheguppie) June 25, 2017