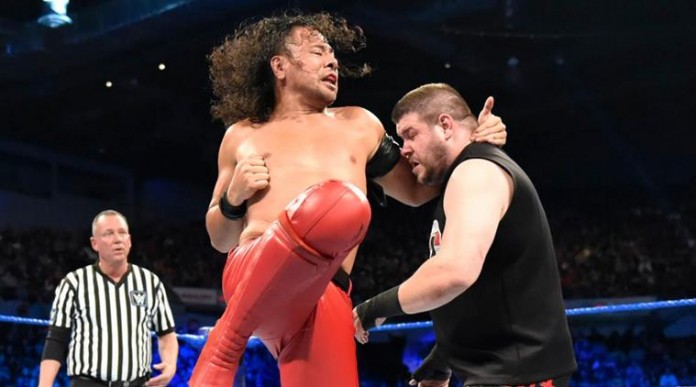 Kevin Owens isn't just the United States Champion, he's also the "Face of America" and he's never afraid to speak his mind. Owens is one of the key players on SmackDown Live, and shortly after WrestleMania 33, the blue brand acquired former two time NXT Champion Shinsuke Nakamura.
Related: Kevin Owens Goes Full Heel On Fan Asking For An Autograph, NJPW Debuts New US Title
Shinsuke Nakamura seems to be fitting in quite nicely on Tuesday nights, and recently WWE has been pushing "The Artist" nickname pretty hard for Shinsuke. Not everyone is a fan of the nickname, and wrestling fans have taken to social media to express their opinions.
One person who seems to be enjoying the backlash is Kevin Owens, as he recently thanked fans for bringing him joy with their negative reactions.
Few things bring me as much joy as seeing how upset people get when Nakamura is referred to as "The Artist". I love it so much!!!
Thank you!

— Kevin Owens (@FightOwensFight) June 24, 2017
The women of WWE have been making history over the past few years by main eventing pay-per-views, wrestling in the first ever women's Hell in a Cell match, and more recently the first ever women's Money in the Bank ladder match.
This summer history will continue to be made in the world of women's wrestling as WWE will be holding the first ever Mae Young Classic tournament.
Former SmackDown Live Women's Champion Becky Lynch recently spoke to Amarillo.com about the tournament, and she also noted that she thinks women will definitely get their own Royal Rumble someday.
"I think there'll definitely be a time where the women get their own Royal Rumble. When you look at the fact that in July there is the Mae Young Classic taking place between 32 women. Then you have the women in NXT and the women on both brands. I think it's a year or two away from having our own Royal Rumble, then maybe our tag titles. The sky is the limit."
On this week's episode of Still Real Radio we're talking about the fallout from the Money in the Bank pay-per-view, James Ellsworth handing the briefcase to Carmella, the possibility of Samoa Joe becoming Universal Champion and more. You can subscribe to Still Real Radio on iTunes and you can also check out the latest episode below.