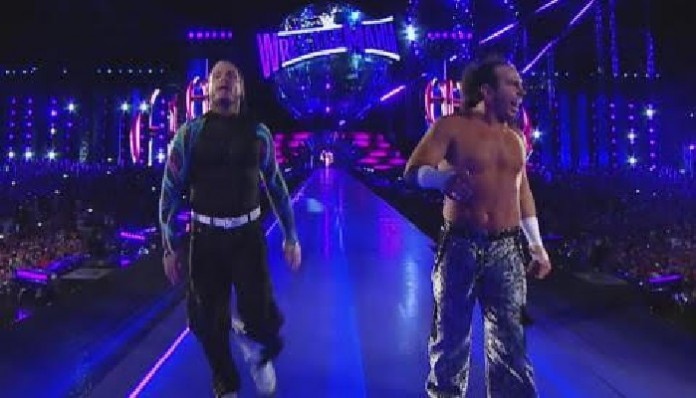 WWE is in London today taping an episode of Raw. It will still air on the USA Network, it just won't be live. Therefore, they'll have plenty of chances to edit the program as they see fit. But don't worry, we'll still be providing a detailed report and analysis of Raw when it airs in the United States.
The Hardys received a stellar ovation when they ran in to stop Sheamus and Cesaro from some evil doings. Shasaro has really gone all out heel. They must have in order to make a London crowd boo them.
You can hear the "delete" chants echo in the O2 Arena and it's quite amazing from the video's vantage point in the upper deck. Hopefully, it'll only be a matter of time before The Hardys can just be full on Broken again.
Word is they're getting close to being able to get back to that Broken gimmick to WWE. But maybe not. Who knows at this point? It seems every day there's a story about it, Reby Hardy says it isn't true. The point is if/when WWE lets The Broken Hardys grace WWE television, it will be more than over.
#RAWLondon pic.twitter.com/wXwhhwUTbh

— Dr Steelhammer (@MitchStringer18) May 8, 2017
WWE was in London tonight taping Raw. But before Raw starts they always film footage for Main Event. WWE decided to let an NXT in on the pre-raw taping, Aleister Black.
Aleister Black wrestled as Tommy End throughout Europe's indie circuit to make a name for himself. People loved to chant vulgarity-ridden chants at him in an endearing fashion. But now he's in WWE and it's really cool they let him have this opportunity to wrestle in the O2 Arena like this.
The NXT superstar is well-known to the London crowd so this was a very good choice. We're sure there were plenty of chants that had to be Deleted.
HAWKINS VS ALEISTER BLACK ON MAIN EVENT #RAWLondon pic.twitter.com/I9LSl38FVZ

— Benjamin P Saywell (@bpsaywell) May 8, 2017