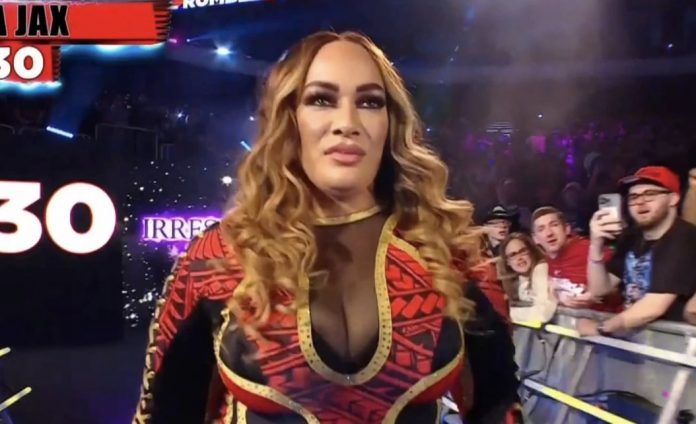 You never know what's going to happen at the Royal Rumble and on Saturday night former Raw Women's Champion Nia Jax made her return to WWE during the women's Royal Rumble match when she entered at number 30. Jax wasn't in the match for long as the competitors in the ring teamed up to take her out, but her return was one of the most talked about moments from the show.
As of this writing Nia Jax is still listed on the alumni section of WWE.com, but it's worth noting that WWE has released new merchandise for the Irresistible Force on WWE Shop. The description for the merch which notes that Jax "is back" reads as follows:
"Nia Jax is back! One of the most dominating forces ever to grace the women's division, Jax made her emphatic return to WWE during the 2023 Royal Rumble. Welcome back the former champ in style by throwing on this Irresistible Force T-Shirt. Gear up today and be ready to cheer on Nia Jax the next time she devastates her opponent with a Samoan drop."
At this point in time there's no word on whether or not Nia Jax has signed a new deal, but WWE releasing new merchandise for Jax seems to indicate that she will be sticking around beyond the Royal Rumble. Stay tuned for updates.
The Irresistible Force is back! Check out this NEW Nia Jax T-Shirt at #WWEShop today! #WWE

🛒: https://t.co/kD0Z7qrJ7N pic.twitter.com/tVsFLeXJS7

— WWEShop.com (@WWEShop) January 29, 2023