WWE's Tag Team Division has always generated a lot of interest. And for good reason too. We have trembled at the sight of powerhouses like The Steiners and The Legion of Doom while, high-flyers like The Hardy Boyz and Paul London and Brian Kendrick have kept us enthralled.
But not all WWE Tag Teams have been made up of brothers (kayfabe or otherwise) or friends. Temporary alliances are a part and parcel of pro-wrestling and WWE has seen its fair share of sworn enemies joining hands for a common purpose or just to kick some ass.
Here are 5 such tag teams.
5. Triple H and Stone Cold Steve Austin
Triple H is no stranger to alliances and stables. One of the founding members of Evolution and Degeneration-X, which are amongst some of the greatest stables in pro-wrestling history also formed a notorious alliance with the rattlesnake himself, Stone Cold Steve Austin.
This came as a shock to wrestling fans worldwide as two people who didn't even see eye to eye, and were huge rivals had formed one of the most infamous WWE tag teams, orchestrated by the man who in the words of Jim Ross "would overthrow the Devil and takeover Hell once he gets there."
The two even won the Tag Team Titles and feuded with The Brothers of Destruction and The Hardy Boyz as Stone Cold had the WWE Championship on his shoulder while Triple H was the Intercontinental Champion. This alliance didn't last long though, as it ended after Triple H was sidelined for 9 months after tearing his quadriceps.
4. Chris Jericho and The Rock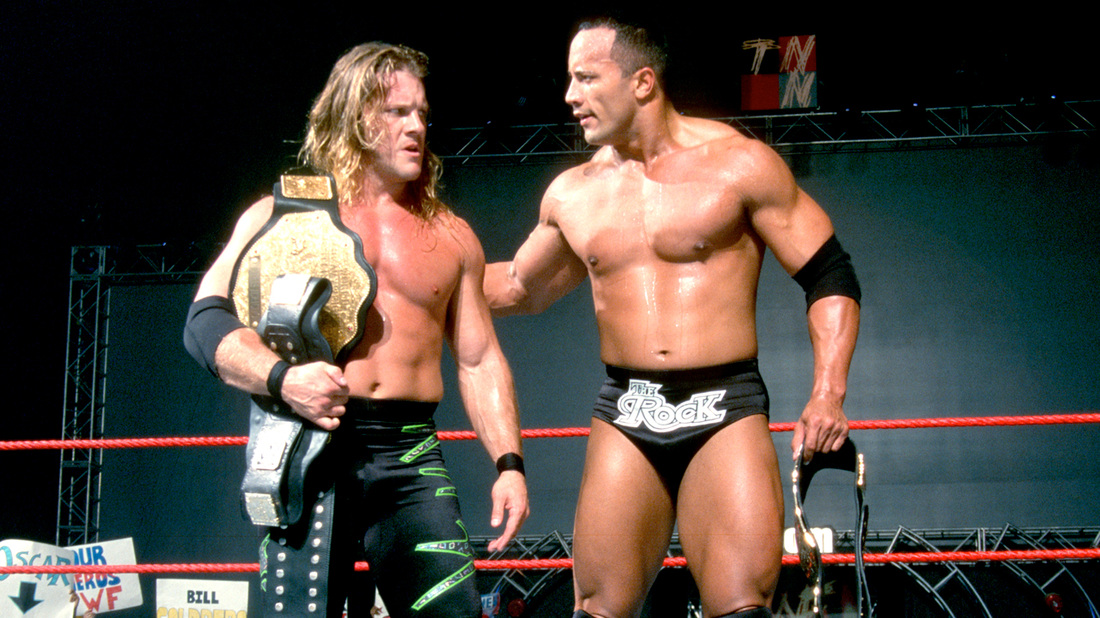 When Chris Jericho debuted on Raw in 1999 with The Rock in the ring, we knew we were in for a treat. How many superstars have the in-ring abilities and mic skills of The Rock and Chris Jericho?
The two have collided for championship gold several times, but they ended up on the same side when they teamed up to face the Dudley Boyz for the Tag Team Titles just a day after Chris Jericho beat The Rock for the WCW Championship. This team, unsurprisingly didn't last long either as they disbanded after losing the titles to Booker T and Test.
3.  Rated RKO
Rated RKO was a formidable tag team and Randy Orton and Edge seemed to complement each other perfectly. Edge was conniving and ruthless and Randy Orton was cold as a viper.
During a episode of Raw in 2006, Edge convinced Randy Orton to form an alliance for the singular purpose of exacting revenge on Triple H and Shawn Michaels, who of course at the time were tag team partners. They did manage to get the better of D-Generation X in their first tag team match, but lost at Survivor Series.
Rated RKO was one of the more memorable WWE tag teams of their era, and they went on face each other several times in singles and tag team matches, with both exchanging victories and losses. Their relationship soured when Edge walked out on Orton during a match in February 2007. The team officially disbanded after Edge defeated Orton in a one on one match and moved to SmackDown after he cashed his Money in the Bank in on the Undertaker and he won the World Heavyweight Championship.
2. The Brothers of Destruction
When it comes to WWE tag teams can anyone think of a team more destructive that the Brothers of Destruction? The Deadman and the Big Red Machine managed to trample past almost every wrestler they faced. But the two also shared one of the most intense, bloody and complex rivalries in WWE history, having faced each other in the first ever Inferno Match at Unforgiven in 1998.
Their partnerships have been quite sporadic, disbanding and then teaming every few years. They have managed to lay their hands on the Tag Team Titles thrice, their most notable victory being the one in 2001 where they unified the WWE and WCW Tag Team Titles in 2001 against Diamond Dallas Page and Kanyon in a Steel Cage match.
1. The Rock 'N' Sock Connection
No surprises here, folks. One of the most memorable and surprising WWE tag teams had to take the number one spot in this list.
In August of 1999, The Rock challenged The Undertaker and the Big Show to a handicap match, even though he knew that beating them was going to be virtually impossible. Just as The Rock was describing a hilarious but not very pretty scene of the Deadman going straight up the Big Show's candy you know what, Mankind's music hits and he comes out and offers to team up with the Rock against the two giants. The Rock reluctantly accepted his offer and the would go on to beat the Big Show and The Undertaker and clinch the WWE Tag Team Titles.
However, after several weeks The Rock let Mankind know that he was no longer interested in being his partner and was tired of him stealing his catchphrases. After this, Mankind gave the Rock a signed a copy of his book, 'Have a Nice Day!' and was later crushed to find it in the trash. Mankind then refused to team up with The Rock in a match against the Hollys, which The Rock lost along with the Tag Team Titles. They later teamed up later to face the McMahon-Helmsley Faction and then in 2004 to face Evolution in a 2 on 3 Handicap match, which they lost. They're three time WWE Tag Team Champions, and although their run was short, many people consider them to be one of the most memorable WWE Tag Teams of all time.