Back in July WWE split up the brands once again, and following the brand split Shane McMahon and Daniel Bryan made it clear that they wanted SmackDown to be viewed as the land of opportunity.
Related: The Top 5 Most Valuable WWE Raw Superstars Of 2016
There are many WWE SmackDown Superstars who stepped up and made the most of the opportunities that were presented to them in 2016, and today we're going to look at the 5 WWE SmackDown Superstars who were most valuable to the brand this year.
#5 – Alexa Bliss
While Charlotte and Sasha Banks were tearing it up on Raw, WWE SmackDown Superstars like Alexa Bliss and Becky Lynch held things down for SmackDown in 2016. Alexa Bliss has only been on the main roster for a few short months, but since her debut she's developed into one of the most interesting characters in the Women's Division.
Alexa's fiesty attitude and her pop culture inspired costumes have forced people to take notice in 2016, and her feud with Becky Lynch led Alexa Bliss to her first SmackDown Women's Championship reign.
Now that Alexa Bliss is the SmackDown Women's Champion she has a chance to prove herself and further establish herself as a force to be reckoned with on SmackDown Live.
#4 – Dean Ambrose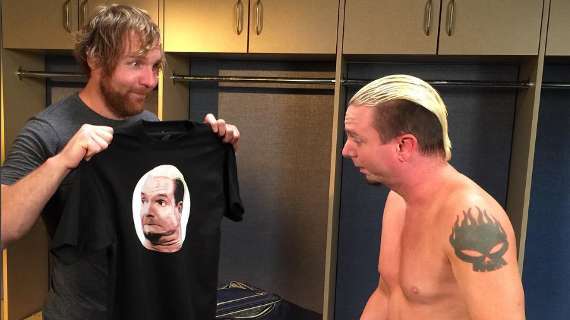 Before the brand split it seemed like Dean Ambrose was having a tough time breaking into the main event scene. He would come and go every once in a while, but after he was drafted to SmackDown he solidified his status as a full time main eventer.
Ambrose kicked off his run on SmackDown Live as the WWE World Champion, and he's been featured in the title picture consistently ever since. SmackDown is the land of opportunity, and in 2016 Dean Ambrose made the most of the opportunities that were presented to him.
Over the past few years Dean Ambrose has proved that he's someone WWE can depend on, and in 2016 he was rewarded for his efforts.
#3 – The Wyatt Family
When Bray Wyatt was drafted to WWE SmackDown many fans were hoping to see him make his way into the WWE Title picture. Unfortunately for Bray he still has yet to reach main event status, but his run on SmackDown did carry him to his first title win when The Wyatt Family won the SmackDown Tag Team Titles at TLC.
With the addition of Randy Orton, The Wyatt Family has been rejuvenated, and right now the tag division seems like the perfect place for Orton, Wyatt and Harper. Pairing Randy Orton with Bray Wyatt seemed like an awkward move at first, but it has definitely paid off, and both WWE SmackDown Superstars feel fresh again.
Although it seems unlikely that Randy Orton will stick with The Wyatt Family forever, there's no denying that Orton, Wyatt and Harper are three of the most valuable WWE SmackDown Superstars at the moment.
#2 – The Miz
The Miz got a lot of people talking in 2016, but luckily for The Miz they weren't talking trash as most people seem to agree that Miz was on fire this year.
The Miz found himself in the perfect spot when he was drafted to SmackDown, and he quickly established himself as one of the top heels on the blue brand. Miz had a memorable feud with Dolph Ziggler this year, and Miz was able to get fans emotionally invested in Dolph Ziggler again with his stellar mic work.
Nowadays wrestling fans like to cheer the heels, and The Miz is one of the only heels on the WWE roster who consistently gets boos. In this day and age that means he's definitely doing something right.
Over the past few years people seem to have forgotten how good of a heel The Miz can be, but thanks to his efforts in 2016 they won't be forgetting again anytime soon.
#1 – AJ Styles
AJ Styles has had one heck of a year since he debuted at the Royal Rumble back in January. He's wrestled at WrestleMania, he's competed in some big time main events, and he's the current WWE World Champion.
AJ Styles has wrestled all over the world, and there's no denying that he's had an impressive career, but fans have waited a long time to see AJ get a good run with the WWE. At first there seemed to be some concern that WWE might not use Styles correctly, but luckily that hasn't been the case. The fans have made it clear that they want to see AJ Styles in the main event, and WWE doesn't seem to have a problem giving the fans what they want.
Over the past 12 months AJ Styles has had memorable feuds with Chris Jericho, Roman Reigns, John Cena and Dean Ambrose and those feuds helped him prove to the masses that he is the real deal.
In your opinion, which WWE SmackDown Superstars were the MVPs of the blue brand in 2016? Sound off in the comments below.