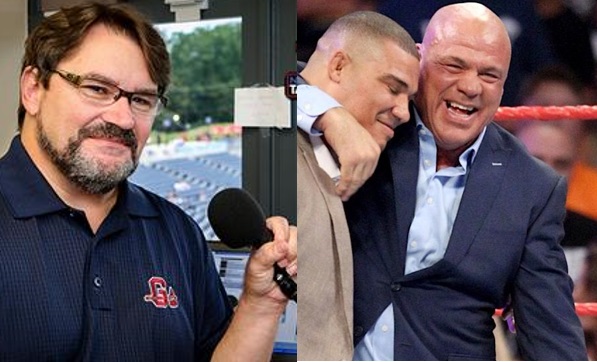 When Kurt Angle and Jason Jordan reunited in front of the WWE Universe it was a special moment. But it was also one of those many reveals where you wonder what the outcome will be.
Although the story is still in progress it looks like they're doing a good job keeping this angle fresh. Jason Jordan won his first match on Raw as a singles competitor and Papa Kurt couldn't have been any prouder.
But this situation is ripe for parody and Tony Schiavone obviously realized this during the conclusion of his podcast What Happened When.
At the close of each week's show Tony will usually wrap it up in his announcer voice but this week he had a very special announcement. He decided to get in the imaginary ring and pour his heart out in a hilarious spoof of the popular Raw story line.
"If I could let me take this microphone and get in the ring here because I've got something I'd like to say," Tony Schiavone said. "I found out just recently that actions of my past have had serious consequences. It has changed my life and I found out that I dated this woman and nine months after we had our last date she had a baby boy."
"And I was afraid this would change my life," Schiavone continued. "It has changed my life, but it's changed my life for the better. My life has changed since January 30th because of this baby boy. And I'd like to bring him in the ring right now here comes ladies and gentlemen, my son, my first-born: Conrad Thompson!" Then Tony Schiavone started fake crying and said he's "desperately out of time."
"I love you dad," Thompson replied while his theme song "Sweet Home Alabama" played in the background.
Whether you thought it was funny Tony revealed his co-host Conrad was his baby boy or not, at least it looks like Schiavone is keeping somewhat current on the WWE product
If you use any portion of the quotes in this article please credit What Happened When With Tony Schiavone with a H/T to Still Real To Us for the transcription